Canfield tops Boardman for 13-14 softball crown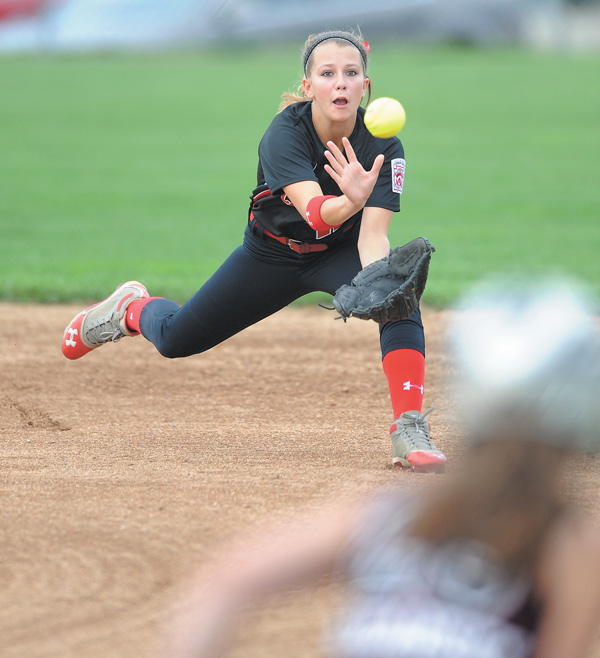 ---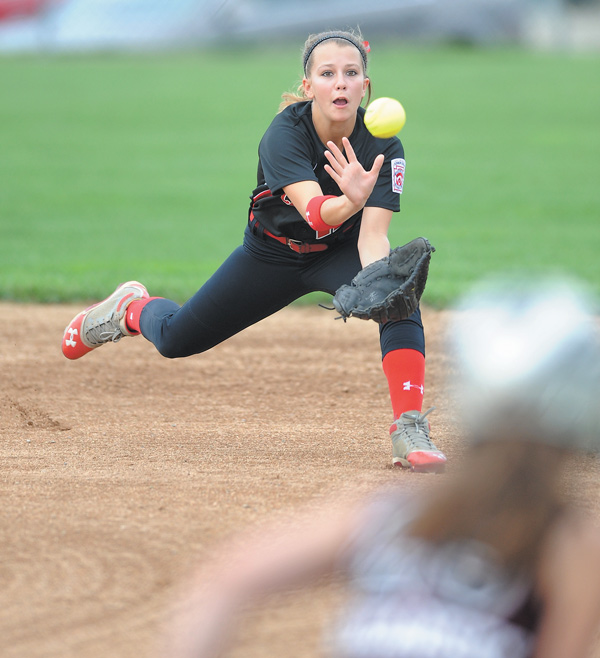 Photo
Canfield second basemen Maura Kennedy dives to catch a ball hit by Boardman's Lauren Pavlansky in the top of the first inning Tuesday night in a District 2 Junior League title game.
By Steve Wilaj
BOARDMAN
Falling behind early, then being locked in a tie heading into the late innings may have worried another team.
Not Canfield.
But when the Cardinals were put in that scenario on Tuesday, they reacted just as coach Kerry Durkin expected.
"There's no panic in these girls," Durkin said. "They came back [Monday] night and won after being in a real tight game, so they've been there before. It's just a great, hard-working bunch of girls."
Using that resiliency, Canfield defeated Boardman, 12-3, at the Fields of Dreams in Boardman to capture the 13-14 year-old district championship and head to the state tournament in Englewood.
"I'm just really proud of them," Durkin said.
The Spartans jumped out to a 3-1 lead after three innings, keyed by a two-run home run from Sydney Aey. Canfield (26-0) came back to tie the game in the bottom half thanks to a couple Boardman errors.
Still, the game was deadlocked heading into the fifth inning.
"We've played Canfield about 10 times this year and about five times we've been in the lead," Spartans coach Dave Matz said. "We just could never close it out and that's the difference between a good team and a great team."
Following that pattern, the Cardinals regained the lead in the fifth inning on a bases-loaded walk by Kayla Troxil. And then the floodgates opened in the sixth.
In an eight-run Canfield inning, Maura Kennedy, Maddy Johns and Troxil each recorded an RBI single. The big blows were a two-run double from Amelia Manenti and a three-RBI double by Sydney Fabry.
"I think their pitcher was getting a little tired and we had some really good at-bats," Durkin said. "That was the key."
While the Cardinals pounded out 12 hits, Matz said Boardman was done in by its four errors.
"You gotta make the routine plays and the routine outs," he said. "You can't give good teams more than three outs and unfortunately that happened today and it just snowballed out of control a little bit."
Ashley Cornelius was the tough luck loser for the Spartans. In six innings she allowed 12 runs, although only seven were earned. She struck out five and walked four.
"Three years ago Ashley never had a chance to pitch and this year she was in the district championship, tied up with the best team through five innings," Matz said. "I can't be more proud of her and she deserves all the kudos for her hard work."
Bridget Durkin started on the mound for Canfield, lasting three innings. She gave up three hits and allowed three runs (two earned) while striking out two. Troxil worked four scoreless innings of relief in earning the victory, surrendering three hits.
"Bridget pitched pretty good for three innings. That was the plan — go with her for three then Troxil for four," Durkin said. "And really both girls pitched great. They all did a great job."
Aey led the Spartans with a homer and two RBIs. Also for Boardman, Roo Hanna and Maggie Loney each had a hit and scored a run.
The Cardinals were paced by Manenti's two hits and three RBIs. Troxil had two hits and two RBIs, while Kennedy also had two hits and an RBI.