Same Pig. Different Motel.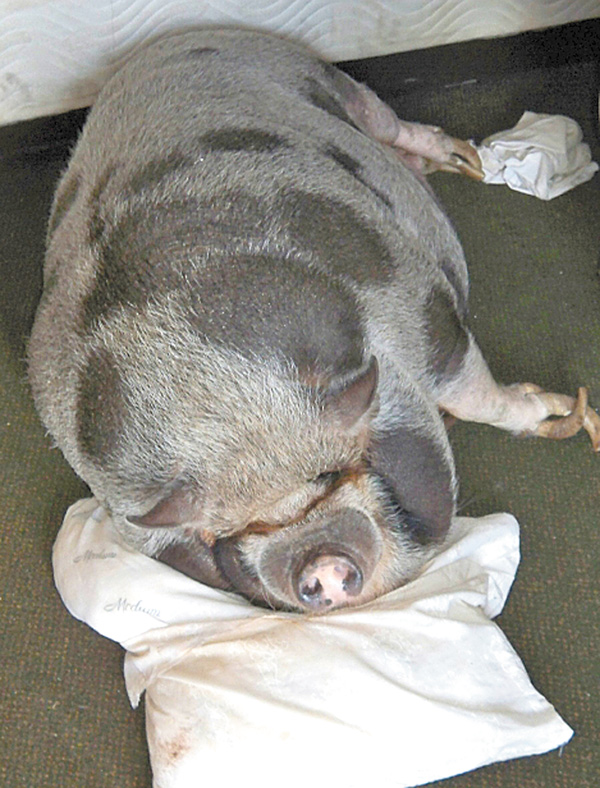 ---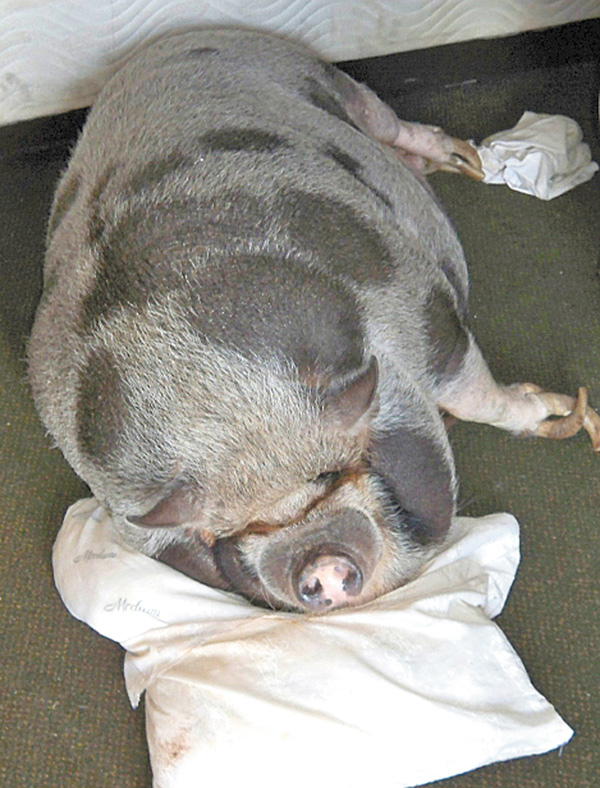 Photo
Penelope the pig takes the weight off her hooves. The hefty swine was quite comfortable hogging the pillow in her room at Super 8 on Belmont Avenue after her owner abandoned her. She eventually was enticed out late last week with a bag of candy and returned to an Animal Welfare League shelter in Warren.
By Lee Murray
TheNewsOutlet.org
Liberty
It's not easy being Penelope. All she wants is to eat Twizzlers and lie down in peace.
On a pillow.
In a Liberty motel room.
For the second time in a month, the township's most- recognizable hotel guest was forced out of a room and back into the Animal Welfare League shelter.
The 300-pound pot-bellied pig with overgrown hooves and a grumpy disposition was discovered as the sole occupant of a Super 8 hotel room Thursday after being deserted by her other owner.
Penelope first made headlines in June when Liberty Township police found her occupying a room at Hotel 30 on Motor Inn Drive with Heath Bechel, a Sharpsville, Pa., man who is Penelope's co-owner. On that occasion, Bechel was arrested on an outstanding warrant, and Penelope was removed by the Animal Welfare League after hours of struggle.
This time, Super 8 housekeeping staff discovered her waiting for her other owner, Wendy Thrasher of Greenville, Pa. Penelope was left without enough food or water, reports said.
Penelope didn't seem to mind.
"[She] reached up on the bed, pulled a pillow down, fluffed it and laid her head down on it," said Sally Lamparty, a certified native Ohio wildlife rescue and rehabilitator who volunteered assistance to the Animal Welfare League and police at the scene.
Animal Welfare League investigators tried to contact Thrasher first to ask her to come and help control the pig, who famously lashed out at officers last month.
Thrasher told investigators she would be there in an hour but never turned up, according to police reports.
Lamparty said getting Penelope out of the room and into the van was a simpler task this time after rescuers discovered her weakness for candy.
"We actually used Twizzlers," said Lamparty, adding that the room was littered with marshmallow wrappers and bags of candy, tipping rescuers off to Penelope's sweet tooth.
Thrasher had left a bag of Twizzlers in the room, and rescuers tempted Penelope to her feet with the sweet temptation.
"The pig knew the sound of cellophane," Lamparty said. "We shook the bag out the door, and she jumped up and came out."
Lamparty said rescuers made a trail of candy piles out the door and up the ramp to get Penelope secured in the rescue vehicle, "just like Hansel and Gretel."
Police said Penelope's hooves were still overgrown despite the previous order to trim them. Police photographs showed her front hooves so overgrown that they twist around each other.
Lamparty estimates the pig was in the room for at least two days with no food or water.
Police are seeking animal-cruelty charges against Thrasher. Workers at Animal Welfare League shelter in Warren confirmed that Penelope is comfortable and being taken care of.
"The room was all torn up and it smelled horrible," said the desk clerk at Super 8. "We won't be able to rent it for a while, not till it's cleaned up."
Super 8 does not permit pigs in its suites, the clerk added.
"Of course they're not allowed," she said. "You have to think, 'Where did she go to the bathroom?'"
TheNewsOutlet.org is a collaborative effort among the Youngstown State University journalism program, Kent State University, University of Akron and professional media outlets WYSU-FM Radio, The Vindicator, The Beacon Journal and Rubber City Radio, both of Akron.