Loew-ball? Lyell says $10K not enough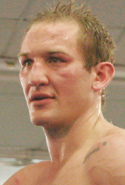 ---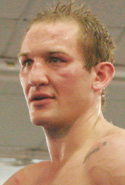 Photo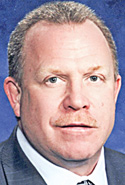 Photo
By Joe Scalzo
YOUNGSTOWN
Niles boxer Billy Lyell is still surprised by what a five-minute conversation can do.
Southside Boxing Club owner Jack Loew is still surprised by what it didn't do.
Depending on who you believe, Lyell either offered to fight junior middleweight Willie Nelson (one of Loew's fighters) for $10,000 then backed out, or merely showed interest in the fight without making any offers or commitments.
This much they agree on: On Sunday at Squaw Creek Country Club, Lyell ran into Nelson's manager, Sam Shapiro, and asked about Nelson's next bout, which will be Sept. 28 at Packard Music Hall in Warren.
Loew's version: "Billy says, 'Give me 10 grand and I'll fight him.' Sam says, 'Good deal. You got it.' We didn't tell him a price. Billy said give me $10,000 and we gave it to him."
Then, Loew said, Lyell came back Monday and asked for $15,000 along with a shot at Nelson's NABF title belt and a share of the ticket sales.
"If it's for the NABF belt, that's an extra $5,000 for the show because you have to get it sanctioned and bring in a supervisor from the WBC," Loew said. "As for the ticket sales, I told him, 'Even though you probably only sell six tickets, no. Here's the purse: $10,000. Not $15,000, not a piece of the tickets.'
"To me, it sounds like anything else. I think he shot his mouth off and he didn't think we were going to run with it and he's just pricing himself out of the fight so he doesn't look like the [bad guy]."
Not surprisingly, Lyell has a different version.
"I said [to Shapiro], 'Talk to [manager] Pat [Nelson] and maybe we can work something out,'" Lyell said. "To me, it was just a real brief conversation. Next thing you know, they're talking about it on the news."
The Nelson-Lyell bout got headlines because it would have pitted Loew against his former fighter, Kelly Pavlik, who reportedly would have served as Lyell's trainer. But Lyell said that angle was overblown, since Keith Burnside is his trainer and Pavlik (who recently began training younger fighters at the Burnside Boxing Club) would have merely been a cornerman.
Lyell (25-11), who hasn't fought since February, said $10,000 isn't worth it for him to fight at this stage in his career. He said $15,000 isn't enough, either.
"By the time you pay taxes and this and that, it's not worth it," he said. "It's like negotiating for a house. I give you a number and you give me a counter-offer. And $10,000 is not a counter-offer. Not even close."
Loew's response? The $10,000 purse is good for an untelevised club show — Loew said Willie would get between $10,000 and $15,000 — and that Willie's promotion company, Rumble Time, will likely lose money on the card.
"We're not going to let some local kid stick us up like a bank robber," Loew said.
Lyell, who turns 29 next month, has fought some of boxing's biggest names in recent years, including former WBC middleweight champion Julio Cesar Chavez Jr. and former IBF middleweight champion Sebastian Sylvester.
He now works construction and isn't sure he even wants to fight again.
"I'll fight anybody but the money has got to be right," said Lyell, who has fought just twice in the last 20 months. "I don't do this as a hobby."
Loew has set a Wednesday deadline for Lyell to respond. He said the main reason Willie Nelson will fight in September is to keep him busy before a late fall bout on HBO. Nelson (21-1-1, 12 KOs) is coming off a unanimous decision victory over Luciano Cuello on June 29 on HBO.
"He didn't make that big splash but that's OK," Loew said. "He still can. We'll just be the first bout again instead of the headliners."
As for Lyell, well, he and Loew haven't exactly been close in recent years. Loew was in his corner for the Sylvester fight — Loew stopped it in the 10th round — and told The Vindicator afterward that he felt Lyell should retire. He's also called Lyell a "B-level fighter" and predicted Nelson would beat him easily.
When asked about offering a bout to a fighter he said should retire, Loew said it's different now that he's on the other side.
"I don't want to be part of him going on HBO and getting blasted out of the ring by Danny Jacobs or some guy like that just because he needs money," Loew said. "But if he wants to fight my guy? OK, fine."