Poland little league softball rallies past Boardman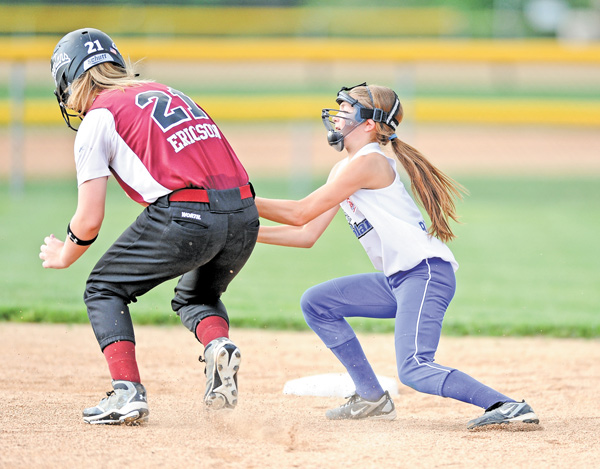 ---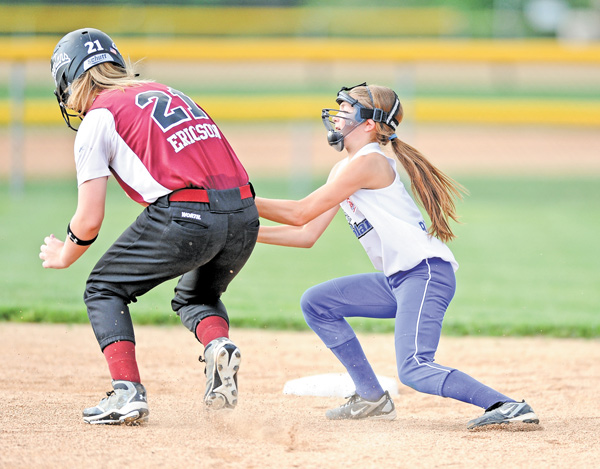 Photo
Poland infielder Brooke Bobbey tags out Boardman baserunner Emma Ericson, who was attempting to steal second base in the bottom of the sixth inning of Monday's game at Fields of Dreams.
Poland forces extra innings, rallies to beat rival Boardman
By Ryan Buck
boardman
Through five innings and holding a four-run lead with a chance to extend their season one more night, all was well for the Boardman Little League 9-10 year-old softball team.
After a wild and nightmarish three more innings, the Spartans could only watch as rival Poland made its ceremonial lap around the Fields of Dreams softball complex waving a district championship banner.
Poland, needing one victory versus Boardman's two, overcame a 5-1 deficit in the top of the sixth inning to tie the contest and added three more in the eighth to defeat Boardman 8-5 and advance to the Ohio state tournament July 27 in Bucyrus.
Held in check for much of the evening by Boardman starter Jenna Olexa, the Bulldogs finally sustained a big inning.
Three straight one-out walks and two straight wild pitches led to Abby Farber's run in the top of the sixth to cut Boardman's lead to 5-2.
"We teach them discipline at the plate so we're going to make that pitcher work," said Poland manager Matt Bobbey. "They did that.
"After that the floodgates opened."
With Mia Dicioccio and Lucy Graziano on first and second, respectively, Boardman pitcher Kathryn O'Horo's next offering hit the dirt and rolled to the backstop. Dicioccio advanced to third and rounded sharply. Boardman catcher Yogi Maughan's throw to second to try and pick off Graziano sailed into center field, allowing Poland's third run to score before Graziano was thrown out at third for the inning's second out.
Olexa left the game with the lead and an effective five-plus innings of work.
"She was mowing them down and then she hit a wall and got tired," said Boardman manager Eric Ericson said. "We went to the bullpen and struggled to throw strikes and they got back in the game."
Down to their last out three batters later, and with runners again on first and second, Brooke Bobbey's blooper between first and second base caught the Boardman infield by surprise as it fell to the dirt and skidded into foul territory.
Jordyn Olson and Abby Farber came around to score to tie the game at five and send it to extra innings.
"Poland fought and fought and fought," Ericson said. "You've got to tip your hat to them. They didn't give up. They kept going with every pitch. We made a couple errors and let them back in the game."
They nearly added the go-ahead run in the sixth, but a dead ball ruling on a controversial play at first base stranded Jackie Grisdale. She was later called out for a base-running rule to end the inning.
"I'll give them credit," Bobbey said of the call that could have cost his team the game. "They were down, but not out and they kept their heads up."
Buoyed by Camryn Lattanzio's seven strong innings on the mound, Poland struck in the eighth.
Olson, Adeline Schweers and Farber all reached base on walks to start the inning. With a full count, Bobbey laced a single to center to score two runs before Farber came around on another run-scoring single from Lattanzio.
"They had their third pitcher in there so we were looking to get some baserunners," Bobbey said. "She wasn't getting them over so we were patient at the plate, had the top of the order up and they got some hits."
Bobbey retired Boardman in order in the bottom half of the inning to close out the win.