All city-owned vehicles, except a handful of undercover police cars, will have GPS systems installed by this month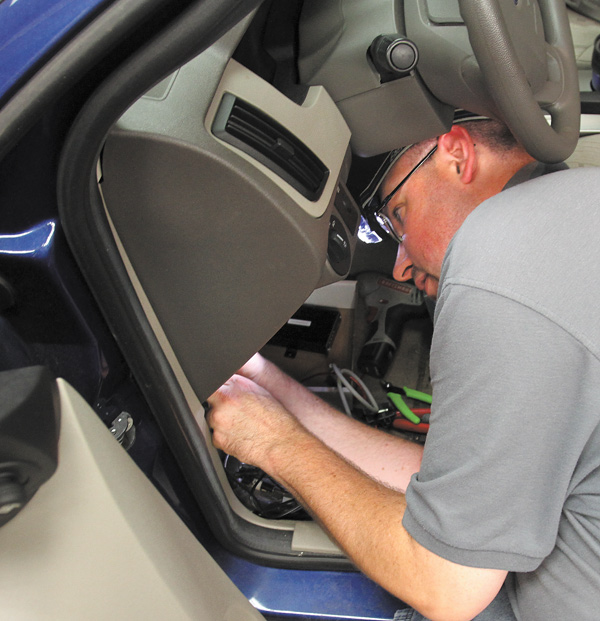 ---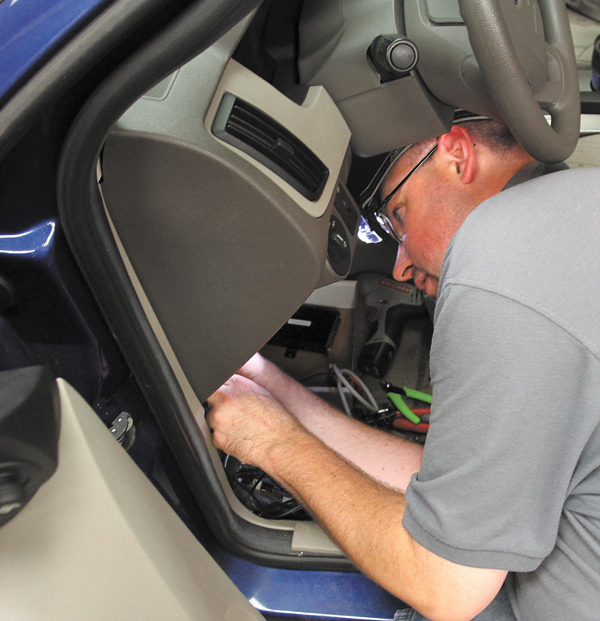 Photo
James Barnett, who works for Lo Voltage Inc. of Schaumburg, Ill., installs GPS in a city of Youngstown vehicle. The city is having nearly every one of its vehicles, about 330, equipped with GPS tracking systems.
YOUNGSTOWN
By the end of the month, nearly every city-owned vehicle — there are about 330 of them — will be equipped with a GPS tracking its use by city workers.
The only exemptions are about 15 police vehicles used by officers for surveillance operations, undercover drug buys and to assist with federal investigations.
"GPS is part of the accountability policy we have in the city," said Mayor Charles Sammarone. "It increases accountability, which hasn't been as good as it should be in previous years. We have a lot of good employees, but it's like when I worked in the school system, we had a lot of good students, but a few ruined it for the others."
Nearly all of the GPS units are installed, with the rest being put into city vehicles during the next couple of weeks, said Rick Deak, the city's chief information officer.
A number of vehicles, including police patrol cars and most of those in the water and fire departments, have had GPS for several months.
The policy about monitoring city vehicles through GPS takes effect Aug. 1, Deak and Sammarone said, though departments that already have the tracking devices have been using them. It was distributed to department heads Monday.
The city paid about $200,000 for the installation of the GPS, Deak said.
The exemption for certain police vehicles is because GPS records are subject to public-records requests, which could "thwart criminal investigations and risk law-enforcement officers' safety," Chief Rod Foley wrote in a letter to Sammarone.
Also, the GPS can protect city employees falsely accused of spending city time not doing their jobs, Sammarone said.
Breen McNally, president of the American Federation of State, County and Municipal Employees Local 2726, which represents about 90 water- department union members, said GPS devices were installed in department vehicles about four to five months ago.
"There hasn't been a problem," he said. "We haven't had anyone do anything wrong. It's there for our protection. We get crazy calls about us being where we're not supposed to be. It helps us out."
Each department supervisor will be responsible for monitoring the GPS for his/her employees. Sammarone said he'll monitor the supervisors' vehicles.
The city GPS policy also requires "unexplained prolonged inactivity" to be reported to the information technology department, for all data to be remain on the city server for 45 days and be downloaded and permanently retained elsewhere, and for employees driving city-owned vehicles between home and work to get permission from the mayor or his designee if that person's normal route isn't taken.
Also, Sammarone wants an evaluation done in the next six to 12 months to determine if those who take home city-owned vehicles need to continue to do so.
About 110 city-owned vehicles are taken home by employees with about 40 of them permitted to be for personal use as those employees are on 24-hour call. Those vehicles are for employees such as the police and fire chiefs, other top officials in the police and fire departments, the water commissioner and other top staff at that department, the public-works deputy director, the buildings and grounds commissioner, the park and recreation director, and eight wastewater officials.
The rest are forbidden to use city-owned vehicles for personal use.
"At the end of six months or a year, department heads will evaluate and determine if employees really need cars or is it just a perk," Sammarone said. "Fifty years ago, public-sector jobs didn't pay as well as private-sector jobs so the city would give workers a city car as a perk. It was never right. But now, public-sector pay is probably better than the private sector. We need to be more accountable. If we find people who shouldn't have cars or don't need them, we'll take them away."
That will reduce the city's costs for cars, gas and insurance, he said.
The city has about 750 employees and about 330 vehicles.
"We can't afford it anymore," Sammarone said.
As part of his accountability program, Sammarone had time clocks placed in city departments in September 2012 at a cost of about $23,000.
"We find things here and there," Deak said when asked if people are clocking in late. "But it's a pretty clean record."