Scrappers snap 12-game skid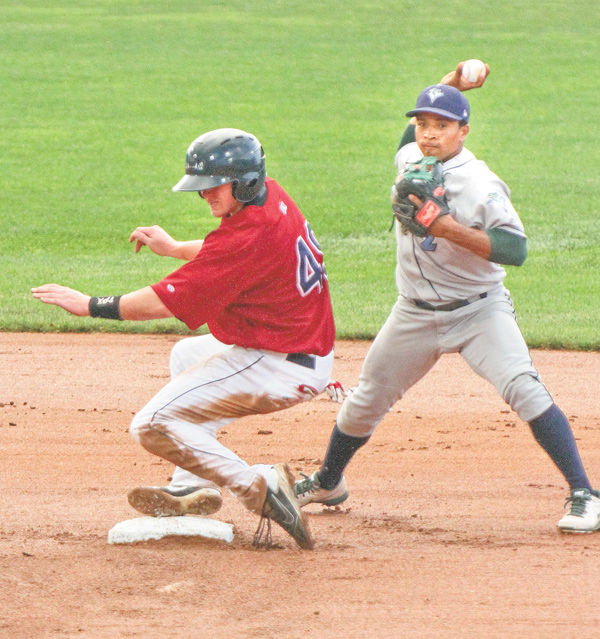 ---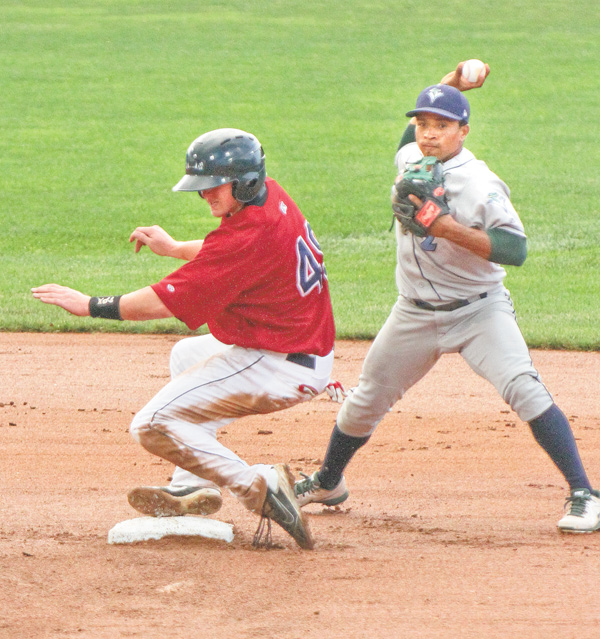 Photo
Scrappers baserunner Cody Ferrell (49) is forced out at second as Vermont infielder Jaycob Brugman completes the double play during the first inning of Monday's game at Eastwood Field.
By Joe Catullo Jr.
NILES
Before Monday night's contest with the Vermont Lake Monsters, Mahoning Valley was outscored 35-11 in the seventh and eighth innings combined.
On Monday, the Scrappers reversed that stat by outscoring Vermont 4-0 in those innings en route to a skid-snapping 6-2 victory at Eastwood Field.
First baseman Nellie Rodriguez said there was no difference from games past in how the Scrappers (8-21) approached the plate.
"Coach [Shawn] Larkin has been telling us to keep the same approach and keep coming," Rodriguez said.
Monday's win snapped a franchise record 12-game losing streak that began on July 3.
"It feels great to finally get a win and get that losing streak out of the way," Rodriguez said. "We were anxious to get that win. We'll use that as confidence to keep playing hard."
Cole Sulser started for the Scrappers for the first time since June 26 and gave the club four solid innings. He allowed no runs on four hits and struck out four.
"It definitely felt great to get back out there and definitely get our team a win," he said.
He ran into trouble in the top of the fourth inning with runners on the corners and nobody out but worked out of the jam.
"Obviously they got ahead in that inning with runners on and no outs," Sulser said. "I was just trying to minimize as much damage as possible. I was just trying not to make it a big inning."
James Roberts delivered the game's first run with an RBI fielder's choice in the fourth inning that gave Mahoning Valley a 1-0 lead. Two errors on one play netted Vermont's (12-16) first run in the fifth inning.
In the bottom of the sixth inning, catcher Martin Cervenka delivered with a two-out RBI single that gave the Scrappers a 2-1 lead.
In the seventh inning, Rodriguez ripped a two-out RBI double and later scored on Fernando Cruzado's second balk in the inning. Cruzado earned the loss, pitching two innings and allowing three runs on three hits, one walk and three strikeouts.
Leading 4-1 in the eighth inning, Robel Garcia hit a two-out, two-run homer that put the game away. Garcia was a defensive replacement for second baseman Claudio Bautista earlier in the game.
"It wasn't just one inning where they scored," Sulser said. "It was six consistent runs through nine innings. That's just a huge help to the pitching staff. It takes a huge weight off of our shoulders."
Matt Whitehouse picked up his first win this season. He pitched two innings and allowed one unearned run on three hits and struck out two. Kyle Crockett and Ben Heller each earned a hold while Trevor Frank pitched the ninth inning.
The Scrappers will begin a six-game road trip on Wednesday in Brooklyn and will end with three games at Staten Island.