YPD adds seven new officers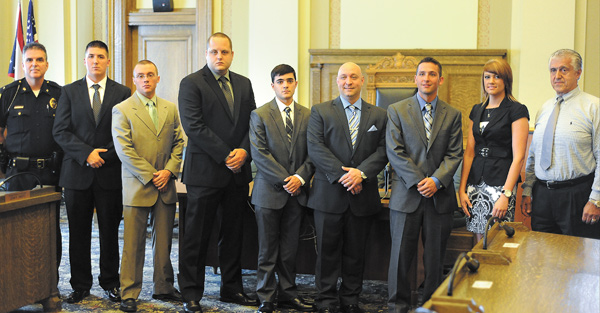 ---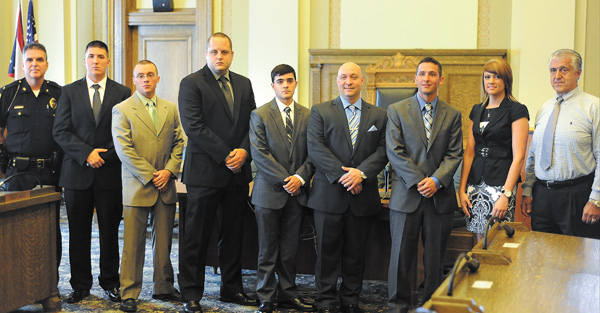 Photo
Youngstown Police Chief Rod Foley, left, and Mayor Charles Sammarone, right, flank seven new police officers who were sworn in Monday, who are, in no particular order, Brian Ferreri, Thomas Wisener, Timothy Edwards, Stephen Gaetano, Hannah Banks, Daniel Zakrajsek and Kenneth Garling.
By Joe Gorman
Youngstown
Police Chief Rod Foley told the seven new officers who were sworn in Monday to rely on their experience and values when they are on the road.
He said they already come to the job with some of those qualities. And he thanked their parents for instilling them in his new officers.
"You have given them the tools necessary to be successful in life," Foley said.
The department also promoted William Ward to detective sergeant from patrolman.
The new hires now give the department 152 officers, which is the bare minimum Foley says it can operate with.
Foley told the new hires they will seem overwhelmed at the enormity of their job at first, but he said if they fall back on what they learned from their parents and use it, they should be fine.
"Do the right thing — even when you think no one is watching," Foley said.
Mayor Charles Sammarone said he remembered when he started on city council 30 years ago that the talk was to never let the number of officers go below 200, but times have changed since then, he said.
Sammarone told the new officers and others in attendance to remember the words of the chief.
"You have to practice it every second of the day," Sammarone said.
Sammarone said it seems that people no longer respect police, and he said that's something that has to change. He said police officers have the toughest job in the city because they are being called by people who have problems almost all the time.
"You're always facing tough situations," Sammarone said.
Hannah Banks, a 2008 Ursuline High School graduate and city native, is one of the new hires. She said she has wanted to be a police officer her entire life because of the example set by her father, who was a firefighter for a long time.
Banks said she was an officer at the Mill Creek MetroParks Police Department and a reserve officer in Austintown before taking the test for Youngstown. She said she is looking forward to her new job.
"It's pretty exciting," Banks said.
Thomas Wisener is another one of the hires. He is a Marine Corps veteran with eight years in the corps, four in the infantry and four as a military policeman. The Akron native said he took the test in Youngstown because the city had openings.
Wisener also said it has been his lifelong dream to be a police officer. He said having military training helps because, like being in the military, being a police officer requires focus and discipline.
"It's all I wanted to do since I was a little kid," Wisener said. "I always enjoyed the job. Helping people and keeping people safe is a bonus."
Five of the new officers are having 75 percent of their salaries paid for by a federal grant for police departments to hire veterans of the Iraq and Afghanistan wars. The grant will cover that portion of their salaries for three years, and the department must keep them on for a year after that, under the terms of the grant.
The department hired two officers under that grant in October.