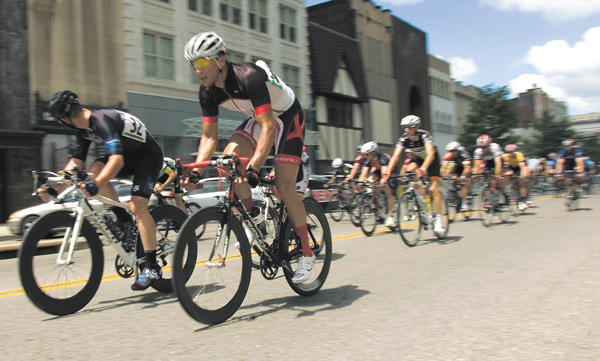 ---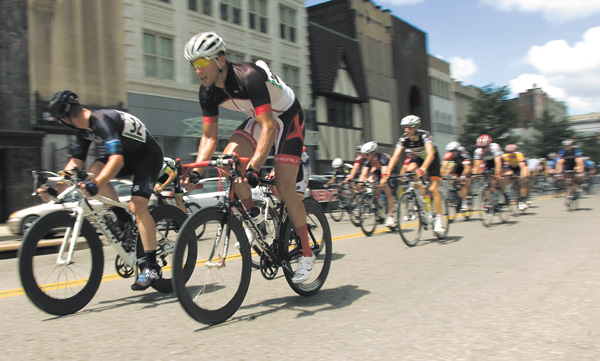 Photo
Dan Quinlan, right, with WAS LABS, and Craig Polston of TBS Racing lead the pack in the Men's Pro/1/2 through downtown Youngstown on Sunday in the Criterium, the final stage of the Tour of the Valley. Overall winners were Winston David of Greenville, S.C., for the men and Christine Schryver of Rochester, N.Y., for the women.
Cyclists cap weekend racing through city
By Greg Gulas
Youngstown
While Winston David hoisted a champagne bottle in celebration of Sunday's team overall Tour of the Valley win, Christine Schyrver had a different type of celebration in mind.
Schryver, who was the 2011 Tour of the Valley overall winner, just happened to celebrate in the unlikeliest of places; the emergency room of a local hospital after she suffered shoulder and leg injuries at the finish line of Sunday's fifth annual women's Pro 1/2/3 Category Criterium race in downtown Youngstown.
"All I wanted to do was give it my all at Friday's Time Trial at Mastropietro's Winery," said David, a native of Greenville, S.C. "When I found myself at the top of the leaderboard, I really felt like I could win it all and was lucky enough to do so in the end."
David won Friday's Time Trial, took top honors at Saturday's Road Race throughout Columbiana County and finished seventh in Sunday's Pro/1/2 Category Criterium race.
Schryver was a mirror image of David, winning Friday's Time Trial and Saturday's Road Race as well, while finishing seventh during Sunday's women's Pro/1/2/3 Category event.
Winning the women's top event was Julia Bradley of Caledon, Ontario, who had a 45 second lead over her competition heading into the final lap and never let up.
Until this past winter, she had never even heard of the Tour of the Valley event.
"I race for MVP Health Care out of Rochester and this is my first year on tour with them," Bradley said. "I really liked this course because it is an excellent power course, which for me was all about finesse."
A member of the Canadian Track/Cycling National team from 2009-12, she trains by biking 400-plus miles a week and was on her country's Olympic short list for Team Pursuit.
"I took the lead right after the first prime [prize offering] and just as we came down the straightaway," Bradley said. "I just got into time trial mode and never looked back."
Martin Vecchio of Detroit, also a first-time participant, took top honors in the Men's Pro/1/2 Category event (1:34:12) while thanking teammates for his victory.
"I need to credit Andy Seitz and Kirk Albers as they did the lead out, both of whom went to the front to set a fast pace," Vecchio said. "They exhausted themselves and it was my job to sprint at the end to seal the deal."
Matt Holecko, a 1993 Cardinal Mooney graduate who resides in Scottsdale, Ariz., returned to the Mahoning Valley for the first time in six years and finished seventh overall in the Pro/1/2.
"I've been racing for 10 years now and it is just so great to return, not just to compete but to see how the area has grown, especially downtown Youngstown and the area in and around YSU," Holecko said.
Nathan Cebula of Stow, whose father, Jim, is a Campbell Memorial High School graduate, captured the Men's Category 4 event.
"I sat in for most of the race and didn't do any pulling and with the prime coming up, I just jumped on," Cebula said. "I need to credit my teammate, Ken Hagin, who pulled up, slowed down and blocked for me."
The men's Pro/1/2 winner was Morgan Baker of Pennsylvania with 55 points while PTS Rain (comprised of Lance Hubbell, Peter Steygrt, David Strfellen and Allen Traylor) took top men's team laurels.
The Cleveland Clinic team of Kelli Strang, Samantha Brode and Sally Price took top women's team honors with a 14:04:08 finish.
"This is the best turnout that we have had to date," said J.R. Petsko, director of the Appalachian Bicycle Racing Association. "I do 36 races a year and the Tour of the Valley has attracted more racers and interest each and every year."
Gina Petsko, J.R. Petsko's wife, said, "The course was great and you could not have asked for any more cooperation from the City of Youngstown. They made us feel right at home."
The three-day event attracted 365 participants for 17 overall races from Friday through Sunday.