Mahoning River flooding forces boat evacuations in Leavittsburg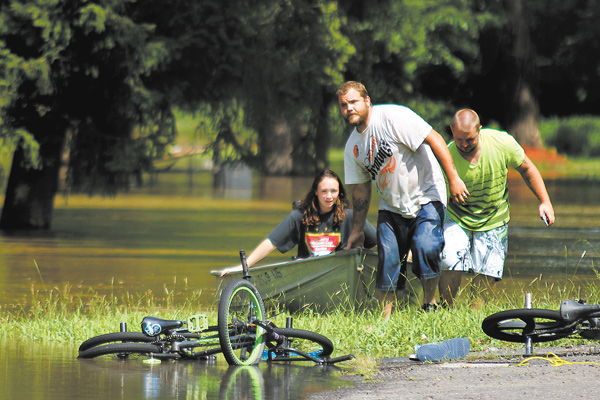 ---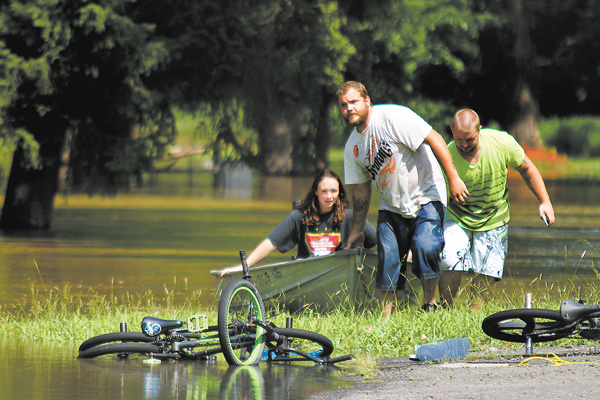 Photo
From left, Shelby Bosley, Jeff Reider and Jake Henry of Leavittsburg pull their canoe to dry land on Meadowbrook Drive on Thursday as they help evacuate residents from low-lying areas of Leavittsburg.
LEAVITTSBURG
Firefighters using boats evacuated 60 residents from about 25 homes in the flooded low-lying riverfront neighborhood here Thursday as the Mahoning River continued to rise.
Capt. Ben Armstrong of Warren Township Fire Department confirmed that there were no reported injuries as the evacuation efforts came to an end early Thursday evening.
Chief John Hickey of the Champion Township Fire Department said 12 additional fire departments assisted in the evacuations.
Speaking from the Warren Township Fire Station near the river, Hickey said his department had been called in to provide mutual aid. Electric power was shut off to the area, he added.
With flood stage at Leavittsburg being 10 feet, the river was at 16.2 feet there late Thursday afternoon and expected to rise slightly before receding below flood stage this afternoon, the National Weather Service said.
No evacuation was needed in downtown Youngstown, but the muddy Mahoning River swiftly carried wood and floating debris, including trash, past the observation platform at the B&O Banquet Hall. The gangplank to the boat dock for canoes and kayaks at the B&O had collapsed into the rain-swollen river.
Dams at Leavittsburg and at Marshall Street in downtown Youngstown, which are normally clearly visible above the water, were completely covered by the river Thursday.
At Warren, where flood stage is also 10 feet, the river was at 12.1 feet late Thursday afternoon and expected to rise to about 13 feet, before falling below flood stage this morning.
As of late Thursday afternoon, the Mahoning River at Youngstown was at 11.9 feet, with flood stage being 10 feet, and with the river expected to rise to near 13.5 feet overnight before falling below flood stage this afternoon.
In response to the flooding, The U.S. Army Corps of Engineers' Pittsburgh District said it is detaining water in Berlin Reservoir, Lake Milton, and West Branch and Mosquito Creek reservoirs until the Mahoning River can safely receive more water.
"We are making minimal releases from each lake, with the total reservoir releases being less than 3 percent of the flow" at Youngstown, said Lewis Kwett, a hydraulic engineer at the Corps.
"We will not be increasing our releases until river stages are back down below flood stage," at Leavittsburg and Youngstown, he said.
The lakes have risen about one-third of the way between their normal summer levels and their full capacity, Kwett said.
"Fortunately, we seem to be moving out of the rainy weather pattern we've been seeing for the past month, and once the uncontrolled runoff is out of the system, we will have time to evacuate the excess behind our dams and be ready for the next event," Kwett said.
The National Weather Service forecast for Youngstown shows a slight chance of showers Saturday, a slight chance of thunderstorms Sunday and a chance of thunderstorms on Monday.
CONTRIBUTOR: Lee Murray of the NewsOutlet.