Over the hills: Dolci shoots 74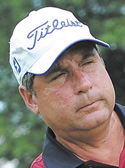 ---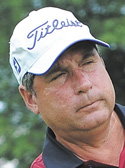 Photo
RELATED: Lehman, Perry among U.S. Senior Open leaders
Staff report
OMAHA, NEB.
Denny Dolci admittedly had never set foot on the golf course at Omaha Country Club, but one thing — the terrain — really surprised him when he arrived there this week to prepare for the U.S. Senior Open.
Think Nebraska and "hilly" isn't the first word that comes to mind.
But as Dolci — a Sharon, Pa., native playing in his first Open — learned, that's the best way to describe the course, even if no one thinks of Nebraska that way.
"Nobody does," said Dolci, who opened with a 4-over par 74 on Thursday. "The people here say it's flat everywhere in Nebraska, except here.
"It's a good golf course and it's a hilly golf course."
The hills made for some tough shots if players' tee shots wandered outside the fairways.
"You've got to hit your tee balls straight, because basically you've just got to get your ball back in the fairway if you hit it in the rough. You're just giving up a stroke to the course."
Dolci gave up a few late in his first round, with a bogey on the par-4 No. 16 and a double bogey on the par-3 No. 17.
"I let a couple shots get away from me down the stretch, but I came back with pars on 17 and 18 which are difficult holes, so I was happy about that," Dolci said. "Overall, It was a pretty good ball-striking day. I think I just got a little fatigued coming in."
Dolci did his best work on the layout's two par-5 holes on the front side — No. 2 and No. 6 — making birdies on each hole. Both were important holes for him for different reasons.
The first birdie came on a 15-foot putt and settled Dolci's nerves.
"That was definitely a good start to the day," he said, admitting to some nervousness early. "That first tee shot when they announce your name and where you're from — it's pretty breathtaking. No doubt the nerves were there."
The birdie on No. 6 came after back-to-back bogeys on Nos. 4 and 5.
"I drove into the rough on 4 and then I three-putted on 5," said Dolci, a 30-year area club pro. "But the birdie on 6 righted the ship and got me going again."
Dolci was able to avoid a troublesome bunker on No. 6.
"It's a blind tee shot and there's a bunker down there that plays havoc with me," he said. "I'm not long enough to knock it over that, but for some guys it's not a problem."
Dolci said he had about 220 yards from a "little downhill lie" from the first cut off the fairway. His approach fell two yards off the green and a chip left him six feet for a birdie, which he drained.
Dolci will tee off at 3:51 p.m. today on No. 10 in the second round. His playing partners — Tom Brandes and Steve Wells — remain the same.
Their group and the corresponding group on No. 1 — Doug Rohrbaugh, Hunter Nelson and Bob Flanagan — are the final threesomes of the day.
Dolci qualified for the U.S. Senior Open by winning a sectional qualifier at Valley Brook Country Club in McMurray, Pa.