Ginny & the Jettz kicks off summer concert series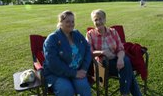 ---
By ELISE McKEOWN SKOLNICK
Ginny & the Jettz kicked off the Austintown Township Park's summer concert series with classic rock and blues music June 4. Community members brought lawn chairs and blankets for seating, and many had snacks to munch on. Dogs were welcome and children ran around on the grass or danced in front of the stage.
"I come out every year," said Karen Piper. "Every Tuesday I'm out here, from the time it starts until the end of the season. I love this park."
The concert series features a variety of music, such as country, patriotic, big band, polka and bluegrass. Piper said the type of music doesn't matter because she enjoys it all.
"I'm here super early to get my seat," Piper said.
Piper also noted that the event is family-friendly. Last year one band made sure each small child in attendance received a beach ball.
"It's a nice thing that they do for the community," said Carol Bassett.
She and Dianne Parker attend the events to have fun.
"We enjoy the music and the beautiful night," Bassett said. "We're having a good time."
Bassett also said she frequently attends the annual concert series, and plans to again this year.
"I have the whole schedule," she said.
Parker added, "They're usually pretty good with the concerts here."
A new addition this year is a concession stand provided by Molnars of Austintown.
The Austintown Township Park concert series is offered at 7 p.m. every Tuesday night through the summer.