Published: Fri, July 12, 2013 @ 6:24 p.m.
Greatest Golfer of the Valley Junior Qualifier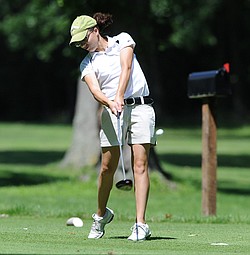 Gallery
BAZETTA — The field is now complete for the junior finals of the Greatest Golfer of the Valley presented by Farmers National Bank.
Kaylee Neumeister shot a round of 80 in a qualifier on Friday at Tamer Win Golf & Country Club and Nadya Stratton had an 85 as the two of them claimed the final two spots in the 15-17 girls division.
Sydney Heinbaugh (101) and Emily Coller (105) locked up the final spots in the 12-14 girls division.
Neumeister's score was the best round of the day. Jacinta Pikunas (81) was second. Pikunas, a former Greatest Golfer champion, qualified for the 2013 finals in an earlier event.
Emily Koehler (93) and Kaci Carpenter (100) had the top two scores in the 12-14 division Friday, but each had already qualified for the Greatest finals in previous events.
The finals are set for July 28 at Trumbull Country Club in Warren.
Following are the complete scores from Friday's qualifier:
- previous qualifier
U-17 Division
Kaylee Neumeister 80*
Jacinta Pikunas 81
Nadya Stratton 85*
Ryan Rosenberger 86
Rachel Williamson 87
Michele Whiteleather 87
Melinda Hannon 91
Kerra Loomis 92
Mo Preston 94
Alexa Tringhese 94
Sarah Brindley 97
Gina Cerimele 101
Taylor Horn 102
Haley Dean 102
Mary Hunt 106
Anna Patoray 110
Alexis Eddy 112
Tori Augustine 112
Katie Hall 114
Nicole Gula 116
Terra O'Brien 121
U-14 Division
Emily Koehler 93
Kaci Carpenter 100
Sydney Heinbaugh 101*
Gillian Cerimele 102
Emily Coller 105*
Nicolette Eddy 115