Boardman, Canfield win district titles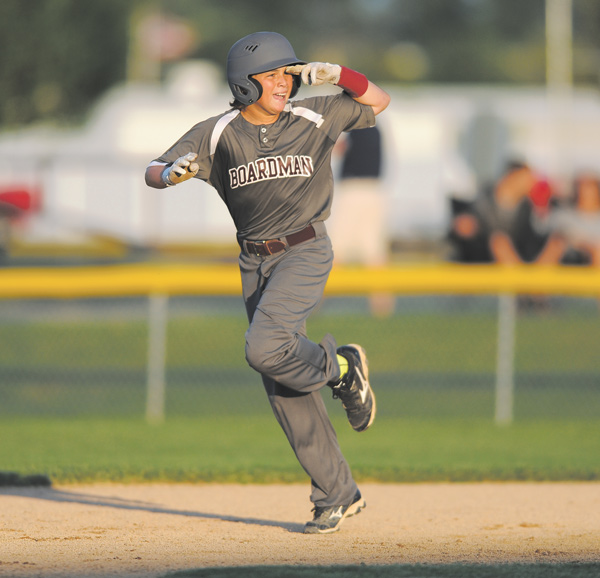 ---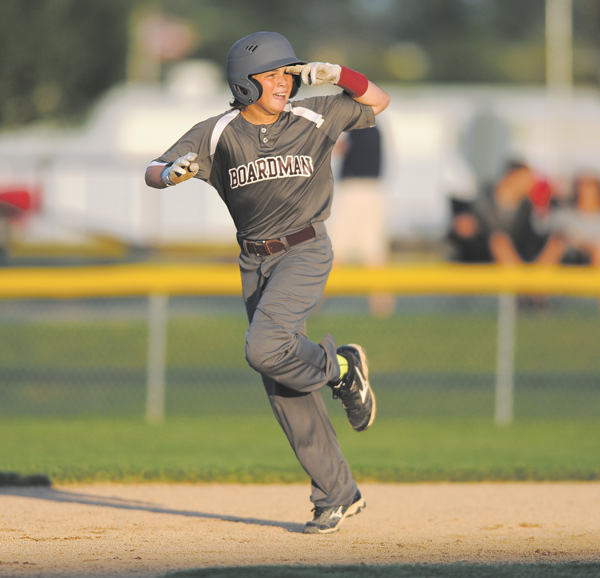 Photo
Boardman slugger Cameron Kreps salutes while trotting around the bases after hitting a two-run homer against Austintown. Boardman won, 16-3, to earn the Little League 11-12 district title.
By Tom Williams
BOARDMAN
Although they won in very different fashion, the Boardman 11-12-year-old team and the Canfield 10-11 squad earned Little League district titles on Thursday and will return to state.
In the 11-12 contest at the Fields of Dreams, Boardman outslugged Austintown, 16-3, in a five-inning game. In the 10-11 district final, Canfield edged Boardman, 2-1, scoring the winning run on the last play of the game.
Brian Fonderlin, manager of the Boardman 12-year-old team, said his players finished fourth in the 10-11-year-old state tournament last year and fifth in the 9-10 state tournament two years ago.
"My goodness, we're blessed," Fonderlin said. "These kids have just gotten better over the years. Their attitudes are absolutely amazing."
Powering Boardman was Michael O'Horo, who hit a three-run homer in the fourth inning and a grand slam in the fifth.
"He was a beast today," Fonderlin said. "He was on fire. He really came through."
In their winners bracket showdown, Boardman defeated Austintown, 13-0. This game was much tighter at the start.
Boardman grabbed a 3-0 lead, with Cameron Kreps hitting a two-run homer in the first inning.
But Austintown scored twice in the third inning for a 3-3 tie. Tom Leskovac had a RBI single and Ken Misik drove in the other run.
Boardman responded with a seven runs in the fourth inning. Jake Fonderlin hit a two-run single and O'Horo hit the first pitch from Austintown reliever Kole Klasic over the fence to make it 10-3.
"Awesome," O'Horo said of watching the ball sail. "We're more powerful this year and we've been hitting a lot more."
Boardman added six runs in the fifth inning, with O'Horo's home run capping the scoring.
"This gives us hope that we can win [state] this time," the Boardman center fielder said.
Canfield manager George Beck said his team hopes to defend the state title they won last year in the 9-10 bracket.
Last week, Canfield defeated Boardman, 11-0, in the tournament opener. This time, Boardman's Connor Miller and Canfield's Dominic Pilolli tossed gems.
"They were fantastic," Beck said. "Inning after inning, batter after batter, strike after strike, they just kept battling."
Pilolli led off the game with a homer over the right-field fence. Boardman tied it in the third inning after John Murphy walked, stole second base and took third on a passed ball. Che Trevena's two-out single tied the game.
Little League rules limit pitchers to no new batters after 85 pitches. With one out in the sixth inning, Pilolli had exhausted his limit. Brayden Beck replaced him, retiring the two batters he faced to earn the win.
In the bottom of the sixth inning, Beck singled, took second on a wild pitch and was sacrificed to third on McCoy Watkins' bunt. Richie Hofus' sacrifice fly scored Beck to end the game.
"They really brought it," Hofus said of Boardman.
Olivia Morgan and Jessica Ferrick combined for the one-hit shutout. Ferrick and Bella Herdman each had three hits. Poland's next game is against Coal Grove.
At the district level, Boardman's 9-10 softball team defeated Canfield, 7-2, in a winner's bracket game.
In the 9-10 baseball bracket, Boardman LL ousted Austintown, 4-2, in the loser's bracket final. Boardman will play winner's bracket champion Canfield today at 6 p.m.