Sammarone ninth in national 'Pitch, Hit and Run' competition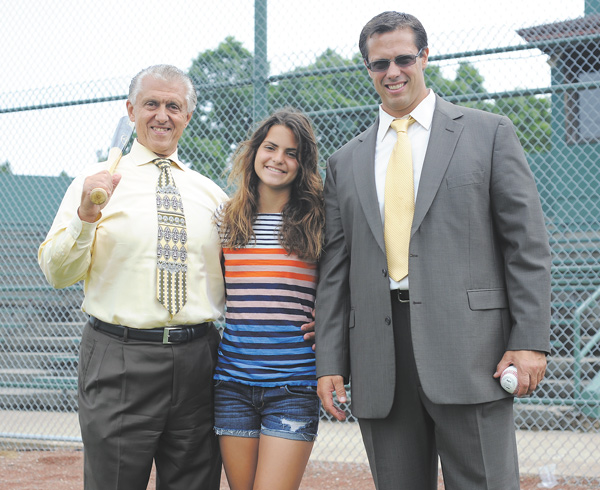 ---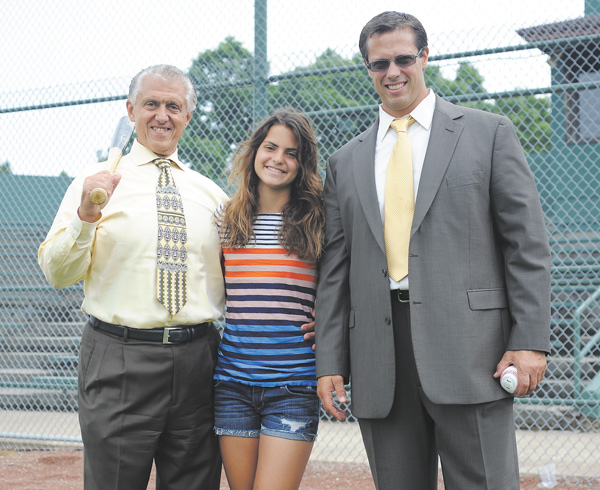 Photo
Serena Sammarone, center, placed ninth nationally in her age division in Major League Baseball's "Pitch, Hit and Run" competition. She is the daughter of former Youngstown State football player Chris Sammarone, right, and the granddaughter of Youngstown Mayor Charles Sammarone.
By Greg Gulas
CANFIELD
With a father and grandfather gifted in football, and a mother who starred scholastically in track and field, it's no accident that Canfield's Serena Sammarone inherited her family's athletic genes.
Sammarone, who plays basketball and also swims competitively, used her diamond skills to place ninth in the nation in the 13-14 age division during Major League Baseball's recent "Pitch, Hit and Run" competition.
Despite her efforts, she narrowly missed an invitation to this year's Major League Baseball All-Star Game, which will be held Tuesday at the New York Mets' Citi Field.
Her goal next year is to be at MLB's All-Star game at Target Field, which plays home to the Minnesota Twins.
"Last year I competed in the 11-and-12-year-old category and was the oldest in that division, but this year's competition was a little tougher as the youngest in the 13-14 age bracket," Sammarone said. "It's a little disappointing to fall short, but it makes me want to practice even harder for next year's event. My goal is to finish in the top three and go to the all-star game."
Serena is the daughter of Chris and Krista Sammarone, and granddaughter of current Youngstown Mayor Charles Sammarone and wife, Mary Ann.
She started playing baseball at age five and eight years later is a key member of the Canfield Crush summer softball squad.
Her father, who starred under Jim Tressel at Youngstown State and was a consensus All-American his senior season, currently coaches his son Chris Jr., who is a member of the Ohio Glaciers' 11-U baseball squad.
It was through the Glaciers last year that he found out about the annual competition.
"I encourage all of my children to participate in everything they are able to. In addition to softball, Serena also plays AAU basketball and swims competitively during the summer months, so she keeps herself quite busy," Chris Sammarone said. "Time sure has flown by and she really enjoys the participation, but also understands that you have to continually work at something in order to get better."
The annual Pitch, Hit and Run event is conducted in the 30 cities which house major league teams with Sammarone winning her first-round at Pemberton Park, and then capturing second-round honors at Bob Cene Park in Struthers.
The pitching competition includes six throws at a target, a hitting component that combines distance and accuracy and a running session where the contestant is timed from second base to home plate.
Her father noted that his daughter no doubt inherited her mother's speed gene.
Advancing to the finals at Cleveland's Progressive Field, Serena won her age category there as well but when combined with the other 29 sites, ended up ninth overall.
Only the top three in each category qualified for a trip to the all-star game.
Her grandfather, who earned four letters for the late Dwight "Dike" Beede at YSU, and two letters and was an All-City Series first-team selection during his senior season for Ralph Robinette's Rayen Tigers, said practice and perseverance is the key.
"In order to accomplish anything in life; in sports, an 'A' on a test or decisions that have to be made on the job, it all comes from hard work. Anyone who plays a sport must practice, practice and then practice some more," Charles Sammarone said. "You have to continually practice what you want to do and then work at it in order to be a success."
Serena will enter the seventh grade this fall at Canfield Middle School.
More like this from vindy.com