Canfield resident donates historic Vindicator papers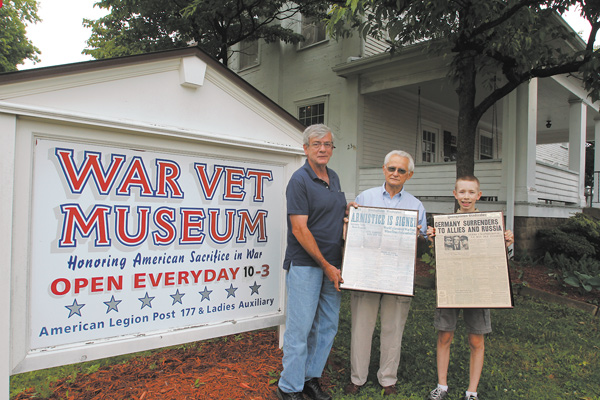 ---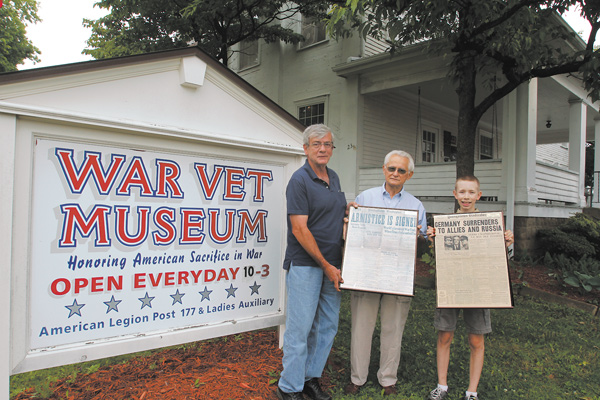 Photo
From left, Doug Speece, Frank Micchia and Joseph Conroy III stand outside of the War Vet Museum in Canfield. Speece accepted Micchia's donated World War I and World War II editions of The Vindicator on behalf of his father, Lewis Speece, who owns the museum.
By Kalea Hall
Canfield
Two historic Vindicator newspapers will now always have a place to call home.
On Tuesday, Frank Micchia, a Canfield resident, donated two front pages of The Vindicator — one from the end of World War I and the other from when Germany surrendered, ending World War II in Europe, to the Canfield War Vet Museum.
"Just reading these front pages, there is so much history," Micchia said.
Micchia bought the papers at an auction a few months ago, knowing he wanted to give them to the museum.
Micchia has a personal interest in the military as a former member of the U.S. Army, and he frequently visits the museum.
He knew the papers he bought were a perfect fit with the museum's more than 45,000 other donated items.
Micchia also knew who he wanted to be there when he donated the papers: Joseph Conroy III, a 12-year-old Boy Scout from Canfield.
"For a 12-year-old, he really is knowledgeable about history and military history," Micchia said.
Conroy, a member of Troop 115, loves history, and he really loves telling others about it. On the weekends, Conroy is at the museum giving tours, organizing and looking for any new items the museum received.
Conroy said he was excited when he found out Micchia was donating the papers.
"I didn't read them yet, but I pretty much know exactly what they say," Conroy said.
All of the items in the museum will stay there forever. The museum does not buy or sell any items.
Lewis Speece opened the museum in 1988, and since then has collected numerous uniforms, helmets, guns, flags and pretty much anything military-related.
The papers will be placed in the World War I room and World War II room.
The Speece family was eager to accept Micchia's donation, especially because both of the papers are framed.
"There are not many facilities like this one in the area," Micchia said.
For more information about the War Vet Museum, visit warvetmuseum.org.