High winds, heavy rains pelt Mahoning, Shenango valleys
By WILLIAM K. ALCORN
and BURTON SPEAKMAN
news@vindy.com
Storms Rip Valley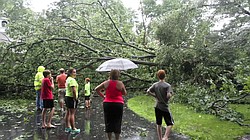 Video
Strong storms hit the Valley causing some unexpected damage in Liberty.
Storm Flooding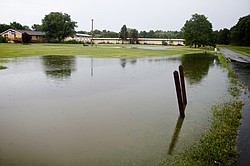 Gallery
The storm that thrashed its way through the Mahoning and Shenango valleys Wednesday dropped a tornado on a farm in North Beaver Borough, Pa., and caused severe flooding in parts of Lawrence County, Pa., and Trumbull and Columbiana counties in the Mahoning Valley.
The tornado that touched down shortly after 4 p.m. destroyed two barns on the Warner Farm located on state Route 168 between Mallory and Halltown roads, said Paul Henry, chief of the North Beaver Township Volunteer Fire Department.
No people or animals were injured or killed by the twister, but the storm left a lot of limbs and debris on the roadways and downed power lines, Henry said.
East Liverpool residents said the flooding there was the worst they've seen in 40 years.
In Trumbull County, a number of roads were closed because of high water and downed trees.
According to 21 WFMJ-TV, The Vindicator's broadcast partner, Bristol Champion Townline Road in Champion Township is closed between state Route 45 and Corey Hunt Road because of a leaning utility pole.
In Braceville Township, a fallen pole and high water closed Braceville Robinson Road at Eagle Creek.
In Newton Township, Warren Ravenna Road between state Route 5 and the Newton Falls city limits was closed because of high water, as was Newton Falls Bailey Road between Warren Ravenna and Kale Adams roads.
King-Graves Road in Vienna Township was closed between state Route 193 and Sodom Hutchings Road due to fallen power lines and trees.
The Trumbull County Fair was also affected by the heavy rains, reported to be over 4 inches at the Youngstown-Warren Regional Airport.
Auto races scheduled for Wednesday were rescheduled to 2 p.m. Sunday, with hot laps for the racing to start at 1:30 p.m.
It was also reported that the rides were shut down early because of the inclement weather.
Across the Shenango River in Shenango Township the flooding was also severe, washing out numerous roads and requiring the evacuation of Kerrs Mobile Home Park, 126 Kerr Road, when Big Run Creek overflowed its banks, said John Krueger, township emergency management coordinator.
Neshannock Fire Department Water Rescue Team used boats to get 15 to 20 people safely out of the mobile home park. Some are being sheltered at Comfort Inn and others are being cared for by the American Red Cross, Krueger said.
"We've had major roads washed out and culverts ripped out, and the roads have been temporarily closed for safety reasons until the water recedes and damage can be assessed," he said.
Krueger said there have been several water rescues of people whose cars stalled as they tried to drive through water on roads.
"Safety is our biggest priority," Krueger said. "People have to realize they can't cross flooded roads. It doesn't take much to hydroplane a vehicle away."
He said once everyone is safe and accounted for, he and township supervisors will evaluate the situation and possibly declare an emergency.
In Liberty, a Ravine Drive home narrowly escaped serious damage when high winds toppled a large oak tree in the yard, but only a branch hit the house, punching through a second-story wall.
The storm even knocked out power to the Mahoning County 911 Center for about 30 minutes late in the afternoon, but because of an emergency back-up system the communications center continued to receive calls routed through another public service answering point (PSAP).
Fortunately, officials said, no serious injuries or fatalities had been reported as of late Wednesday.
On the east side of East Liverpool, residents were dealing with their worst flooding in 40 years. A small drainage creek overflowed, causing a sizable area to flood in a low-lying section of the city near the Ohio River.
East Liverpool was the first part of the Mahoning Valley to be damaged from Wednesday's series of storms. Most of the region was under either a flash flood or severe thunderstorm watch until Wednesday night.
But the National Weather Service forecast doesn't have further showers or thunderstorms for the Valley until next Wednesday.
Roads in East Liverpool were mostly dry by midday Wednesday, but debris and mud covered roadways from the earlier storms when more than a foot of water was rushing down Kent, Pennsylvania, Virginia and other city streets.
Several residents of Kent Street were working with their landlord, Bruce Cowart, to remove four to five feet of water from their basements.
"I've lived here for 40 years and I've never seen anything like this," Cowart said. "The creek never backs up like that."
Cowart said he got up Wednesday morning, saw the flooding and starting calling to get pumps to remove water from the basements.
"I couldn't just let the water sit in there like that," he said. "This was literally a flash flood, it just came up so quick."
Most residents in the area don't have enough money to get a pump to get the water out themselves, Cowart said.
At most residences the flooding remained confined to the basement, but at a few, the water was high enough to seep through to the main floor, he said.
Jerry McDale said they had been pumping out his basement for two hours and a lot of water still remained. The water line on his home showed that water was flowing more than a foot above the ground.
Early Wednesday morning, McDale went out to check on his vehicle because the was afraid it might get swept away.
"The water was moving so fast it ripped my hot water heater out, right away from the pipes," he said.
The city had come to the area earlier in the day to make sure there were no gas leaks or any danger, McDale said.
"The lady who lives next door said she's lived there for 43 years and has never seen anything like this," he said.
The Community Resource Center borrowed one of Cowart's pumps to clear out the lowest level of the building, said Eugene Taylor.
The center had about four feet of flooding in its base area, which includes the facility's heating and cooling units, he said.
"There's some flooding down there every couple of years, but we just let things dry out and they start right back up," Taylor said.
The center had a group of high school students there to help clean the facility and a number of food items had been elevated to keep them out of the water.