Canfield Pet Haven offers an alternative to cremation, home burial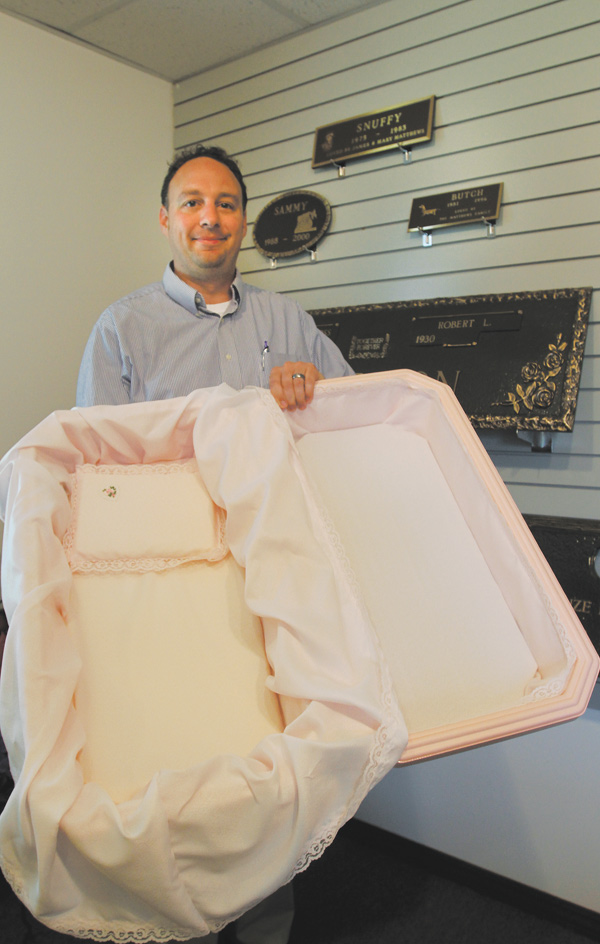 ---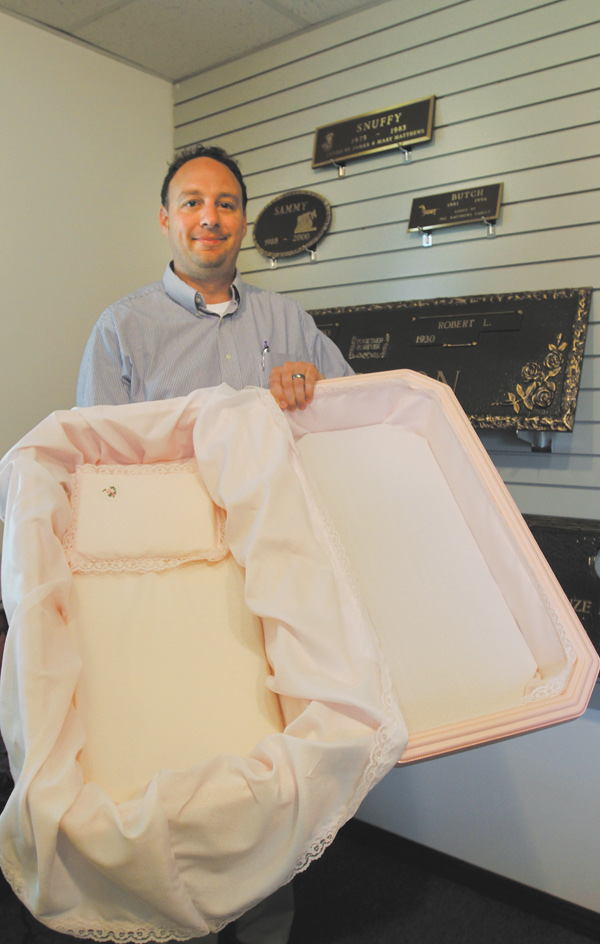 Photo
Jason Bonomo, Ohio regional sales manager for Bronze Stone Group, which includes Pet Haven Memorial Gardens in Canfield, said the pet cemetery offers basic pet shells and fancy ones, such as the one he is holding.
By Kalea Hall
Canfield
Every morning, no matter the weather, the Green Haven Memorial Gardens cemetery staff hears a car horn.
But instead of this mourner beeping for a human loved one at Green Haven, he or she is saying hello to a furry friend who is now at rest at Pet Haven Memorial Gardens — a pet cemetery operated by Green Haven.
"The people who cry the most are the people who have lost a pet," said Mary Lou Planko, administrator for the cemeteries. "It's heart-wrenching to watch them."
Pet Haven has been burying pets for customers since the early 1980s. It was an add-on business to the Green Haven Memorial Gardens, a cemetery that opened in 1966. Both cemeteries are owned and operated by Bronze Stone Group. Pet Haven, by law, has to be a completely separate entity from Green Haven. Animals and humans are not allowed to be buried in the same area.
Planko, who was working for Green Haven at the time Pet Haven was added, said the pet cemetery business started out slow. Today, there are more than 1,500 animals buried in Pet Haven including a monkey, rabbits, turtles, birds and the traditional cats and dogs.
"I like the idea that they [the animals] have a permanent place," said Jason Bonomo, the Ohio regional sales manager for Bronze Stone Group. "They aren't in some stranger's backyard."
Bonomo said he has two cats buried there because cremation is just not for him.
"For humans or pets, [burial] is important for closure," Bonomo said. "You know they are somewhere protected."
Since cremation became more popular, business at Pet Haven has slowed somewhat. The cost of burying a pet professionally depends on size, and if the owner wants the pet to have a specialized pet shell and pet memorial. Pet shells, what the animal is placed in before burial, run anywhere from $90 to $160. An owner can have a bronze or granite memorial for as little as $400. There is also a service cost starting at $340. It is also possible to bury an animal in a community space starting at $150.
By comparison, cremating a pet at Becker Angel's Rest in Struthers costs $40 to $140 and up based on the size of the animal, according to its Web page.
Although cremation services cost less, Patti Arena still decided to bury her two dogs and three cats in Pet Haven. When Arena lived in New York, she also buried her pets in a cemetery.
"I could have never just left them at the vet," Arena said. "To me, they are more my children more than my animals."
Another option, outside of cremation, is the traditional way of burying in the backyard.
To Bonomo, the problem with backyard burial is if a family moves, the animal or animals will stay behind.
The Mahoning County Board of Health has no regulations against backyard burial and a representative said it is up to a community to decide if there should be a law or ordinance against it. There are no ordinances against yard pet burial in Canfield or Youngstown, for example.
Veterinarian Dr. Donald K. Allen, in the business since 1980, said he has seen a move to the use of cremation services rather than professional pet burial, mainly because of the cost factor.
At his office on Market Street in Youngstown, pet owners are offered multiple services for how they would like to put their animal to rest including backyard burial, professional burial or letting the vet take care of the body.
Dr. Allen said all of the animals who are left at the vet are taken to a pet landfill for a mass burial.
"Some people are OK with [the landfill] and some people are not," Dr. Allen said.
To Dr. Allen, who has cremated his own pets and buried them in the yard, there is nothing wrong with burying a pet in your yard, but cremation has become the most popular way to put a pet at rest.
"It may be easiest and the most appealing," he said.