Foul play not suspected in Hubbard child's pool death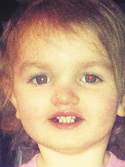 ---

Photo
By Ed Runyan
WEATHERSFIELD
As summertime swimming season gets into full swing, a Trumbull County health official warns that drowning is one of the leading causes of child deaths each year.
The Weathersfield Police Department has confirmed that 2-year-old Marina N. Baugher died Tuesday afternoon in St. Joseph Health Center in Warren after her mother found her unresponsive in a swimming pool on Emerson Avenue. Emerson is just south of Deforest Road and near North Road in the Heaton-Chute neighborhood.
Capt. Mike Naples Jr., said Marina and her mother, Maria A. Reynolds, of Morningside Drive in Hubbard, had gone to 1359 Emerson, the child's grandparents' house, to pick something up.
Nobody else was home at the time, and the mother started looking for the child, didn't see her anywhere and found her in the swimming pool without a pulse, according to police.
Reynolds and two neighbors administered CPR before Weathersfield police and a Lane's Ambulance crew took over the child's care, Naples said.
A neighbor made a 911 call on the drowning at 12:52 p.m.
"There doesn't appear to be any foul play, but we still have to look into a few things," Naples said.
Debbie Mokosh, director of nursing for the Trumbull County Board of Health, notes that drowning is a leading cause of child death. She offers the following suggestions for keeping children safe around water:
Never leave a child unattended around water. Children are drawn to it, and very young children can drown in just an inch of water.
Empty buckets, pails and bathtubs completely after each use. Do not leave them full and unattended.
Always have an adult supervising young swimmers.
Don't mix alcohol and supervision of children.
Be sure that the adult watching a child knows how to swim, get emergency help and perform CPR.
Keep rescue equipment such as a life preserver or shepherd's hook and a telephone near the pool.
Plastic or blow-up wading pools should always be drained and stored in an upright position after each use.
Enclose pools completely with a self-locking, self-closing fence. Do not leave furniture nearby that children can use to climb over the fence.
Teach a child to swim at an early age. Teach a child to assume a float position (on his or her back).
Flotation devices or inflatable toys are not substitutes for supervision.
, even if a child can swim.