Wolford offers Ursuline campers advice for success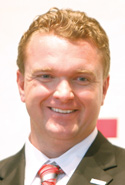 Photo
By Greg Gulas
YOUNGSTOWN
Having coached at all but the professional level, Youngstown State foootball coach Eric Wolford knows a little bit about what it takes to be a winner.
Addressing those in attendance at Ursuline High School's 10th annual football camp, the 1989 Fighting Irish graduate said eye contact when talking or listening to someone goes a long way while being late is never acceptable if you plan on making a name for yourself.
"When I attended Ursuline High School, coach [Dick] Angle and Rollen Smith were instrumental in my development, both on the field and in the classroom because they cared about you as a person," Wolford said. "I had to learn values and they helped teach them to me over the course of my scholastic career."
Wolford added that doing only what is asked of you just might not be good enough to get the job done.
"You have to work extremely hard while developing an excellent work ethic. Going above and beyond what is expected of you might very well be the key to your success," he said. "Academically, C's are not acceptable in the classroom."
As he encouraged campers to be the best that they can be each and every day, he also cautioned about evils lurking out there that can derail a promising career.
"One of the major issues confronting every program right now is that of marijuana. It's a drug that makes you lazy and messes with your mind, so stay away from it. Plus, it's illegal," he said. "It starts at a younger age each year and is a pathway to destruction. Take the high road and be creative because the world is yours right now."
Zane Cylar, a seventh-grade student at Liberty Middle School, is a quarterback who was looking to learn more about his position.
"I wanted to learn the proper throwing motion for a quarterback and in addition to that, the camp also helped me with my mechanics," he said.
Jeff Marx, one of 30 incoming freshman for coach Larry Kempe's Fighting Irish this season, is a center who wanted to get the jump on two-a-day drills.
"The past two days have really helped condition me, also preparing me mentally for the upcoming summer practice sessions," Marx said.
Another incoming frosh, Spencer Warren, is a fullback and middle linebacker candidate who embraced the many drills that the camp offered.
"I want to be in shape when we get started and stay in shape. The camp is just the start so that you can play four quarters of a game and not be tired at the end," Warren added.
Art Carter, Ursuline defensive backs coach, was timing campers in the 40-yard dash and looking for improvement over the two days of the camp.
"It's all about learning and I just want to be able to teach them about the game. I want all of the campers to walk away with something that they can file in their rolodex of learning," he stated.
Michael Bartos, owner of PSD Performance in Boardman, is in his third season as the school's strength and conditioning coach.
He encouraged the group to play as many sports as they possibly could while taking the time to learn the skills of each sport in which they are playing.
"Today, I just wanted to expose the kids to some single body weight exercises so that could take them home and work on them," he said.
Kempe's camp goal was three-fold; wanting everyone first and foremost to have a good time, to learn football fundamentals and also expose the entire group to the Ursuline High School way of doing things.
"We had two excellent days and the entire camp staff came away pleased with the interest that the young men showed. All were very coachable, did a great job of listening to the instructors and guest speakers and hopefully they've learned what we're trying to do at UHS," Kempe said.
The camp drew 150 between kindergarten age and ninth-grade for the two-day session.