Weather interrupts Little b finals again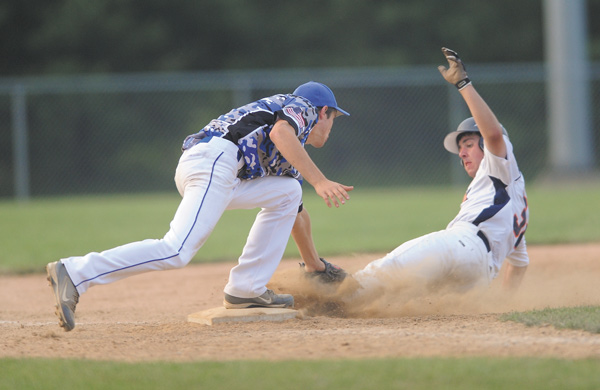 ---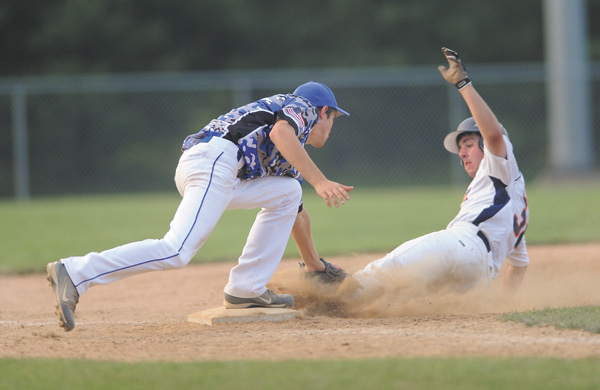 Photo
Astro Falcons baserunner Vinny Ruberto is tagged out by the Ohio Glaciers third baseman Evan Kendall. as he attempted to steal third during the bottom of the sixth inning in Game 2 of the Little b championship Tuesday at Cene Park in Struthers. The game was suspended for the second time in two days by lightning, with the Falcons leading the game at 6-4 and the series 1-0. Play resumes today at 8 p.m. on Cene 1, where Game 3 will follow, if necessary.
Game 2 suspended for 2nd day in row
By Joe Scalzo
STRUTHERS
The Astro Falcons entered the Little b championship series hoping to get two victories before the Ohio Glaciers.
The lightning beat them to it.
For the second straight night, the series' second — and possibly deciding — game was suspended by lightning, this time with the Falcons clinging to a 6-4 lead with one out in the top of the seventh inning.
They'll resume tonight at 8 on Cene 1. If Ohio can rally, Game 3 of the three-game series will immediately follow.
When asked about having to come back for the third straight night, Astro coach Brian Kubala chuckled and said, "Well, they've got to come back, too.
"Our coaches do a good job keeping the kids in the game but we don't have to do a lot to get them ready to play. We have a bunch of good-character kids. They'll be ready to go."
Astro won the series' first game on Sunday, 4-2, and began Tuesday's contest with a 3-0 lead in the second inning, thanks to Monday's suspension.
Ohio Glaciers cut the deficit to 3-1 in the third inning on a bases-loaded walk by Jared Kapturasky, but Astro came back with a run of its own in the fourth on an RBI single by Eddie Crump.
The Glaciers struck again in the fifth when Jake Smith hit a one-out double, moved to second on a wild pitch and scored on Donald Colucci's sacrifice fly. Ohio then made it 4-3 in the sixth with Dalton Donachie coaxing a one-out walk, then scoring on an error.
Astro made it 6-3 in the sixth inning when Luciano Romeo and Crump each singled, then scored on Vinny Ruberto's single to right.
Glaciers had a rally going in the seventh when the game was called. Evan Kendall hit a leadoff single, then moved to second on Smith's walk. Both runners moved up on a wild pitch and Colucci plated Kendall with a sacrifice fly to right, moving Smith to third.
That's where things stand.
"We've got the middle of our order up and we're confident in our whole batting order," said Glaciers coach Ron Fagert, whose No. 5 hitter, Kapturasky, is up to bat. "We just need to get a couple hits, get the lead and win this game."
Danny Boerio, who was pitching when the game was suspended, will be back on the mound tonight, Kubala said.
"He's got one of those rubber arms that can throw a lot and he's a bulldog out there," Kubala said. "We have all the confidence in him."
Fagert feels the same way about his team, which started training in November with 16 players. The same 16 are still playing in July.
"We have a good group of kids with great leadership," he said. "We just want to go out and do what we enjoy and hopefully win this league."