---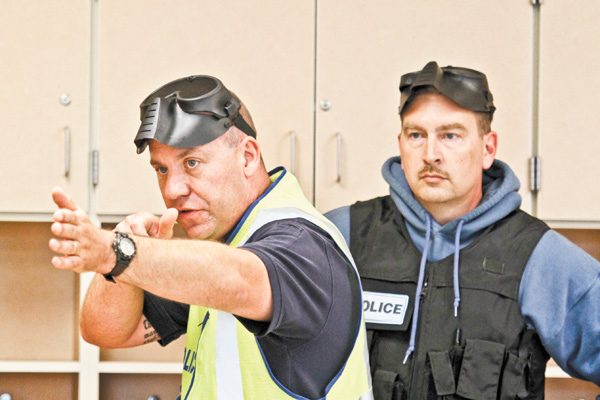 Photo
Hubbard City Police Sgt. Christopher Moffitt, left, instructs while Detective David Oaks listens during an active shooter scenario training at Hubbard Middle School.
By LEE MURRAY
TheNewsOutlet.org
HUBBARD
Hubbard Police Officer Adam Hess checks every room along the central hallway of Hubbard Middle School with his gun drawn.
He is searching for a gunman who may or may not have taken hostages. Suddenly, he hears the sound of panic coming from a classroom down the hall.
The words, "Get on the floor, I'll kill all of you, I swear" echo down the empty halls. Hess' training tells him to move toward the sound of screaming and gunfire.
Within seconds, Hess has found the classroom, identified the shooter, and fired three rounds at his chest. It's over.
Thankfully nobody is harmed. Both Hess and the gunman are armed only with air soft guns, and this realistic live scenario is an element of an active shooter training program for police officers on how to deal with gunmen in schools — and how to do it alone.
"This is a total change in the way police address active shooters in schools," said Hubbard Chief James Taafe.
"Police used to form a perimeter and try to negotiate," said Taafe. "But active shooters aren't there to negotiate. They're there to kill people."
Sgt. Christopher Moffitt leads the training.
"We're teaching our officers to engage as a solo entity, instead of going in as a group," Moffitt said.
Pre-Columbine, Colo., school massacre, he said, police were trained to contain a school and call in a team. Post-Columbine, police followed "quad" training, which involve a four-person group of officers searching through the school with officers at the front, back, and sides of a diamond formation.
The main problem with quad training is that it involved waiting for backup to arrive, and waiting for other officers cost lives, Moffitt said.
"Active killers take a life at a rate of about one every 15 seconds," said Moffitt, quoting training material. "For every two minutes that pass waiting for other officers to arrive on scene, we lose another eight lives. So we're saying, 'Let's get the officer in there quick.'"
Moffitt said that officers are trained to focus on dealing with the gunman before helping anyone who is injured. This includes ignoring pleas for help.
"Go towards the sound of gunfire and engage the threat," Moffitt said. "In that situation, we're there to rescue people by stopping the killer. It's an indirect help."
Moffitt said that even though the scenario training involves no real threat, it still gets officer's adrenaline going. After the first scenario, though, Hess doesn't seem fazed.
"I'm more calm than I would be in a real life encounter," said Hess. "It's good to get this kind of training in. I'm more confident now, more than before the class."
Hess said that he has never done this type of training before.
"I wish I could tell you that we do this kind of training regularly," said Moffitt, "but this is the first time we've done it. I've been a police officer for 20 years and I did [the old quad style of training] once, maybe twice."
Detective Sgt. David Oaks said that the live training is realistic.
"Even though it's training, your senses are heightened and adrenaline takes over," Oaks said. "You can never prepare 100 percent for every situation, but it puts options there in your mind."
Live training exercises like these can be hazardous. Even though everybody is wearing masks to protect their eyes and face, the pellets from the air soft guns can really make an impression.
"It stings really bad," said officer Natalie Magee, shot in a similar exercise a few days earlier. "You should have seen the mark it left. It broke the skin."
This unconventional police tactic was designed by Response Options, a Texas company that also created a training system designed to protect children and staff from active shooter incidents in schools.
According to training materials, studies show that 40 percent of active shooters commit suicide once the police arrive. Moffitt said that cops are told to leave their sirens on when entering the building to encourage active shooters to turn the gun on themselves.
Moffitt operates other training courses in the city, including a new course that deals with officers' response to violent vehicle stops.
"A local scrap dealer has donated some cars so officers can learn the dynamics of shooting into cars and through windshields," Moffitt said.
Training is the perfect time to make mistakes, Moffitt said, because the stakes are low.
"Now's the time to screw up," he said.
TheNewsOutlet.org is a collaborative effort among the Youngstown State University journalism program, Kent State University, University of Akron and professional media outlets WYSU-FM Radio, The Vindicator, The Beacon Journal and Rubber City Radio, both of Akron.