Northside: $20M project represents commitment to community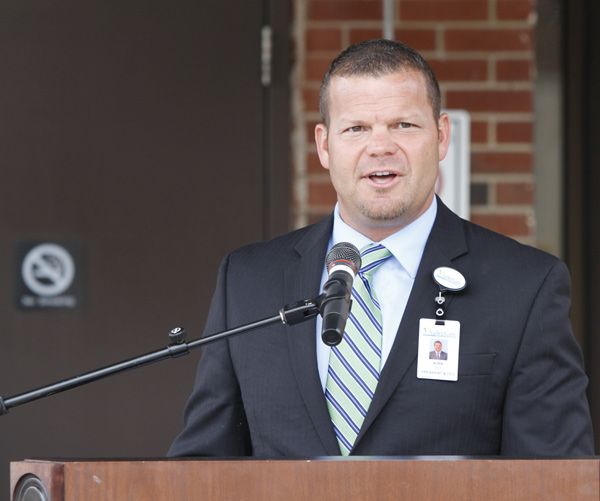 ---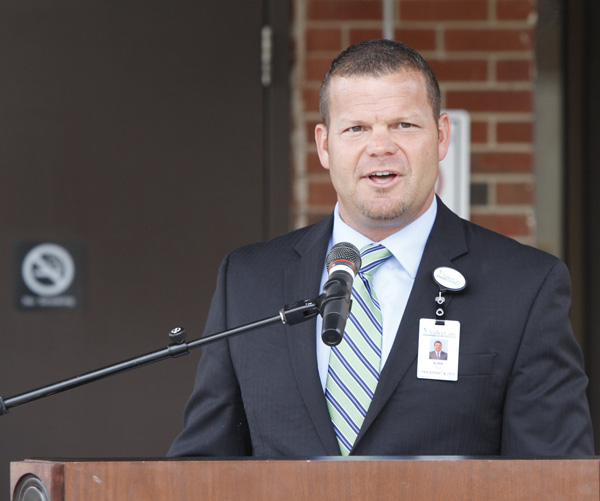 Photo
Kirk Ray, chief executive officer of Northside Medical Center and ValleyCare Health System of Ohio, led the groundbreaking ceremony Tuesday for a $20 million expansion and renovation project at Northside on Gypsy Lane.
YOUNGSTOWN
Northside Medical Center officials say Tuesday's ceremonial groundbreaking for a $20 million addition and renovation project there represents a commitment to the hospital, its patients and the community.
The project at Northside on Gypsy Lane, an affiliate of ValleyCare Health System of Ohio, includes a 30,000-square- foot, three-story tower that will house the Emergency Department and serve as the hub of the hospital.
Construction is expected to be completed in 2014.
Also, more than 28,000 square feet of the current hospital will be updated, said Kirk Ray, Northside and ValleyCare chief executive officer.
The new and renovated areas will improve patients' experience and give hospital employees and members of the medical staff a facility designed to support their work of providing patients with quality care, Ray said.
The project, which includes 21 private examination and trauma rooms in the emergency department, will enhance patient privacy.
"There is a divot in the board room table where I have been pounding for years saying we need a new emergency department," said Dr. Neal Tishman, DO, director of Emergency Services at Northside.
"We treat 30,000 people a year in the emergency department. The dedication and skill of the doctors and nurses and support staff are unparalleled," he said.
In addition to the emergency department, the tower will house the new central entrance to the hospital and lobby, which will include registration, pre-admission testing, waiting rooms, a gift shop and an information center. It will also be closer to the existing parking deck.
The second floor will combine surgical services into one location with 21 private patient holding rooms; and on the third floor, endoscopy services will add a new waiting area and three new procedure rooms, officials said.
Over the years several Youngstown area iconic institutions have collapsed, said Sandy Kessler, chairman of the board of Northside and executive director of the Jewish Community Center, one of several speakers at the ground breaking ceremony.
"Isn't it nice that today we can celebrate the stabilization of an institution [Northside] that is part of the fabric of the community. I'm very proud," Kessler said.
"Today's ground breaking shows me the commitment [of ValleyCare and its parent company, Community Health Systems] to Northside and the community," said Dr. John Gianetti, MD, new president of the medical staff.
A native of Girard, Dr. Gianetti did his internship at Northside and has been on the staff 22 years. "It seems like I've been here my whole life," he said.
Five or six years ago, the survival of Northside was uncertain, said Tom Humphries, president and chief executive officer of Youngstown/Warren Regional Chamber.
"We are pleased to see this day come," said Humphries, who stressed the importance of having two viable health care systems in the community.
The project is great for the community and Northside's patients and staff, said Lorie Rhine, vice president and chief nursing officer. It makes a statement about the future and about growth and quality care, she said.
The project is part of the five-year, $80 million capital commitment promised when Forum Health, of which Northside was a part, was purchased out of bankruptcy by Community Health Systems in October 2010. Since then, ValleyCare has invested about $50 million to improve hospital facilities, update technology, add new medical equipment, and recruit physicians, Ray said.
The new emergency department is long overdue, said Kathy White, clinical nurse manager for the last three years.
Most of the emergency department nurses have been here 25 or 30 years or more and have gone through the hard times and stayed, said White, who has been at Northside since 1983.
"This is like our home. It means a lot to us. The new facility will help us do what we do best ... take care of patients," White said.