Published: Wed, July 10, 2013 @ 12:00 a.m.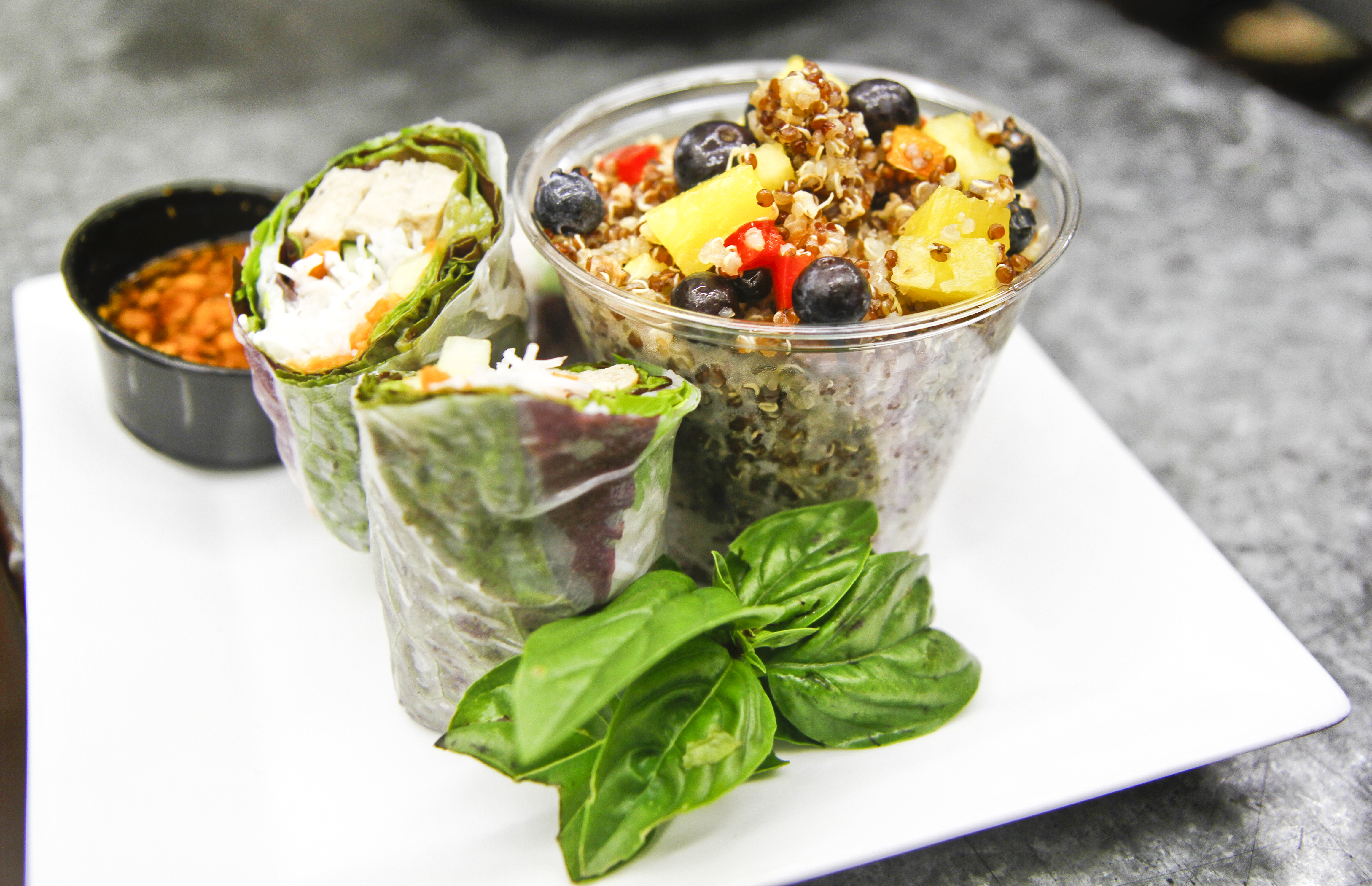 Photo
Fresh spring rolls served with quinoa salad at Ely's To Go in Youngstown.
If You Go...
Where: Ely's To Go
Address: 850 E. Western Reserve Road, Suite 7, Boardman
Phone: 330-953-3445
Website:www.elystogo.com
By Erin Kouvas
Walking into this now-familiar eatery, I am at once happy to be here. Even though, at the moment, I am nowhere near being vegan and live 20 minutes away, Ely's To Go is a semiregular occurrence in my life simply because of the delicious food done right. The quality that the owners strive for can be seen, felt and tasted in every bite consumed and moment spent within the doors of this mainly organic, locally grown and vegan fast-food concept located in Boardman.
Ely's is owned and operated by Jim and Ely Pugh, and they've succeeded in making it one of those places that when you enter, you feel like family. The bond amongst the staff there is practically palpable. They have common beliefs and values (they recycle, they compost and they eat consciously) and all of that cohesion within the tiny kitchen that puts out such delectable eats shows in the atmosphere and the experience of the customers. And though the staff is also small, nine in total, they pack a big culinary and healthy-living punch.
I was welcomed into the kitchen, where I met five of the nine Ely's employees. Danny, Andi, Mandy, Angie and Sarah, and yes they are all vegans. On top of that, Danny, who was alongside Ely chopping, is a Culinary Institute of America graduate chef who also coaches a local Roller Derby team. Andi, who was making a smoothie, is a chemist and farmer. Mandy was on spring rolls and is herself a Roller Derby girl with the pseudonym Hummucide, no less. Sarah, who runs the front with a smile, is a yoga instructor, and Angie is a personal fitness guru who also makes homemade almond milk, which Ely's To Go proudly displays in the cold cases out front. If you aren't impressed and kind of in awe of the combination and chemistry of these people, you just have to meet them to change your mind. And the food, of course, speaks for itself, but I will elaborate for you all the same.
The menu changes daily, as they always serve what is delivered fresh that day. Ely's is open Monday through Friday from 8 a.m. until 4 p.m. In the morning, the staff can be found dishing up coffee and gorgeous scones or muffins, and if you want to take lunch to go for later, it's usually done and ready to go by 9:30 at the latest. For the rest of the afternoon, they serve soups, salads, sandwiches, muffins, scones, cookies and a variety of other tasty treats.
On this particular day, I decided to get the Lunch Box, which was a "Chicken Salad." Of course, it was really a vegan version with ancho chili, roasted Japanese sweet potatoes, sugar snap peas, fresh salad greens and white peach-cinnamon vinaigrette.
I can't even begin to describe how much I loved this dish. I don't eat faux meat usually, but this was delicious. It was refreshing and filling all at once. Healthful, delicious and mindful eating all for $7.50? What more can you ask for?
Also tasted on this visit were the Spring Rolls ($4.50), a staple and always a good choice.
The Autumn Salad (all salads are $3 a cup), which consisted of brussels sprouts, cranberries and pecans on this visit.
The Waldorf Salad done Ely's way, with apples, celery, black barley, raisins and a creamy vegenaise dressing; absolutely delicious.
I did not get the Quinoa Salad on this visit, but every other time I do and highly recommend it.
And last but not least, for dessert, the Raw Chocolate Parfait ($5), which consists of three layers; raw cacao, cashew cream and on top, a pineapple pur e. Raw food requires certain standards to create. All I can tell you is this dessert was a dream and met mine.
Jim and Ely have been in the restaurant business for a long time, some 20 years, once owning and operating Lock 24 in Lisbon, where Ely was the head chef, until she decided to go completely vegan. It has been a long culinary journey for them, but the end result is magic for those of us who crave a healthful alternative for eating out. Now in their third year operating a free-standing dining establishment, they were initially located in The Bread Chef, which is next door and which still provides fresh bread for them.
If you like good food that is good for you, food that is reasonably priced and being served with a smile by caring people who have a passion for their craft, then go to Ely's To Go today for a wonderful eating experience.
About Food:30
We are offering a glimpse into local restaurants and eateries by reviewing their food offerings. To recommend a location, send an email to society@vindy.com.