Historic Lanterman's Mill will grind grain once again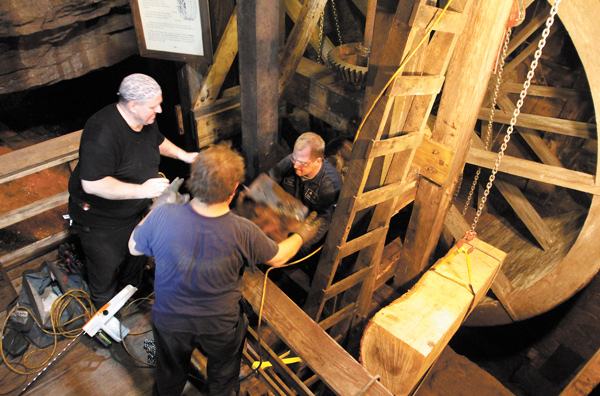 ---

Photo
David Siembieda, owner of All-Do-It Technical Services LLC of Youngstown, hands up a piece of a beam being removed from Mill Creek Park's Lanterman's Mill to his workers, Gary Kaszowski, in background, and Joe Oates on Tuesday. The new support beam for the water wheel hangs from the chain at right, ready to be installed.
YOUNGSTOWN
One of the city's historic landmarks once again will function for its original purpose.
Mill Creek Park's Lanterman's Mill is expected to resume grinding corn, wheat and buckwheat by the end of this week, now that a deteriorating main wooden beam has been replaced, said Linda Kostka, Mill Creek MetroParks development and marketing director.
"Without the water wheel turning, the grindstones are still and silent, and the normally very visual example of 19th-century history and culture is missing for visitors to the historic structure," Kostka said. Grain hasn't be ground there since January.
"Lanterman's Mill is such a historic landmark and so important to Mahoning County. This is one of the industries that we had here" in the 19th century, Kostka said of the mill, which is a major symbol of the park.
When the mill is operating, the grain it grinds is sold in the mill gift shop and at Whitehouse Fruit Farm near Canfield. The product contains no preservatives.
The new, white-oak beam, which supports the 4-ton water wheel that powers the mill, was hand- cut by the park forestry crew using steam-powered antique machinery at the 2012 Canfield Fair. The new beam weighs 540 pounds and is 78 inches long, 16 inches wide and 16 inches high.
"From an educational standpoint, it's really important, especially for school groups, that they see the wheel turning, because it gives them a concrete, visual example of how things were done," said Carol Vigorito, the park's recreation and education manager.
"Without places like this, the Mahoning Valley wouldn't have developed," said Greg O'Neal, mill manager.
"This building's about 75 percent original as it stands now, which is pretty impressive," he added.
Wood used in the mill must be a rot-resistant variety, such as white oak, and it must be air-dried, rather than kiln-dried, to reduce the amount of water it absorbs in use, Kostka explained. The wheel and its supports are subject to rotting because they are in a wet environment.
The beam installation was performed by All-Do-It Technical Services LLC of Youngstown, whose crew had to work in a confined and rocky space in the basement wheel pit because the mill was built on the side of a rock wall. The $5,000 installation is being paid for by private donations from the Mill Creek Park Foundation.
"It's really a walk in the park for our company because this is what we do," said David Siembieda, company owner, as he supervised the crew that was using a chain-and-pulley system to hoist the new beam into place. "It's labor-intensive," he said. "It's old-school rigging."
Soon, the wheel itself, which is 14 years old, will have to be replaced because wooden water wheels normally have an 11- to 15-year life span, Kostka said.
Built in 1845 and 1846 by German Lanterman and Samuel Kimberly, the mill is the third one built at Lanterman's Falls on Mill Creek.
The first mill at that location was built by Isaac Powers in 1799 and operated until 1822.
Eli Baldwin replaced it with the second mill in 1823; and that mill operated until floodwaters swept it away in 1843, carrying one of its grinding stones 500 feet downstream to the creek-side spot where it still rests today.
Lanterman's Mill closed in 1888, and the park bought it four years later, using it as a ballroom, concession stand, bathhouse for swimmers and winter boat-storage facility.
The mill then became a nature and historical museum before it was restored with a $600,000 grant from the Florence and Ward Beecher Foundations between 1982 and 1985.
Located at 980 Canfield Road, Lanterman's Mill was entered onto the National Register of Historic Places in 1976.
Some 9,571 people visited the mill in 2012, not including the 5,500 who attended the annual Christmas at the Mill arts and craft fair over Thanksgiving weekend.
Between May and October, the mill is open from 10 a.m. to 5 p.m. Tuesday through Friday, and from noon to 6 p.m. Saturdays, Sundays and holidays. It is closed Mondays.
In April and November, the mill is open only from noon to 4 p.m., Saturdays and Sundays. The mill is closed during the winter.
The regular admission fee is $1, with 75 cents being charged to Mahoning County residents and 50 cents being charged to students and senior citizens. Children under 6 are admitted free.