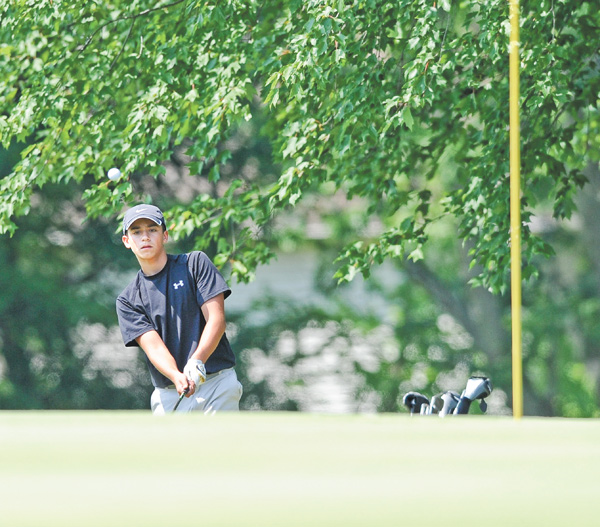 ---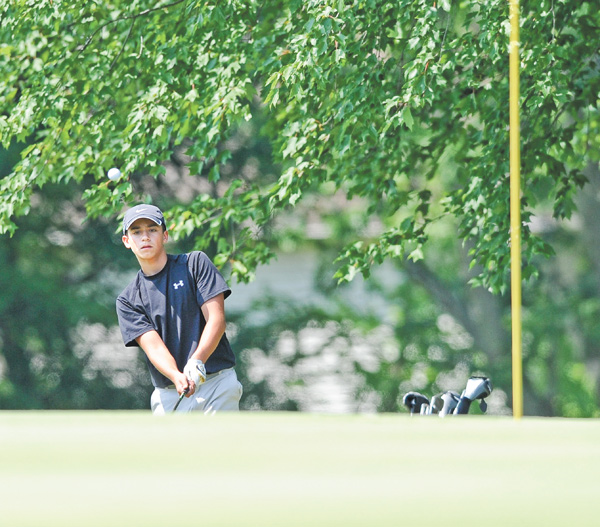 Photo
Anthony Graziano of Girard chips onto the green from the rough on the fifth hole of Tamer Win Golf & Country Club in Cortland during the last Juniors boys qualifier Monday for the Greatest Golfer of the Valley tournament. Four more golfers advanced to the final, which will be July 28 at Trumbull Country Club.
Snyder trades driver for 3-wood, finishes first
by Ryan Buck
Cortland
After helplessly watch- ing his wayward drive sail into the tall grass alongside the No. 10 fairway at Tamer Win Golf and Country Club Monday, Nolan Snyder made a quick decision.
In the lead of the final junior qualifier for The Vindicator's Greatest Golfer of the Valley, presented by Farmers National Bank after his first nine holes, all he needed was an uneventful back-nine to ensure a spot in the championship round.
He wanted to be safe, keeping the driver in the bag.
"I only hit it once or twice on the front and neither of them were that bad, but on 10, I hit a pretty bad drive and I had to punch out and ended up getting a bogey," said Snyder. "The driver just wasn't working, but I made an adjustment."
On the 6,300-yard layout, he felt better safe than sorry when choosing his 3-wood off the tee.
"I just decided it wasn't worth risking it because it's not that long out here," Snyder added. "My 3-wood's not that much shorter compared to my driver and it's a lot more accurate.
"I felt like the driver was leaving me in bad spots so I made the change and it worked out."
Snyder, a junior at Western Reserve, finished his round with a 76 and a first-place finish. He will join second qualifier Vince Hynes, of Lowellville, in the Greatest Golfer of the Valley final round July 28th.
Snyder, who lost a playoff hole at the Tam O'Shanter of Pennsylvania qualifier was relieved to finally get his wish after some summer struggles, including last week.
"I felt like coming back to Diamond Back, the home course, I'd redeem myself there, but that just wasn't a good day at all," he said. "I really struggled there so it felt good to come back to the last qualifier and make it out."
Tamer Win's combination of tree-lined fairways and deceiving shot angles made him work for his invitation.
"Getting up-and-down was the main thing that helped me a lot," he said. "I probably hit what felt like two greens the whole day. It felt like I did it on every hole."
Hynes fell in a playoff hole to Daniel Martin, of Boardman, for the second qualifying spot at Diamond Back.
"It didn't feel good," Hynes said, with a look of disgust. "I wanted to bounce back and redeem myself."
On the opening holes, he did just that. Tamer Win's first three holes are ripe for scoring, especially if one can avoid the four fairway bunkers that guard the dogleg to the left of the fairway on the second hole.
"I started off with three straight pars," said Hynes, a senior at Lowelville. "That set the tone. I had a couple bogeys scattered here and there, but I was able to bounce back usually."
Like Snyder, Hynes, who shot an 80, capitalized on his short game.
"I got up-and-down a lot," he said. "My tee shots weren't great though."
Mistakes at the conclusion of both sides didn't hurt him. He was one shot better than Ethan Grim and Lorenzo Sabella.
"I was leading myself into some bad holes and then doubled No. 9 and No. 18 to end both the sides so that kind of hurt," he said.
As his round wore on, his consistency erased earlier misfortune.
"I just had it in the back of my head to try and not let that happen again, to not leave myself in that position," he said.
In the 12-14 year-old division, Warren's Tavish Burd (91) and Austintown's Anthony Catauro (92) will join previous qualifiers Cole Christman and Joey Vitali at Trumbull Country Club for the tournament's final round.
The girls' side will tee off Friday at Tamer Win. For all tournament coverage and information, see The Vindicator in print and online at vindy.com/golf.