YSU's First Couple moves in
---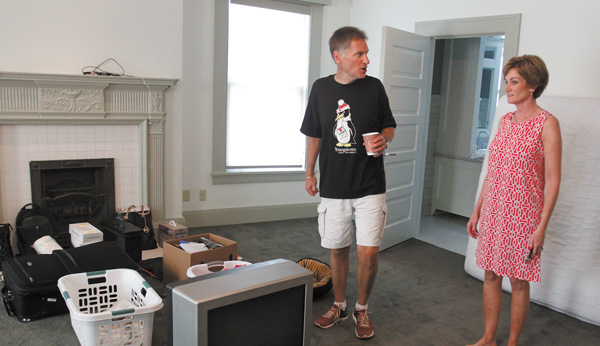 Photo
Randy and Ronda Dunn look over items to be arranged in their new home, the Pollock House, as Dunn prepares to take office as Youngstown State University's eighth president July 15. The Dunns began moving into the historic mansion Monday, coming from Murray, Ky., where Dunn served as president of Murray State University for six years.
By Denise Dick
Youngstown
When they finish unpacking and arranging every-thing in the Pollock House, Youngstown State University incoming President Randy Dunn and his wife, Ronda, plan to explore the Mahoning Valley.
Dunn takes office Monday, but the couple made the nine-hour drive from their former home in Murray, Ky., Sunday, their packed moving truck arriving Monday morning at the university-owned Pollock House on Wick Avenue.
"It took two days to pack, it and it'll take a day to unpack," said Dunn, 55.
YSU restored the historic Pollock House, built in 1893, to become the president's residence. The $4.5 million project finished last September. Since former YSU President Cynthia E. Anderson, who retired June 30, already owned her own home, the Dunns will be the first to live in the mansion.
Dunn, dressed in shorts and a YSU T-shirt, directed movers as they lugged furniture and boxes out of the truck and into the house. Ronda pointed the crew to the appropriate rooms on the second floor.
"The first floor is for entertaining," Dunn said. "It's all university furnishings. The second floor will be our residence."
Although moving day was Monday, the couple received a copy of a sketch of the second floor, allowing them to plan ahead of time what would go where.
"I love it," Ronda Dunn said of the house. "It's beautiful."
The Pollock House is also bigger than the house they came from, owned by Murray State University, where Dunn served as president for six years.
Before he officially takes office, Dunn and his wife plan to learn more about the area.
"We want to get out and explore a little bit more," he said.
He read a recent story in The Vindicator about The Elmton in Struthers and the couple plans to dine there one night. His Murray State office staff gave the couple a gift certificate to Michael Alberini's restaurant in Boardman and they'll plan a nice evening there some time too.
His first week in office will be full of activity. He'll make the media rounds, visit some summer semester classes and meet with the university's vice presidents before a Monday afternoon welcome reception.
"The first day there will be a lot of meetings," he said.
One of the first things on his agenda as president is enrollment, which has slipped in recent years.
When he visited YSU last month to sign his contract, Dunn met with Gene Grilli, vice president of finance and administration, for a budget tutorial and he plans to continue learning more about that too.
As he did at Murray State, Dunn plans to continue the outreach to the community surrounding YSU.
As the city experiences a rebirth, the university needs to be a part of that, he said.
"That's probably going to be the defining foundation of my presidency — outreach and support," Dunn said. "Of course we always have our core work of teaching and learning and research and helping students proceed to graduation. But the mark of my presidency is going to be having the university being integrally involved in building and supporting the region."