Lightning suspends Little b series at Cene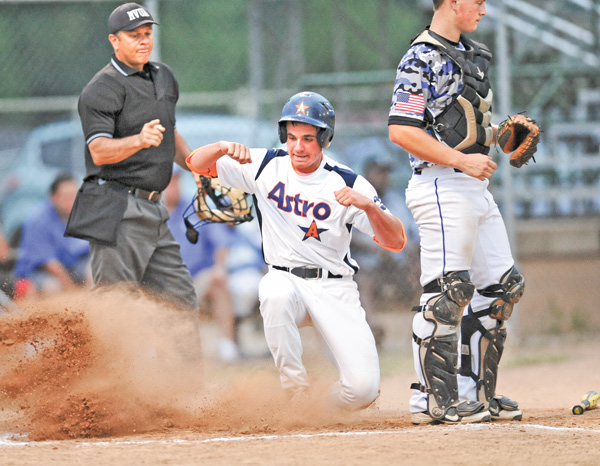 ---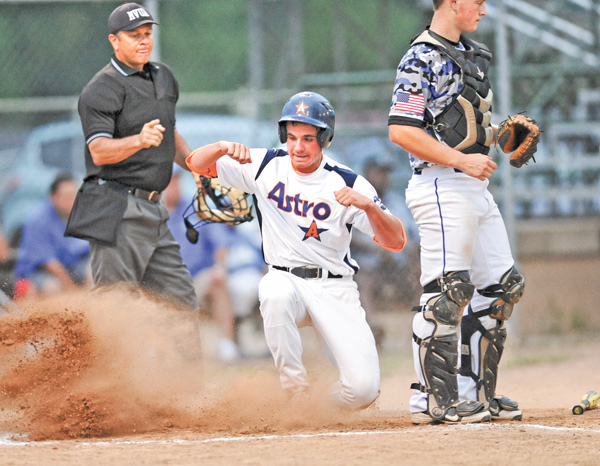 Photo
Astro Falcons baserunner Vinny Ruberto slides in behind Ohio Glaciers catcher Jake Smith to score in the first inning of Game 2 of the Little b championship Monday at Cene Park in Struthers. The Falcons led 3-0 when play was suspended by lightning in the second inning.
By Tom Williams
STRUTHERS
For the second time in three nights, lightning was the big winner at Cene Park.
In the second inning of Monday's Little b championship series game, lightning took over the sky, suspending the game between the Astro Falcons and Ohio Glaciers until today at 5:30 p.m.
In Game 2 of the best-of-three series, Astro leads 3-0. Astro also won Sunday's Game 1, 4-2. If the Glaciers rally to tie the series, Game 3 is scheduled for 8 p.m.
Saturday, weather played havoc with the Class B championship series. First, a storm interrupted the Astro Falcons-Creekside Fitness game, causing a delay of about three hours. When play resumed it wasn't for long as lightning shut down the contest until Sunday.
In Monday's game, the Falcons wasted no time jumping ahead. In the first inning, Eddie Crump singled then scored after Vinny Ruberto's singled to right field and Greg Dunham mishandled the ball.
Kip DeShields' hit scored Ruberto for a 2-0 lead. Two wild pitches by Glaciers starter Jared Kapturasky gave DeShields third base and he scored when catcher Jake Smith's throw went into left field.
Kapurtasky escaped his 29-pitch first inning by retiring Brandon Chamberlain on a groundout.