---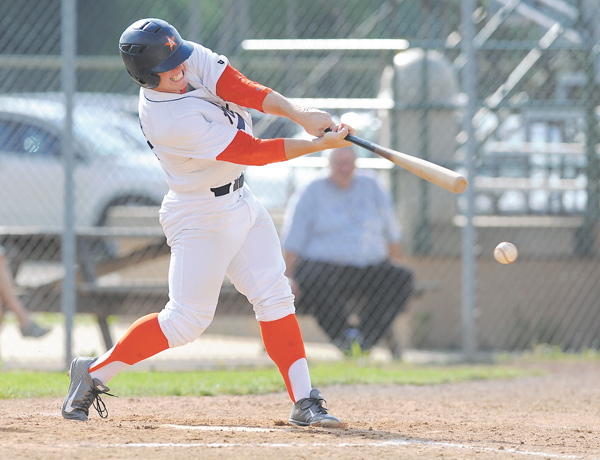 Photo
Astro batter Brenden Wells makes contact during his team's 8-4 victory over Creekside Fitness at Cene Park on Sunday.
By TIM CLEVELAND
STRUTHERS
During the regular season of the Youngstown Class B campaign, Creekside Fitness handed Astro Falcons their only two defeats, ensuring that the teams tied for the league's best record at 25-2.
Friday at Cene Park, Astro beat Creekside, 4-1, in the first game of the best-of-three championship series.
Saturday, Astro took a 4-3 lead in the bottom of the third inning in Game Two before lightning caused a delay until Sunday.
Not allowing the stoppage to stop its momentum, Astro rolled to an 8-4 win to complete the sweep and win a third consecutive Class B title.
"Those two [defeats to Creekside] were early in the season," said Astro manager Andy Timko, who along with his coaching staff of Brian Kubala, Mike Popio and Michael Loney have captured six of the last eight Class B titles as a group.
"Both sides didn't have all our players because a lot of kids were still playing in high school tournaments," Timko said. "That's a very good baseball team they have over there."
Ahead 4-3 when play resumed Sunday, Astro continued its assault. With runners on first and third and one out, Nick Andrews hit a sacrifice fly to left for a run.
Keyshawn D'Orso walked and advanced to third on an attempted pickoff by Creekside pitcher Eli Flynn, scoring Chris Wastchak.
Flynn then threw a wild pitch to score D'Orso before ending the inning.
"Their pitchers got a little wild. We took advantage," Timko said. "We had some timely hits.
"We definitely took what they gave us," Timko said. "That's what I tell the kids all the time, if they're going to give you that walk, take the walk. A walk's as good as a hit."
Creekside manager Terry Landis said the disastrous third inning doomed his team.
"We had one bad inning, there," Landis said. "Our bats, we left them at home. That's what killed us. I don't think we played our best."
Astro sent 11 men to the plate in the third inning, scoring seven runs for an insurmountable lead with Kane Durkin on the mound.
Coming into the game in relief of Jeff Vizzuso, Durkin pitched five strong innings, allowing only two runs and three hits.
"He's a horse," Timko said.
Durkin's strategy?
"Keep everything low. Don't let the middle of their order hurt us, and throw in tight," Durkin said. "Keep everything inside and try to jam them up and get them to hit a lot of ground balls. Stay away from their three and four hitters."
Durkin pitched last season for Creekside but made the jump to Astro this year after completing his high school campaign for Cardinal Mooney.
"I'm a traitor," he said. "We fell a little short with Mooney, but we still had a great season. That was a fun team, both these teams are. I've never had teams like this, ever. Close group of guys, I like it. I like the change. I'm glad I didn't stay with Creekside."
Landis called Durkin "a good pitcher. He's a good ballplayer. Our bats were dead."
Even though his team swept Creekside to win the Class B title, Timko said the victory was far from easy.
"It seemed like this game took four days, because of all the rain and stuff," Timko said. "That was just a total team effort.
"That first game we had was a really good game. It went nine innings. That was unbelievable, and this one here, just a lot of walks."