Sullivan Parkes, Mr. Doumont are engaged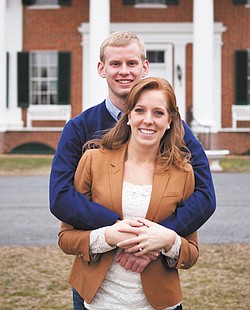 Photo
Nicholas R. Doumont and Sullivan P. Parkes
WINCHESTER, VA.
Scott and Cynthia Parkes of Winchester, Va., are announcing the engagement of their daughter, Sullivan Paige Parkes, to Nicholas Robert Doumont, son of Joseph and Lisa Doumont, also of Winchester.
The couple are planning a December wedding.
The bride-elect is a graduate of Elon University, Elon, N.C., where she received a bachelor's degree in exercise science. She is attending the physician's assistant program at Shenandoah University.
The prospective groom is a graduate of the U.S. Air Force Academy, Colorado Springs, Colo., with a bachelor's degree in mechanical engineering. His first duty assignment will be Tinker Air Force Base in Oklahoma.
Grandparents of the future groom are Lillian Ward, Mary Ann Rogers and Joseph Doumont Sr., all of Austintown.