SJIHM student wins essay contest

Photo
Neighbors | Submitted .War Veteran essay contest winners were, from left, Glyn Roberts, Patrick Thomas and Brandon Freer.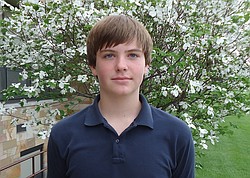 Photo
Neighbors | Submitted .Brandon Freer was the grand prize winner of the war veteran essay contest.
St. Joseph Immaculate Heart of Mary School students participated in an essay contest offered yearly by St. Stanislaus Post 1222. This year's essay contest was titled, "Why should we honor our veterans?"
SJIHM seventh-grade student, Brandon Freer was named the grand prize winner, while eighth-graders Glyn Roberts and Patrick Thomas both received honorable mention prizes.
When asked why he chose to write an essay, Freer said a lot of his family and friends are veterans, including a family friend that was at the Battle of the Bulge. To prepare, he spoke to two of his uncles, who had first-hand knowledge of war, having served in the Vietnam War and World War II.
In his essay, Freer wrote about how spending time with veterans helps you learn something and appreciate them.
"Our veterans make sacrifices just like my uncles did when they served in the military. Veterans had to leave behind family and friends, so that they could travel to unknown lands and protect people that they did not know," wrote Freer. "Remember to always honor our veterans, and never forget to say thank you. It means more to them than you think."