Man killed by Boardman officers shot first, police say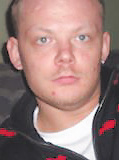 ---
By Denise Dick
BOARDMAN
Daniel A. Fitton Jr., 30, fired once inside his apartment and once at police outside before two officers returned fire, killing him, authorities said.
07032013 Boardman

Audio Clip
911 Call boardman police. Daniel Fitton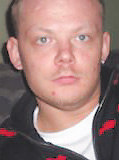 Photo
Police were called about 8:40 p.m. Wednesday to the four-plex apartment at 817 Cook Ave. where Fitton lived with his girlfriend.
The woman's daughter called 911, saying Fitton had a gun inside the apartment with her mother and two children. The daughter told the 911 dispatcher that Fitton was threatening to kill himself and threatening her mother.
"He's been drinking," the woman told the dispatcher. "This is over something stupid, over child support. He's been going crazy all day."
When police arrived, Fitton had barricaded himself inside the apartment and had a gun to his head, Police Chief Jack Nichols said.
The apartment's other occupants had left the apartment before police arrived.
Nichols said police called Fitton 69 times to try to negotiate with him.
Mahoning County Prosecutor Paul J. Gains said that Fitton either hung up or spoke incoherently on each of those calls.
Fitton fired his weapon once while inside the apartment, Gains said, and after a couple of hours, officers saw him break the window screen, then saw a muzzle flash, indicating he fired out the window at police.
At that point, two officers returned fire, discharging one round each. At least one of the shots struck Fitton in the upper chest, killing him. Police deployed tear gas inside the apartment after the shooting because they didn't know Fitton's condition and wanted to protect against Fitton shooting officers when they entered the unit, Gains said.
"It is a plausible theory that it was suicide by cop," Gains said. "He did make threats."
The two officers have been placed on paid administrative leave in accordance with department policy. Nichols declined to identify them Thursday.
But Gains said his preliminary examination of the incident points to a justified shooting. Once Fitton fired at police, he became a major threat that had to be removed, he said. Fitton became a threat to police and to the public, he added.
"I commend Boardman police for their restraint and their training," said Gains, a former police officer.
Nichols said the officers will have the opportunity to speak with a doctor. That would have happened Thursday if it hadn't been a holiday.
Lori Cramer, Fitton's girlfriend, said in a Facebook message that she wishes police would have handled the situation differently. She says she wants answers.
"I just wanted to say that if someone who is suicidal should be dealt with in a way where they are not killed," she wrote. "Dan had issues and that was very clear. The police won't tell me much except to say he was shooting at them out the window. I seen one small bullet hole in the closet door which I assume came from his gun..I was across the street and heard and seen and didn't see him shoot out the window and they had a shooter across the street...to me they could of probably shot to wound him and get him help. I'm not blaming anyone but you have a guy who was clearly asking for help and now he's dead. Leaving a 2 yr old little girl [Payton Julianna] at home and me with a huge mess to clean up. I want him back but that can't happen. I want answers and the truth but I'm not getting that either. He needed help that's all he needed."
Jim and Treisha Brumbaugh live in the apartment building next to where the shooting occurred. Jim went out on the porch Wednesday night to have a cigarette and found his street lined with police and emergency vehicles.
"I looked over there and saw two police officers with their guns drawn," he said. "That was scary."
He and Treisha didn't know what was happening. Treisha said she assumed it was something drug-related. They watched what was happening until a police officer spotted them and advised them to go inside their home.
Jim then watched from inside and saw the officers fire and a flash inside the apartment.
This marks the second time in a month where violence has touched the neighborhood that the Brumbaughs say until then had been quiet in the three years they've lived there.
On June 4, police were called to a Moyer Avenue apartment where a woman was charged with stabbing her boyfriend to death. Moyer runs behind Cook, and the apartment building where the June stabbing occurred is behind the apartment where police shot Fitton, the couple said.
"We're moving," Jim Brumbaugh said.
"That's two signs — we need to go," Treisha agreed.
More like this from vindy.com