Creekside sweeps Toyota to advance to Class B final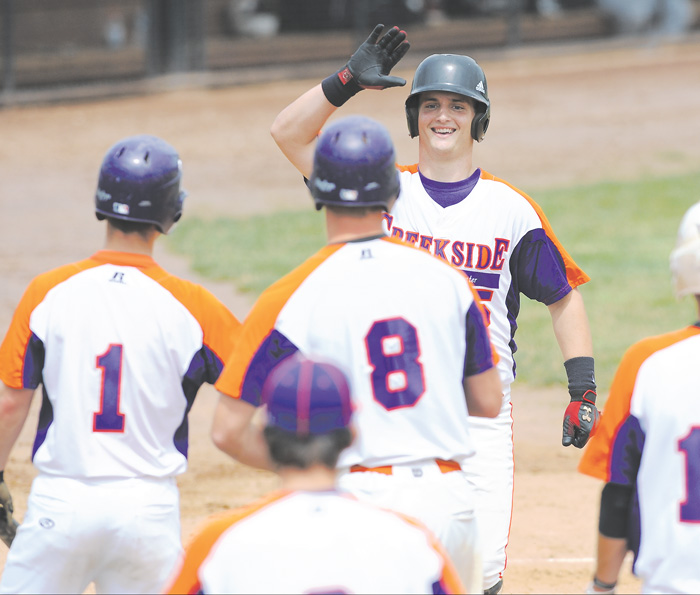 ---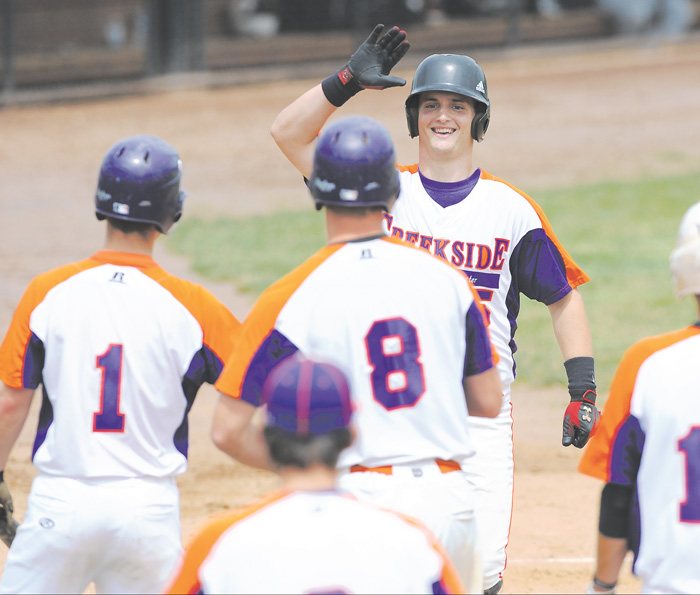 Photo
Creekside's Zac Miller (15) is congratulated by teammates, including Harrison Wagner (1) and Brandon Ritchie (8) after hitting a solo home run in second inning of Game 1 of their Class B semifinal doubleheader against Toyota of Warren on Thursday at Cene Park in Struthers. Creekside won both games, 6-3 and 4-3, to advance to the championship against the Astro Falcons.
Creekside sweeps Toyota to advance to championship
By Joe Catullo Jr.
STRUTHERS
A simple ground ball to second base almost turned into disaster for Creekside in Thursday's Class B playoffs at Bob Cene Park.
In the bottom of the fifth inning in the second game of a doubleheader, Pat Carlozzi hit a grounder that bounced past Steve Salda. Anthony Rohan rounded second base and went into third safely. Then a throwing error advanced him and tied the game.
Rohan scored because the grounder hit his foot, allowing the ball to trickle left of Salda. Furious with the call, Creekside coach Terry Landis stormed the field and threw his hat. The umpires huddled and reversed the decision.
"I even asked the kid, and he was honest and said the ball hit him," Landis said. "I mean if the ball didn't hit him, I wouldn't have gone crazy like I did."
Toyota of Warren coach Terry Dobson also threw his hat but did not win, though he knew the officials made the right call.
"I had to keep my team in it," Dobson said. "I just showed the team I was behind them. I had to keep them fired up. If I would've stood there, they might have thought I didn't care."
The play proved to be pivotal as Creekside won 4-3 in eight innings. It also won 6-3 in the first game to sweep the series and advance to the Class B championship series.
In the first game, Creekside (35-3) loaded the bases to begin the bottom of the first inning. Tony Velasquez then got two quick outs and was an out away from escaping danger.
Dan Ferguson ruined that chance for Toyota (15-16), ripping a bases-clearing double that gave Creekside a 3-1 lead and momentum.
"That was a big play early," Dobson said. "We still had our opportunities later in the game and we just didn't take advantage of them."
Kevin Yarabinec kept Toyota in check, pitching 6 1/3 innings, allowing three runs on seven hits, five walks and five strikeouts. Dave LeMasters relieved Yarabinec and earned the save.
Brandon Ritchie picked up the win in the second game after blowing what could have been a two-inning save. Creekside led 3-1 before Toyota scored twice in the seventh inning.
Ferguson then came through again with a game-winning RBI double in the eighth inning. He finished with three hits, two doubles and four RBIs in both games combined.
"A good team always comes back, and that's the way it's been all year, which is why we've been so successful," Landis said. "Our hitting's been good all year. Today it wasn't as good as it usually is, but we came through and hit in the right spots."