Salem girl hopes to make it big as singer
By EMMALEE C. TORISK
SALEM
Mark Roscoe, owner of Roscoe's Poultry on Steel Street, said he won't soon forget the first time he heard Savannah Fox sing in his store.
Savannah Fox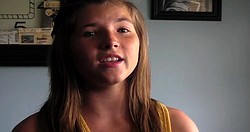 Video
Savannah Fox, a 12 year-old aspiring singer from Salem, says singing is everything to her. Listen as she sings the national anthem.
"She told me she sang, so I said, 'Let me hear you,'" Roscoe said. "Without batting an eye, [out comes] a voice that's just 'wow.' She's an unbelievable young lady."
That was about a year and a half ago. And though she still occasionally sings in his butcher shop, Savannah, now 12, has since accumulated a fairly hefty stack of musical accomplishments, including receiving standing ovations at her school's annual talent shows and performing the national anthem at last week's Mahoning Valley Scrappers game.
"I've been singing for a really long time — since I was 4 years old. It's everything to me," said Savannah, the daughter of Kim and Paul Fox of Salem. "It doesn't matter what time it is. I will just sing every minute I'm free."
Although Savannah said she's always loved music, she very clearly remembers the song that changed it all for her: Carrie Underwood's "Don't Forget To Remember Me." She heard it first on the radio, then listened to it "over and over again."
The song is still one of Savannah's favorites, partly because it's also the first song she performed in public, at her third-grade talent show. She's a fan of other "girly stuff," too, such as Ariana Grande, Demi Lovato and Christina Aguilera.
"Music expresses how you feel in a way you really can't explain," she said.
Savannah's next goal is to sing at a Cleveland Cavaliers game, and she'll audition for this opportunity — by singing a traditional, a cappella rendition of "The Star-Spangled Banner" — sometime in September.
To the eighth-grader at Crestview Middle School, there's no doubt in her mind that her future will, in some way, feature singing. Right now, Savannah has her sights set on "being famous and singing all around the world on tour."
Kim, though, said she'd like to see her daughter attend college first — ideally at the Juilliard School, New York City's esteemed performing arts conservatory.
"After that, I see her going as far as she wants to go," Kim said, adding that she first became aware of her daughter's talent when she was around 6 years old and wouldn't stop singing. "She's put in a lot of hours of practice, and is doing good for being [self-taught]. I'm very proud of her."
So is Roscoe, who said he, and his customers, couldn't believe that such a powerful voice could come out of "a little tiny thing."
"This one, I'm going to be keeping an eye out for," he said of Savannah. "A lot of people think they can sing, but that little girl, she's got it."