Hot Macedonian Stew: spicy, not X-rated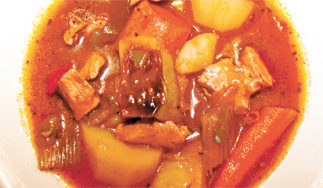 ---
When You Go...
Where: Dickey's
27 N. Meridian Road
Youngstown, Ohio
Phone: (330) 799-0058
Hours: Mon - Sat: 11am - 9pm
Sun: 1pm - 9pm
by: Mark Smesko and Michael Valls
YOUNGSTOWN
The invitation came by e-mail: "You guys got to come by Dickey's and try our Hot Macedonian Stew." This led to a quick Internet search to find out just where Dickey's is located and what exactly constitutes Macedonian stew.
We learned the following: Dickey's is not just a bar on the West side, but it also is an eatery with a pretty sizable menu; Macedonia is a historical region of Greece, where Alexander the Great and Mother Teresa were born; and most important, a Google search using both Hot Macedonian and Dickey's as keywords will yield results not appropriate for children. However, details on what was Macedonian Stew still remained elusive.
We arrived at Dickey's on a Thursday, the only day of the week that its signature stew is offered. We sat down with Cindy Zimmerman, who has been with the restaurant for the past 27 years and now runs the day-to-day operations as well as being the main cook. Dickey's has been owned and operated by Ray Dickey for the past 30 years at its location on North Meridian Road. Cindy explained that most everything they offer is homemade and that they don't skimp on the quality of their ingredients. She proudly remarked that a big part of Dickey's success is their faithful employees who go above and beyond their duties to ensure a great experience for the patrons.
We started our meal with a generous bowl of sausage tortellini soup. Tender tortellini pasta was paired with a slightly spicy Italian sausage, held together with a nice tomato-based broth infused with hints of garlic and basil. Served with freshly baked bread, it was a tasty start to our evening meal.
We next sampled a cup of Dickey's chili, a classic recipe made from fresh ground chuck, kidney beans, green peppers, onions, tomatoes and spices. Topped with a sprinkling of sharp cheddar cheese, chopped onion and a dollop of sour cream, though light on spice, this chili is big on flavor.
The third bowl to arrive at the table was the Hot Macedonian stew. This recipe was created by Cindy's mother, Bertie, who was the original cook at Dickey's. One day a customer, apparently of Macedonian descent, asked Bertie to come up with something hot and spicy. She went in the kitchen and developed this signature dish aptly named for her patron. The recipe for this dish is known only to Bertie's six children and will likely remain that way. This stew has been served every Thursday since its creation with the exception of Thanksgiving and the day of Bertie's funeral 6 years ago.
Despite repeated attempts, we couldn't get the secret ingredient(s) from Cindy about the stew. The base of the stew consists of potatoes, carrots, onions, celery, with the addition of Hungarian hot peppers for heat. Rather than beef, pieces of pork loin are added along with a combination of spices, and all is slow-cooked for 3 to 3 Ω hours until everything is fork tender. This dish arrived at our table steaming hot and smelled amazing.
The vegetables were cooked to perfection, the meat melted in your mouth, and the Hungarian peppers provided a subtle heat and spice but did not overtake the savory nature of the broth. Given the aroma and the hearty portions of root vegetables and stewed meat, the best description of this dish is one of classic comfort food.
We finished our meal with one last spicy treat. Unbeknownst to Cindy, Mark's guilty pleasure is chili dogs. She was barely able to finish the sentence, "Would you like a Sloppy Dickey Dog?" before his mouth began to water. Cindy explained that this was Ray's creation, a hot dog split down the middle and grilled on a flat-iron. Sloppy Joe sauce, another childhood favorite of ours, is added and then topped with Swiss cheese, diced onions and mustard.
Some dishes are more than a sum of their ingredients. The Hot Macedonian Stew is such a dish. For Cindy, it is a way for her to honor her mother. For Mark, it revived memories of his father, John, who would have loved this place. Don't wait for cooler weather to go out and try a bowl of this stew, and while you're at it, take along your dad.
ABOUT Signature Dishes
Mike and Mark are on the lookout for the biggest, hottest and tastiest dishes in the Valley. Email them at BrothersInFood@gmail.com.