BONUS GOLF | Another playoff needed to complete a qualfier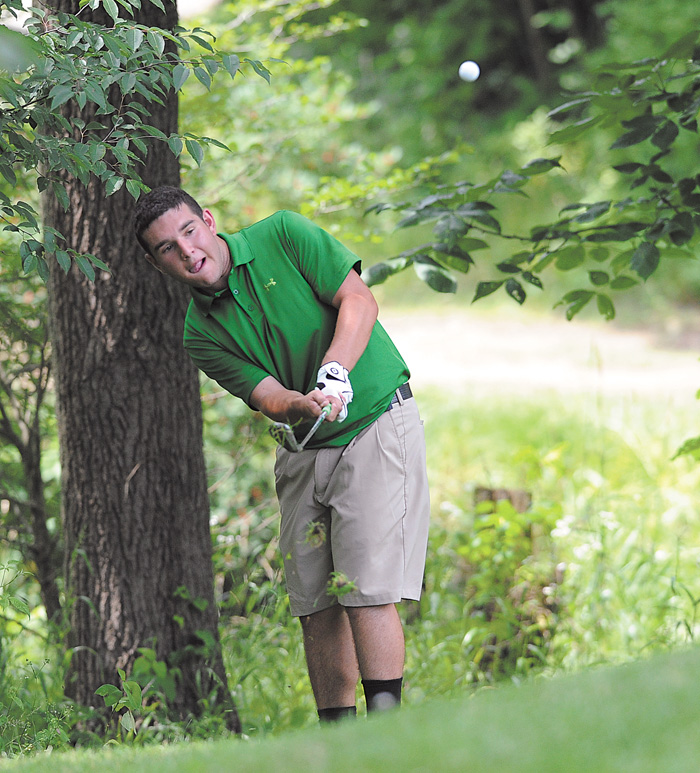 ---

Photo
Lorenzo Sabella of Canfield chips on to the 14th green at Diamond Back Golf Course in Canfield following a drop after hitting it into the rough Tuesday during the Junior boys qualifier for the Greatest Golfer of the Valley tournament.
By Ryan Buck
canfield
Golf is supposed to be a leisurely, relaxing game for ladies and gentlemen. Sometimes, however, it becomes a test of survival.
For the second straight week, the second qualifying spot in the Boys 15 to 17 year-old division of The Vindicator's Greatest Golfer of the Valley presented by Farmers National Bank came down to a sudden death playoff hole.
Cardinal Mooney senior Daniel Martin has struggled with Diamond Back Golf Course's opening hole since he first played there.
Martin, as he had done often Tuesday, scrambled to par the hole and land himself in the third annual event's final round at Trumbull Country Club.
"I didn't hit many good shots today, but I went up-and-down a bunch of times when it mattered," Martin said. "Actually, I don't think I've ever parred that hole before. I went up-and-down again."
Tied at 85 strokes apiece with Vince Hynes after 18 holes, both found themselves in the collection of thick trees that separate Diamond Back's first and 10th fairways.
"I hit a bad drive and pulled it a little left and short," Martin said before he explained the decision to pull a six iron from his bag. "I had an open lane just right of the tree with a good lie.
"I just made sure I made solid contact and got it out there just a little short [of the green]."
Martin chipped on and buried a six foot putt to qualify.
Just ahead of Martin and Hynes was first qualifier Daniel LaPolla, who carded an 84 to reach the final round for the first time in two years.
"I've had some bad scores in the last few tournaments and to win this is a big confidence booster and I think I can do better in the Greatest Golfer of the Valley," LaPolla said.
LaPolla used a strong front nine to steady his round.
"The front [nine] numbers three through seven were a big help for me," LaPolla said. "I was really strong there. That's where I got my one birdie on number six."
The junior from Warren JFK was a member of the Eagles' Ohio High School Athletic Association regional champion and state qualifier last fall. It was an experience he's since utilized.
"It was really interesting and really fun," LaPolla said. "We got to play courses that weren't too easy, that tested your abilities. It helps me to see where my weaknesses are and how to fix them by the time I get to these tournaments."
LaPolla has the added advantage of seeing a former Greatest Golfer junior champion daily. His older brother, James, was crowned in 2011 and finished third a year ago. He will be a freshman at Xavier University this fall.
"I learned that you have to stay patient and within yourself," LaPolla said. "You can't mentally break down. You have to keep going on and can't stop."
Bradley Miller, who qualified for the final round at last week's Tam O'Shanter event, paced the field with a 74.
In the Boys 12-14 year-old division, Spencer Klema and Andrew Williamson, who both shot rounds of 86, will join the day's leader and previous qualifier Zach Jacobson on July 28 at Trumbull Country Club for the tournament finals.
The sixth and final qualifying events will take place at Tamer Win Golf and Country Club on Monday and July 12.
For all tournament coverage, see The Vindicator in print and online at vindy.com/golf.