Published: Tue, July 2, 2013 @ 9:32 a.m.
VTR - Fire Chief John O'Neill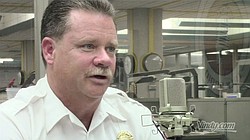 Video Set
Chief John O'Neill of the Youngstown Fire Department joins Louie b. Free at 10am to discuss fire, new hires and when it's time to retire.
Go to vindy.com/radio to listen to the show live, or vindy.com/mobile/vindy-radio to listen from your smartphone.
Click here to listen to the show.
Vindy Talk Radio Studio: 330-333-4454