Trumbull Art Gallery devotes children's Summerfest to local artist Kenneth Patchen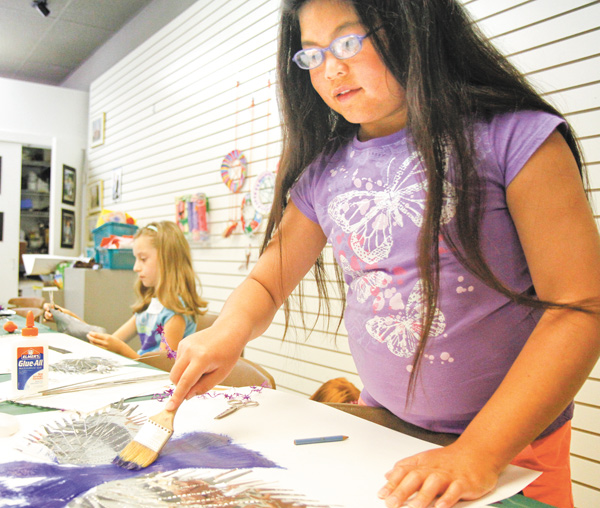 ---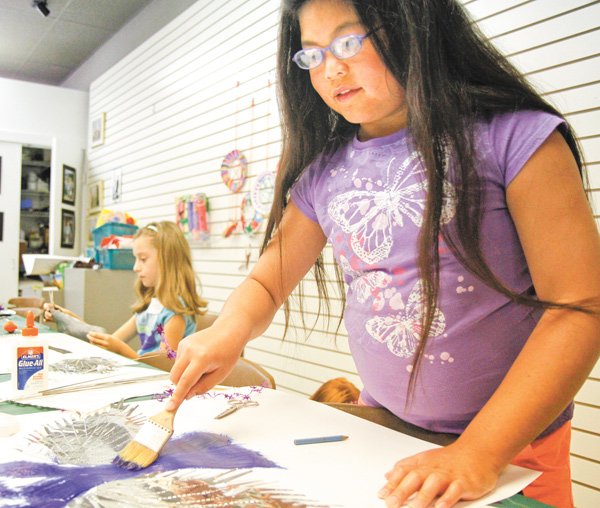 Photo
Zoe Schlosser, 10, paints at the Trumbull Art galley in Warren as she learns about artist Kenneth Patchen, whose work is on display. Summerfest for children had the kids create art inspired by him.
'ONE OF US'
When Magel Messersmith, sister of poet and artist Kenneth Patchen, died in 2009, one of the area's last concrete connections to the artist had disappeared.
Trumbull Art Gallery devotes children's Summerfest to local artist Kenneth Patchen
Trumbull Art Gallery keeps memory of Kenneth Patchen alive during Summerfest
By Ed Runyan
WARREN
When Magel Messersmith, sister of poet and artist Kenneth Patchen, died in 2009, one of the area's last concrete connections to the artist had disappeared.
Messersmith had lived until almost her death on Patchen Avenue Southeast — a street named for her family, possibly because their father had built many of the houses there.
So Patchen Avenue, which is across Youngstown Road from the Crest Lanes bowling alley, stands as a reminder that a famous artist once lived here and graduated from Warren G. Harding High School in 1929 after being born in Niles.
And at ValleyCare Trumbull Memorial Hospital, there's a former coffee shop that displays some of Patchen's work.
But because there is so little else to educate young people about him, the Trumbull Art Gallery on East Market Street devoted its two-week Summerfest for children to him, displaying his works in the gallery, teaching the children about him and having them create art inspired by him.
Patchen was born in 1911, moved with his family to Warren in 1916, left the community for good in 1930, and died in 1972 in California. He was remembered in 1987 with an exhibition of his work at the Trumbull Art Gallery and again in 1989 with the Kenneth Patchen Literary Festival at Kent State University's Trumbull Campus.
Former Warren G. Harding High School Principal William Mullane spearheaded the exhibition and festival while he was Trumbull Art Gallery director.
"Kenneth Patchen is an important writer, painter, performer of jazz, and human being," Mullane wrote in the lengthy catalog produced for the festival.
"More importantly, though, he is one of us. Born and raised in Trumbull County, Kenneth Patchen represents for us the realm of possibility. Within his work we are able to find ourselves. Through Patchen, young people in our area come to realize that they too can 'make it.'"
Mullane discussed the impact of Patchen's upbringing on his art.
"Kenneth was always suspicious of the promises of the industrial revolution which brought his family and the families of his peers to our valley," Mullane wrote.
"These suspicions were proven to be prophetic during the 1970s, when so many of our mills were closed and related jobs dwindled. The promises of the past were broken."
Marianne Nissen, who established the Patchen coffee shop in Trumbull Memorial in 1988 and helped with the exhibition and festival, said children relate well to the "beasties and birdies" of Patchen's "painted poems," which feature brightly painted creatures.
Nissen said the messages in Patchen's work also resonate with adults.
"I have a funny feeling that some very peculiar-looking creatures out there are watching us," one of the picture poems says, which Nissen said makes her think of the recent revelation that the government has been secretly monitoring the telephone calls of millions of Americans.
Patchen grew up with a love of writing and had his first poem published in The New York Times at a young age. He was active in sports and other activities while in school, but had a dim view of the steel industry.
"He is known worldwide and appreciated by people who know poetry and art, but not widely known by people in Warren, Ohio," Nissen said.
"I want people to know about Kenneth Patchen because people who are famous in the arts, they don't die."