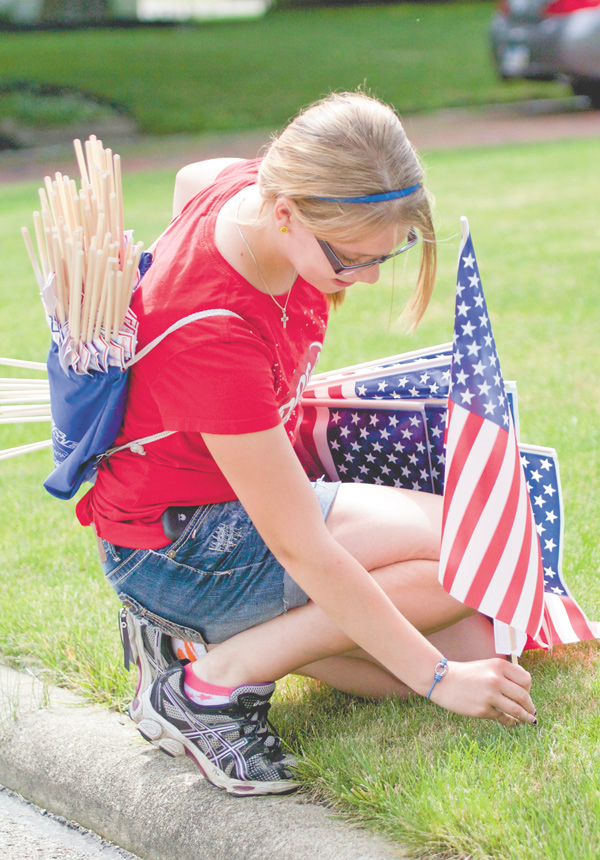 ---

Photo
Emma places a flag in a front yard on Fifth Avenue. The flags were supplied by Burgan Real Estate.
By Lee Murray | TheNewsOutlet.org
HUBBARD
The streets of Hubbard were turned into a patriotic spectacle of red, white and blue by volunteers from Covenant Life Fellowship Church.
Supplied by local real-estate company Burgan Real Estate, 6,000 miniflags now line the streets of the city, carefully placed by the volunteers just in time for Independence Day.
Dennis Cohol, a youth pastor at Covenant Life and one of the volunteers who endured the recent heat wave to get the flags into the ground, said the rows of flags celebrate patriotism and community in the city.
"Patriotism has kind of fallen off in the last couple of years," Cohol said. "Unfortunately, it takes a natural disaster or something like that to get the community together. But every year we usually have a dozen people, kids and adults from the church helping out with this."
Covenant Life has been lining Hubbard's streets for six years, mainly with help from the church's youth group.
"I've been doing it for [all] six years," said 18-year-old Brianna Cohol. "I like doing it. It's enjoyable and fun. It doesn't feel like you're working."
Dennis Cohol said the response from homeowners in the neighborhood always is positive.
"We just enjoy walking around and talking to people in the community. Everyone thinks it's neat to see all the flags on the road." Cohol said.
Flag-planting conditions were "beautiful" Saturday, Cohol said, because the rain had softened the ground a little, which makes it easier for the wooden flagpoles to be driven in. A few days earlier the earth was dried out from the heat, which gave the group some headaches.
"The first day we put them out this year the ground was so dry we had to use screwdrivers to get the holes started," said Norma Cohol, another volunteer. "Last year was terrible because it was so dry, so thank gosh for rain."
"We're celebrating America in an all-American city," said Rich Suhovecky, an agent with Burgan Real Estate. Suhovecky said that for him, the driving force behind his involvement in this tradition is his faith.
"This promotion is to lift up the name of Jesus, and we're thanking God for all the blessings he's bestowed on our country," Suhovecky said.
Suhovecky, who appears on a Burgan real-estate billboard on Church Hill-Hubbard road next to Covenant Life Church, said that in return for the volunteer work from the church, Burgan Real Estate makes a donation to Covenant Life's missionary work.
Burgan's founding broker appreciates the deal.
"They donate their time to us, and we make a donation to their missionary work," added John Burgan, co-founder of Burgan Real Estate.
Burgan said this patriotic tradition started as a small idea more than a decade ago and it grew into something bigger. An agent in Boardman started placing flags on the side of the road overnight in her community. The idea caught on to other Burgan agents in different offices in the region, and they started to follow suit.
"It's just something that evolved," said Burgan.
This year, the real-estate company posted 14,000 flags in Valley communities, including Boardman, Poland, Austintown, Youngstown and Hubbard.
"The community really has embraced this. If we miss a street, we'll get a call asking why we missed them," he added.
All the flags handed out by Burgan are made in the U.S.A.
"These flags are definitely made in the United States," he said. "People pay attention to that."
The weather certainly helped the volunteers to do their job this year, but it has to be pretty inclement to stop the Cohols from doing their work, said Dennis Cohol as he drove a flag by hand into the soil outside a home on the street corner.
"If it was storming, with lightning and stuff, we probably wouldn't be here," said Cohol. "But the deadline is July 4, so we get out whenever we can."
TheNewsOutlet.org is a collaborative effort among the Youngstown State University journalism program, Kent State University, University of Akron and professional media outlets WYSU-FM Radio, The Vindicator, The Beacon Journal and Rubber City Radio, both of Akron.