Warning: Fireworks are dangerous, don't use them
4th of July Fires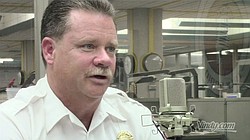 Video
Fire Chief John O'Neill says that every year the Youngstown Fire Dept expects a rash of firework related fires, ranging from grass fires to burning shingles.
By Marc Kovac
COLUMBUS
Firefighters and safety advocates issued their annual warning against home fireworks use over the coming Independence Day holiday.
The state fire marshal's office, Prevent Blindness Ohio and others would rather Ohioans refrain from all fireworks, including those legal in Ohio and those banned from backyard celebrations.
"Prevent Blindness Ohio supports a total ban on backyard fireworks, including sparklers, which are widely available at grocery and department stores," Sherry Williams, Prevent Blindness Ohio president and chief executive officer, said in a released statement.
"Last year, 600 serious injuries occurred due to the use of sparklers, and for children under 5 years old, they were responsible for nearly 25 percent of the injuries. A sparkler burns up to 2,000 degrees Fahrenheit — hot enough to [melt] most metals."
Consumer-class fireworks, including bottle rockets and Roman candles, can be purchased in Ohio by anyone 18 or older, but they cannot be used in the state.
Instead, they must be taken over the state's borders within 48 hours of purchase.
The illegal possession or discharge of such fireworks can result in a $1,000 fine and up to six months in jail.
Novelties, including sparklers, snakes, smoke bombs and snaps, are legal for backyard use, but they can still cause injuries, fireworks opponents said.
Last year, about 8,700 people were treated in hospital emergency rooms nationally for firework- related injuries, according to a new report from the U.S. Consumer Product Safety Commission.
About 60 percent of that total occurred over the Fourth of July holiday.
"Every legally available backyard firework has been associated with serious injury and death," Gary Smith, president of the Child Injury Prevention Alliance, said in a released statement.
"Although some people mistakenly believe that backyard fireworks are safe if only adults handle them, our research shows that one-quarter of fireworks-related injuries to children occur to bystanders," Smith said. "These children were not using the fireworks themselves and yet they were still injured."
Fireworks also sparked 228 fires in Ohio last year, causing $130,000 in damage, according to the fire marshal's office.