Youngstown's workers' comp rebate is $590,517.60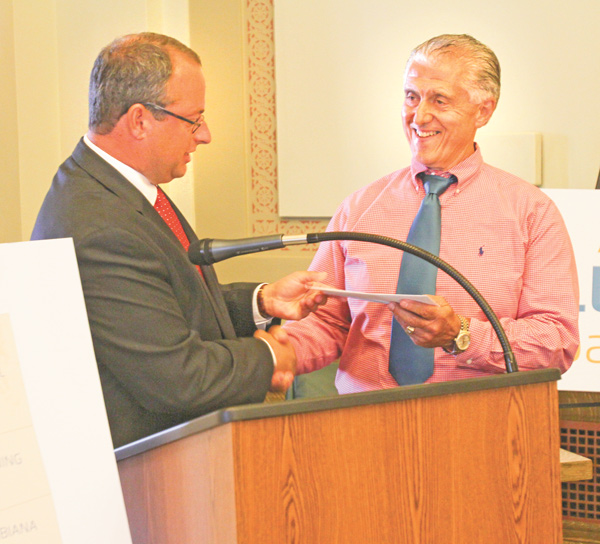 ---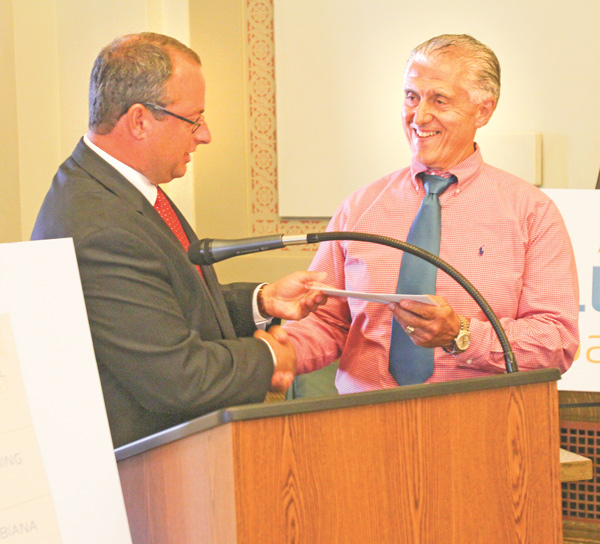 Photo
Steve Buehrer, the Ohio Bureau of Workers' Compensation's administrator and chief executive officer, hands over a $590,517 check to Youngstown Mayor Charles Sammarone.
YOUNGSTOWN
The city received a $590,517.60 check from the Ohio Bureau of Workers' Compensation as part of a $1 billion insurance premium rebate from the state to more than 200,000 government entities and private businesses that pay into the program.
Steve Buehrer, BWC's administrator and chief executive officer, gave the check Monday to Youngstown Mayor Charles Sammarone.
The amount is 56 percent of the city's workers' compensation expense for 2012, Buehrer said.
The city will use as much of the rebate as it can to continue targeting efforts to improve neighborhoods through the demolition of dilapidated houses and with code enforcement, Sammarone said.
"Any money we can use for neighborhoods for code enforcement and demolition, we'll use," he said. "We'll decide in a week or so how much we can use."
The city will set aside some of the rebate for its "workers' compensation trust fund with those dollars for potentially large compensation costs," said Finance Director David Bozanich. "The mayor and city council have said any unappropriated money shall go toward neighborhood work such as demolitions and code enforcement."
The BWC will mail refund checks — about $887 million to private businesses and about $113 million to government entities — by July 12, Buehrer said.
Employers should look for their checks in a "rebate-specific insert" in an envelope, according to a BWC statement.
Gov. John Kasich, a Republican, proposed the $1 billion rebate program, and the BWC board approved the plan. The money came from good investments, a focus on worker safety and improved claim management, BWC officials say.
The BWC has net assets of $8.3 billion.
"If the governor has any other checks, we'd be glad to host an event," quipped Sammarone, a Democrat.
The city has significantly reduced its workers' compensation premiums, cutting them by nearly $1 million over the past decade.
The rates are determined by a variety of issues including salaries, medical claims history, the cost of the claims, the number of injured employees who collect workers' compensation, making sure injured workers are following proper medical procedures to return to work, and getting them back on the job — even if it's light-duty work — as soon as possible, Rebecca Gerson, the city's first assistant law director who oversees its workers' compensation program, recently said.
The city is projected to pay $517,762.77 in its workers' comp premium this year. In comparison, the $590,517.60 check it received Monday was for 56 percent of its 2012 premium.