Pikunas rebounds from rough start to qualify for Greatest Juniors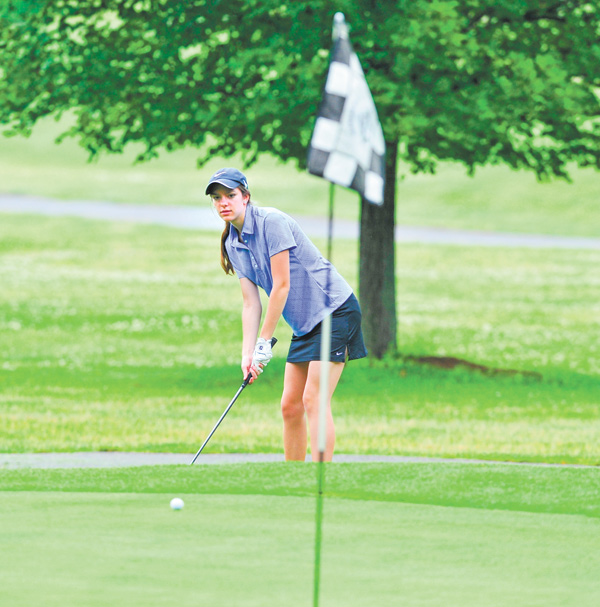 ---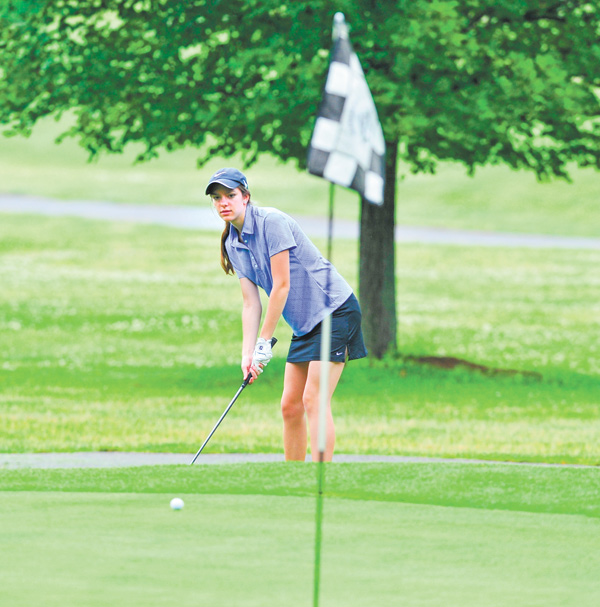 Photo
Bailey Hardick of Canfield watches her ball break toward the cup after a chip shot on the seventh hole at Diamond Back Golf Course during Monday's junior qualifier for the Greatest Golfer of the Valley tournament. Three girls qualified for the final, which is set for July 28 at Trumbull Country Club.
Pikunas rebounds from rough start to qualify
By Ryan Buck
Canfield
A dreary morning and a bright, sun-soaked afternoon created the perfect metaphor for Jacinta Pikunas' round at Diamond Back Golf Course Monday.
The 2011 champion of The Vindicator's Greatest Golfer of the Valley presented by Farmers National Bank Juniors competition, Pikunas began her day on the wrong foot, but rebounded to secure a return trip to the final round in the girls 15-17 year-old division.
With two spots up for grabs in the tournament's second-to-last qualifying event, she set herself back with two double bogeys on the hilly, bucolic course's opening six holes.
"I had trouble in the beginning," said Pikunas, who sat at three-over par with a nine-hole score of 40. "I couldn't get it together."
The morning rain did not help.
"It was raining pretty consistently for about the first nine [holes] and then after that it started to slow down a bit," she said. "It just made it a little wet."
From there, things turned around nicely.
The freshman-to-be at Boardman High School made birdie on the difficult par 5 ninth hole. After a bogey on No. 10, a string of five straight pars on the rolling fairways and uneven surfaces of Diamond Back's final nine holes kept her afloat.
"The second nine [holes] I started to pull things together, started to get my tee shots in play and I made a few putts so that really helped," she said.
Pikunas then birdied the narrow, tree-lined par 4 16th to solidify her spot at the July 28th final round at Trumbull Country Club with a 78-stroke performance.
She finished one shot behind the day's medalist and previous qualifier Christina Cooper of Canfield.
Pikunas is no stranger to big tournaments as she'll be busy with major junior tournaments until school begins.
"Well, golf comes first during the summer so it takes up my whole afternoon, but I have my nights free," she said.
As for adding another Greatest Golfer title to her growing list of accomplishments, she'll need to be on her game to overcome another strong field, especially 2012 runner-up Cooper.
"They're all tough competitors and I'll have to play my best to win," Pikunas said.
Canfield High senior Olivia Demartino also endured an up-and-down day at Diamond Back.
As the early rain dampened the course, Demartino was heating up. She calmly made five straight pars on her opening holes.
"I did really well on the front," said Demartino, who carded a front-nine 37. "I was hitting the greens and making putts."
She stumbled on the par 4 eighth where she made double-bogey, but responded with a birdie at the par 3 ninth.
Whereas Pikunas found her groove over the final nine holes, Demartino simply survived the brutal back nine at Diamond Back to grab the second qualifying spot.
"The back nine is more difficult so I was bogeying more, but I was still kind of happy because the front nine saved my round," said Demartino.
Like all golfers, new equipment poses more challenges.
Demartino, who finished one stroke ahead of previous qualifier Alexis Cadle, has been trying to break in a new set of clubs.
"I've been struggling with getting used to them," she said. "This was definitely a good confidence booster."
Trumbull Country Club will be a fine place to use them once more.
In the girls 12-14 year-old group, Gillian Cerimele was the lone qualifier, behind Kaci Carpenter and Hannah Keffler, who previously qualified.
The boys' side of the tournament will tee off today with a 9 a.m. shotgun start at Diamond Back. The top two qualifiers from both age groups will join previous qualifiers at the final round at Trumbull Country Club July 28th.
For all tournament information and coverage, see The Vindicator's print edition and online at vindy.com/golf.