Mooney's Stoops builds excitement at Kentucky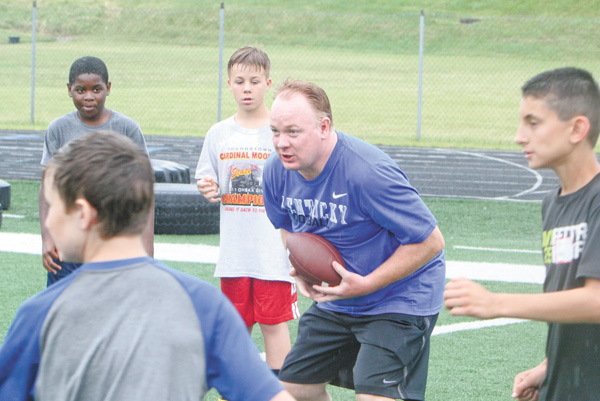 ---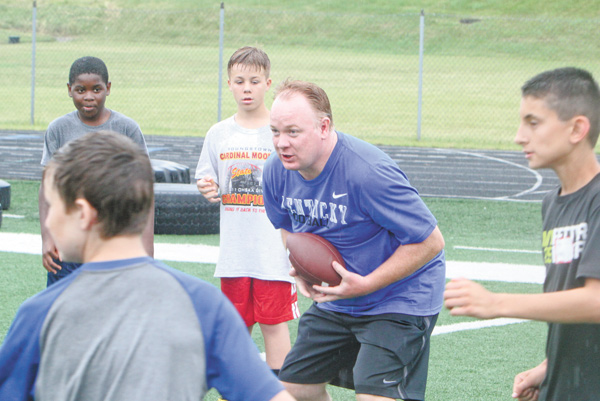 Photo
University of Kentucky football coach and Cardinal Mooney graduate Mark Stoops conducts drills during the Camp of Champions on Monday at Cardinal Mooney High School. Area youths in grades four through nine participated in the annual event, which concludes today.
Ability to recruit Ohio has been key for first-year coach
By Joe Scalzo
YOUNGSTOWN
The University of Kentucky is just 90 minutes south of Ohio, but when it comes to football, the gap has always seemed bigger.
When Mark Stoops was hired as the Wildcats' head football coach on Nov. 27, he knew he had to change that.
"The whole state of Ohio we've tried to recruit very hard," said Stoops, a Cardinal Mooney High graduate. "We know the quality of football that's in Ohio and the proximity to our university helps. And obviously, my familiarity with the players and the coaching in this area helps."
In a little more than seven months, Stoops has energized a program that went just 2-10 last year, including an 0-8 mark in the Southeastern Conference. The momentum started to build in the winter, when Stoops built the nation's 26th-ranked recruiting class on short notice, and it's continued into the spring. He drew a school-record 50,831 fans for the spring game — that eclipsed the attendance for any single home game last year and was more than the last two home games combined — and his 2014 recruiting class is ranked in the top five by Rivals.com.
"That's what a new coach can do," said his brother Mike, a former head coach at Arizona and now the defensive coordinator at Oklahoma. "Mark has a lot of energy, he has a great background and I think he fits in this area well.
"You have to recruit your home state and he's really recruited Ohio well."
Mark Stoops flipped Mooney safety Marcus McWilson from Nebraska to Kentucky in February and persuaded Mooney grad Braylon Heard, a running back at Nebraska, to transfer. Fitch grads Demitrious and Chris Davis are transferring from Pitt to Kentucky and Stoops has already secured one Valley commitment in the 2014 class — Youngstown Christian's Tymere Dubose.
"Players here are usually very well-coached and very tough, so I like having them on my team," Stoops said.
Stoops' biggest selling point has been his conference, which has won the last seven national titles. The next-closest SEC school is Tennessee, which is four hours south of Cincinnati.
"That's very appealing to a lot of players from Ohio," Stoops said.
ScoutingOhio.com's Mark Porter said Kentucky's previous staff neglected Ohio but Stoops (along with assistant Vince Marrow and director of football operations Frank Buffano, both Mooney grads) have used their relationships to make inroads in the state.
"He's kicked butt in Ohio, he really has," Porter said.
Kentucky isn't going to beat Ohio State for players, but Stoops has been able to win head-to-head battles for players that would normally go to schools like Michigan State, Pitt, Iowa and Illinois, Porter said.
"They've made Ohio a priority state," he said. "If they can do anything on the field, it's going to create more excitement and they'll continue to get better-quality players."
Stoops came very close to replacing Jon Heacock at YSU in 2010, instead going to Florida State to serve as defensive coordinator the past three years. He said he always knew he wanted to be a head coach, but waited for the right opportunity.
"I just wanted to make sure it was the right spot at the right time," he said. "There's no magic formula. We're just going to work every day trying to make the program better."