Published: Mon, July 1, 2013 @ 12:15 a.m.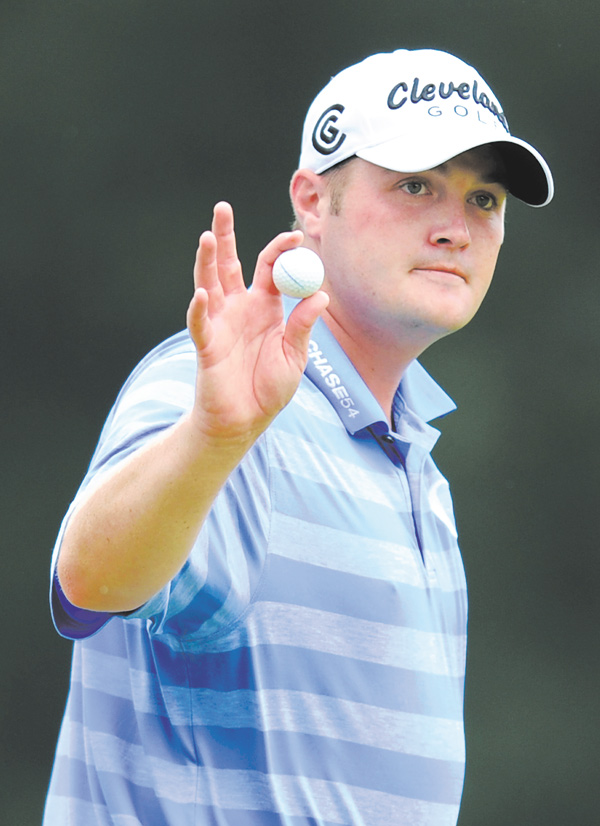 Photo
Warren's Jason Kokrak acknowledges the gallery after finishing Sunday's final round of the AT&T National golf tournament on the 18th green at Congressional Country Club. Kokrak shot a 2-under 69 Sunday to finish tied for third in the tournament.
Warren native Jason Kokrak ties for third at AT&T National
Staff/wire report
BETHESDA, Md.
On a weekend in which Jason Kokrak had his best finish of the season, locked up his 2014 PGA Tour card and secured a spot in this fall's FedEx Cup playoffs, he couldn't help wondering what could have been.
"I wanted to win the golf tournament," he said, speaking by phone Sunday evening while driving to West Virginia for next weekend's Greenbrier. "I'm pleased with a third-place finish, but I obviously wanted to do something a little more special."
Kokrak shot a 2-under 69 at Sunday's final round of the AT&T National at Congressional. He tied for third at 8 under, four strokes behind winner Bill Haas. He was one shot behind entering the back nine, but a bogey on No. 11 (his only one of the day), combined with Haas' terrific play, curtailed his hopes.
"I played well down the stretch," said Kokrak, who birdied Nos. 6, 12 and 16. "I had the one bogey, a three-putt, but that was my only hiccup of the day. I played well tee to green, but the putter didn't cooperate. The speed on the greens was a little faster, and I got tentative and left a couple putts short.
"But it's a confidence-builder. I know I can play under pressure."
Kokrak, whose career-best finish was a tie for second at last year's Frys.com Open, was coming off a two-week break after back-to-back missed cuts at The Memorial and the St. Jude Classic.
"It did me a lot of good," he said. "I was fresh and ready to play, and I want to continue that hot streak at this week's Greenbrier."
Kokrak moved up from 110th to 74th in the FedEx Cup standings, essentially clinching a spot in the playoffs. The top 125 players advance, with the cutoff occurring in late August. His $377,000 paycheck gives him $968,673 for the season, moving him from 93rd to 63rd on the tour's money list. The top 125 earn their tour card for next season.
"I've said this before, but if I can put myself in that position [to win] three, four, five times a year, I'm gonna come away with a win here or there, and I'm gonna have a long career on the PGA Tour," Kokrak said.
Sweet victory for Haas
Haas' victory was even sweeter when he compared it with all the times he failed.
"As many times as I've choked and hit bad shots and I've been nervous and it hasn't worked out — I was feeling all those things today — and to hit good, quality golf shots down the stretch is such a good feeling," Haas said. "I wish I could explain it. It's amazing."
His golf spoke volumes.
Haas pulled away from a crowd of contenders with three straight birdies, two good pars and one good hop. It led to a 5-under 66, giving him a three-shot win at Congressional over Roberto Castro and putting him into distinguished company on two levels.
Haas has won at least one PGA Tour event in each of the last four years, joining Phil Mickelson, Dustin Johnson and Justin Rose. And he kept the pedigree of champions at the AT&T National on a day when a half-dozen players were trying to win their first PGA Tour event. In the seven-year history of the tournament, Rose was the lowest-ranked player to win. He was No. 35 when he won at Aronimink in 2010. Haas started the week at No. 29.
Haas is honest to fault, which explains why he is too hard on himself. He talked about how he "threw up on myself" at Riviera when he lost a three-shot lead in the final round, and he twice used the word "choke" in describing past failures.
"That's terrible to say that 'I choke' and 'I throw up on myself,' but I'm just honest that I did that," he said. "But go from there. How do you get better? Don't do it again, you know? That's my best statement. Just don't do that again. Today, I didn't do it. I think it makes it that much sweeter, too, when you can remember the times you stunk."
As many as six players had a share of the lead at some point. Haas led by at least two shots the entire back nine.