Kasich vetoes 22 items in budget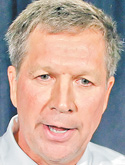 ---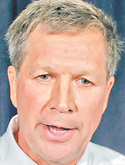 Photo
By Marc Kovac
COLUMBUS
Medicaid-expansion blockers, chiropractors, reservoir lawn mowers, gold-coin buyers and owners of spider monkeys felt the brunt of Gov. John Kasich's veto pen Sunday night, as he used his authority to strike 22 items from the $62 billion biennial budget.
But he left intact most of the major provisions passed by Republican lawmakers, including a reform package that will decrease personal and business tax obligations while increasing the state sales tax rate.
"We're proud of our tax cuts, because we think this is another installment in Ohio's comeback," Kasich said. "It's going to continue to give us great momentum."
Kasich, joined by GOP leaders from the Ohio House and Senate, signed the two-year spending plan during a short ceremony in his Statehouse office late Sunday, hours before the start of the new fiscal year.
Kasich also OK'd a school funding formula that backers say amounts to the biggest jump in state aid in at least a decade and a higher education funding model that increases consideration of student graduation rates.
He did not touch several abortion-related amendments, including one requiring a doctor to conduct an external check for a fetal heartbeat before performing the procedure.
But he struck language that would have blocked an extension of Medicaid coverage to individuals earning up to 133 percent of the federal poverty line, as mandated by federal law.
"This item also forgoes federal funding to cover 100 percent of the cost of the coverage for this group in state fiscal years 2014 and '15, resulting in significant uncompensated care costs and the imposition of those costs onto Ohio businesses and citizens in the form of higher health insurance premiums," Kasich wrote in his veto message.
The governor also vetoed provisions allowing higher payments to nursing homes, exempting aerospace research and development from sales taxes, increasing the state's Historic Rehabilitation Tax Credit and exempting gold coin and metal bullion from sales taxes.
Among other vetoes:
Kasich removed language that would have exempted the owners of spider monkeys from care and other standards required under the state's dangerous wild animal law, calling them "an unjustified step backward from the current law."
He vetoed provisions that mandated how schools spend state funding for gifted students.
"It is important for our schools to have the flexibility to spend funds as they see fit," Kasich wrote.
He quashed language allowing chiropractors to sign off on student athletes' return to play after concussions.
"Because of the potentially significant dangers from improperly treated concussion injuries, this item should be considered separately with input from all health-care professionals," the governor wrote.
Kasich vetoed a provision exempting teachers at charter schools for the disabled from certain examination requirements, saying it could lower teaching standards.
He removed a provision restricting cities' ability to create buffer zones along the edges of reservoirs, saying the areas are needed to protect drinking water sources from pollution.
"Striking the proper balance between the concerns of property owners bordering waterways affected by this item and the public health, environmental and taxpayer cost issues addressed by buffer zones requires a more thorough process than this item allows," Kasich wrote.
Republicans, anti-abortion groups and proponents of charter schools were among those praising Kasich's action on the budget late Sunday.
"The governor and Republican legislators have delivered their second fiscally responsible budget and have now cut taxes by $3 billion," Matt Borges, Ohio GOP chairman, said in a released statement. "These jobs-friendly policies dovetail perfectly with their strong commitments to education, especially school choice. ... This budget keeps moving Ohio forward."
Ohio Right to Life President Mike Gonidakis said the budget could further decrease the number of abortions in the state.
"Low-income pregnant women will now receive greater care and their unborn child will have a much greater opportunity to be born healthy," he said in a released statement. "It took great compassion and courage for our governor and pro-life legislature to stand up to the abortion industry that blatantly pressured them
But Democrats, union groups and abortion rights advocates criticized the budget legislation, saying it would hurt women and middle class families.
"Today Gov. Kasich enacted measures that prescribe medically unnecessary procedures, force doctors to mislead their patients and will force quality medical centers to close," Kellie Copeland, executive director of NARAL Pro-Choice Ohio, said in a released statement. "Kasich's agenda is clear - to put politicians in charge of women's personal, private medical decisions - even in cases of rape or incest, or when a woman is faced with serious threats to her health. This extreme political agenda is not what Ohioans want and they will hold him accountable when they vote on Nov. 4, 2014."
Ohio AFL-CIO President Tim Burga added in a statement that the budget unfairly burdens "working class taxpayers."
"The continued deep cuts to local government funding and public schools diminish our systems of public safety and public education," he said. " ... [Kasich] chose to sign a budget that hurts more Ohioans than it helps, and our state will be worse-off for his choice."
Marc Kovac is the Dix Capital Bureau Chief. Email him at mkovac@dixcom.com or on Twitter at OhioCapitalBlog.