Participants eat up fun at Harry Stevens Hot Dog Day Festival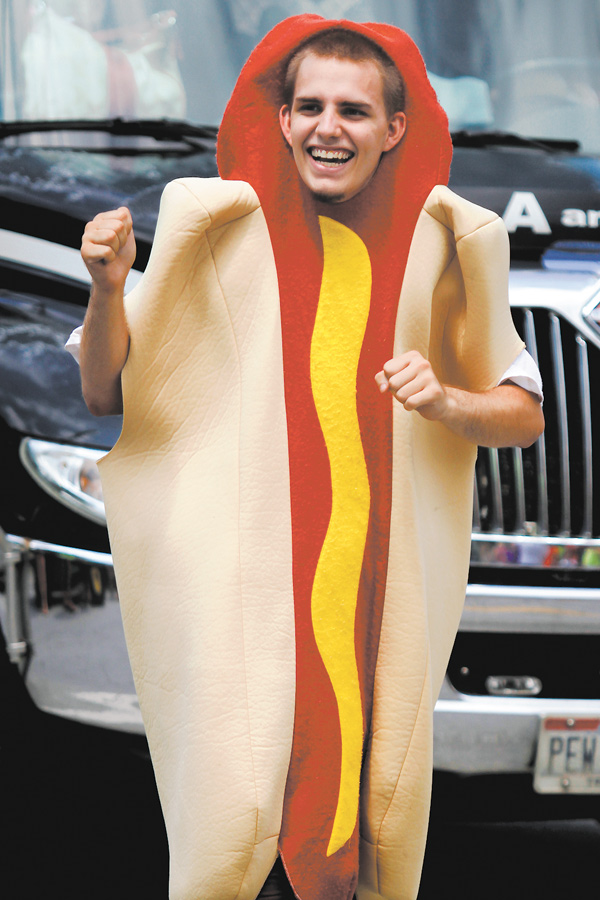 ---
Hot Dog Festival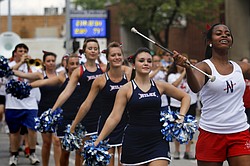 Gallery
MADELYN P. HASTINGS I THE VINDICATOR
By LINDA M. LINONIS
Niles
Hot diggity dog! That was the sentiment shared by some 2,000 people who frankly had a good time at the Harry Stevens Hot Dog Day Festival Sunday.
The event downtown, a joint project of The Avenue and Main and Trumbull County Board of Tourism, honored Stevens, a Niles entrepreneur credited with cooking up the hot dog, the drinking straw, the scorecard and roasted peanuts.
Stevens, who was born in 1855 in England, came to the United States in 1892, and his family settled in Niles. He worked in steel mills but later was an inventive businessman.
A big attraction at the event was the Wienermobile, a promotional vehicle for Kraft Foods' Oscar Mayer. The "borntobun" vehicle is featured at fairs, festivals and special events and is part of a fleet.
"Sizzlin' Stephen" Hays, a public relations and advertising graduate of the University of Missouri, and "Atta Dog Alex" Connett, a communications graduate of the University of Texas at Austin, are touring the Midwest. Some people brought their own cameras to take photos by the bright yellow and orange vehicle while others had Hays and Connett take photos, which would be emailed to them.
Hays said people ask all kinds of questions about the Wienermobile — like how fast can it go. "We can haul buns," said Hays, who admitted puns are part of the daily fare. The Wienermobile is driven the speed limit, and drivers take a special course to learn to handle the vehicle. Hays said people stare, smile and wave at the vehicle that is 11 feet tall (24 hot dogs high), 27 feet or 60 hot dogs long and 8 feet wide or 18 hot dogs. The fiberglass hot dog and bun are based on a bread truck chassis powered by a Chevrolet VORTEC engine.
Jason Brown of Newton Falls and his son, Caden, 3, had their photo taken holding up hot-dog cardboard cutouts. "I had read about Harry Stevens," Brown said. When he saw that the Wienermobile would be at the event, Brown said he knew they had to see it and have a photo as a remembrance.
"I eat two or three hot dogs a week ... mostly with ketchup and mustard or chili and cheese from the hot dog shop," Brown said.
Also getting their photo taken was Gary and Linda Armstrong of Gustavus. "I grew up on that commercial [Oscar Mayer] and remember that jingle," she said.
The Wienermobile is part of their honeymoon memories. "I think it was on I-80 in New York. We were headed one way and saw the Wienermobile go the other way," he said of the memory of 36 years ago.
When the couple saw that the Wienermobile would be at the festival, they knew they wanted a hot-dog cardboard cutout photo at the vehicle.
Jennifer Emswiller of Transfer, Pa., brought her 7-year-old dachshund, Gus, to participate in the wiener dog races. Gus, who was paralyzed four year ago but had therapy and is now OK, came in third. "He likes to chase," his owner said.
Carrie Kibby of The Avenue and Main said the event was meant to honor one of Niles' notable citizens. She said the organization works on the beautification of Niles and safety with block watch groups.
Niles Historical Society offered a display of Harry Stevens photos and information. Nancy Malone, president, said the event was a good way to showcase some of Niles' history.
The event included a baseball clinic, cornhole tournament, parade, music, hot dog dressing contest and wiener dog races and costume contest.