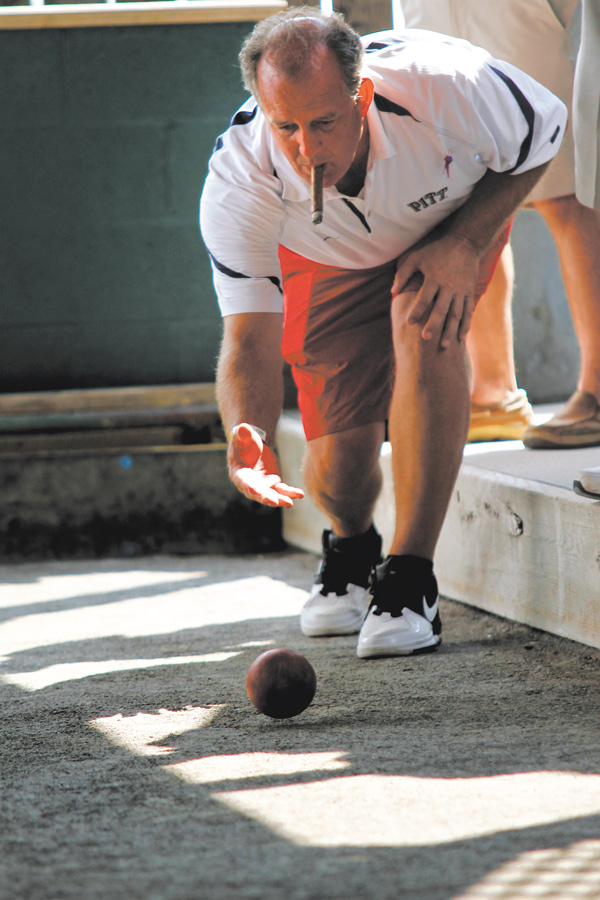 ---
Cardinal Mooney Bocce Social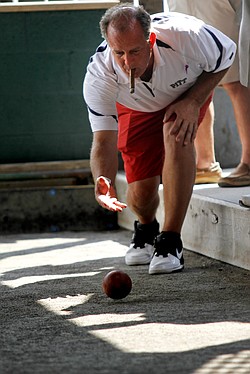 Gallery
MADELYN P. HASTINGS I THE VINDICATOR
By Joe Scalzo
YOUNGSTOWN
Before Mike Stoops became a big-time Division I college football coach, he spent his summers painting houses with a Cardinal Mooney graduate named Carmine Cassese.
"It was the funnest time I ever had," said Stoops, now the defensive coordinator for his brother's Oklahoma Sooners. "We would have paint fights, and he made me laugh constantly."
One day, they were painting a house for J.J. Cafaro ... and then they weren't.
"I don't know what happened," Stoops said, laughing. "We screwed something up.
"I've been fired twice in my life. Once was at Arizona [as the Wildcats' head football coach] and the other time was with him, painting the Cafaro house."
Like his brothers Bob and Mark — and hundreds of other Youngstowners — Mike Stoops was at the MVR on Sunday for the Ron Stoops Sr. & Anthony Pelini Memorial Foundation Bocce Social. Though the annual event primarily benefits Cassese's alma mater, Cardinal Mooney, it also served as a celebration of Carmine, who died Friday night after a four-month bout with pancreatic cancer.
"People keep saying to me, 'I don't understand how you're still doing this event,'" said his son, Joe Cassese. "Well, this is my father's legacy. He took pride in every single thing that went on here, from the couple that walked in the door wanting to have dinner to someone who wanted to have a rehearsal dinner or a party for 200-plus people.
"This is the event he helped orchestrate. It would be an insult to his legacy and who he was if we didn't take the time to put it on."
Sunday's event drew a crush of area sports celebrities, including former Ohio State and YSU coach Jim Tressel, who ate dinner with Cassese's parents, Joseph and Carmela, at an outdoor table next to the bocce courts.
"I always thought he was great because I'm his mother, but the outpouring of support, geez, I wonder what he did that I didn't know about," Carmela said. "This is a great tribute."
As the only son in an Italian family, Carmine held a special place in Carmela's heart, to the point that her four daughters have always teased her about Carmine being her favorite child.
"It got to the point where I started saying, 'Yeah, you're right,'" she said. "I loved him. He was special to me. He was a good son and I don't know why he took him."
Oklahoma coach Bob Stoops left Youngstown in 1979 to play football at Iowa and has spent his whole adult life away from Northeast Ohio, outside of a one-year stint as an assistant at Kent State. But like most transplants, he made time to visit the MVR when he came back in town.
"I think more than anything I'm going to miss walking in here and seeing him," Stoops said. "No one had a bigger or better smile. He was a beautiful man. He's the kind of guy who, as soon as you saw him, you felt better."
Tim Johnson was a linebacker at Youngstown State in the late 1990s when Tressel used to hand out MVR Player of the Week awards. Johnson joked that he has about 35 of them and said that award motivated him.
"It meant you were going on to higher heights," said Johnson, who played in the NFL for three teams from 2001-2006. "Carm [YSU's equipment manager from 1986-2012] was our foundation. He kept us really engaged with our equipment.
"You can't just get your jersey. You've got to work for it. You don't just get extra equipment. You've got to work for it."
Former Los Angeles Raiders lineman Ed Muransky called Cassese "a microcosm of what makes Youngstown good."
"When he spent time with you, he spent time with you," Muransky said. "He listened to you. He cared for your family. And because of all that giving through the years, so much came back to him."
That dynamic didn't just start this weekend, Joe Cassese said. Since Carmine announced he was battling cancer in February, people have flocked to the restaurant to buy "Carmstrong" T-shirts and offer their support.
"That support has never wavered from Day 1," Joe Cassese said. "It doesn't surprise me. That's why we live where we live and why we do what we do.
"We've had numerous people with events here who said they need to cancel. No, you don't. We need to take our time to mourn and do what needs to happen the next couple days. That's a fact. But after that, MVR has to continue to be Cassese's MVR the same way my father intended it to be. If not, it's an injustice to who he is and what he made this business."