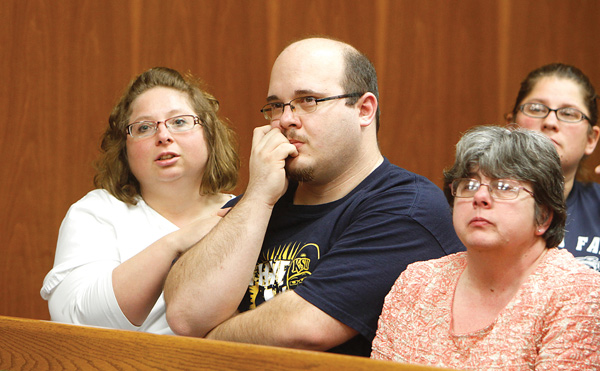 ---
Man Arrested in Death of Struthers boy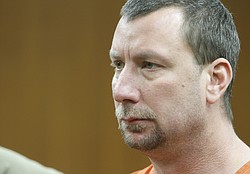 Video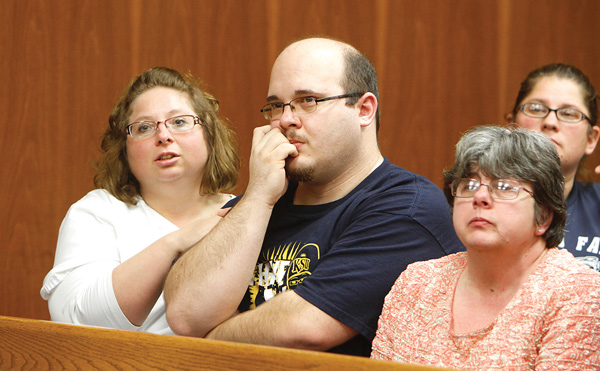 Photo
Shawn Tedesco, Teddy's father, is comforted by an unidentified family friend, left, as the boy's grandmother, Sara Foltz, sits at right during Wednesday's initial Struthers Municipal Court appearance of Zaryl G. Bush, 43, who is charged with rape and murder in the boy's death.
By PETER H. MILLIKEN | milliken@vindy.com
STRUTHERS
The mystery of exactly how, why and even where 14-year-old Theodore "Teddy" A. Foltz was killed remains as city police continue their investigation into his death.
Struthers police charged Teddy's mother, Shain P. Widdersheim, 32, of 28 Creed St., with child endangering, a second-degree felony, on Wednesday.
That followed Tuesday's arrest of her ex-boyfriend, Zaryl G. Bush, 43, of 533 Creed St., who was charged with murder and rape in the teen's death.
Family friend April Williams said the family was certain Widdersheim knew about the alleged abuse happening not only to Teddy, but also to her other two children.
"As far as the family is concerned, she knew everything that was going on," said Williams, who was friends with Widdersheim and whose kids played with Widdersheim's.
Williams said a grandmother of the children had the children tell Widdersheim about Bush physically abusing them more than two years ago, but Widdersheim refused to hear it.
"She called them liars, and threw their toys in the yard to punish them," Williams said.
Widdersheim's other children are in protective custody, Williams said, and the family's focus now is giving Teddy a proper funeral.
"I feel like she knew everything that was going on," the boy's father, Shawn Tedesco, of Sharon, Pa., said of Widdersheim.
"She held him from me for the last five years, and she would hide things," he added. She would make excuses as to why the boy couldn't visit his father, Tedesco said.
"It was almost like she was trying to cover things up," he said.
"He liked to play football," he said of his son, whom he said he hadn't seen since his 10th birthday.
Police said their investigation began Jan. 23, two days after Widdersheim brought Teddy to Akron Children's Hospital Mahoning Valley in Boardman.
His injuries on Jan. 21 were so severe he immediately was transferred to St. Elizabeth Health Center in Youngstown.
"We don't believe the injury was at her hand. However, she was involved in it, but we can't speculate on too many of the details as [the investigation] is still ongoing," said Detective Jeffrey J. Lewis.
"The mother is not cooperating with us," he added.
Widdersheim will make her initial appearance on the child-endangering charge at 9:30 a.m. Friday in Struthers Municipal Court.
Bush made his initial appearance Wednesday morning in municipal court. He was arrested without incident at his residence at 3:37 p.m. Tuesday by city police and the Mahoning Valley Violent Crimes Task Force after police called on a bullhorn for him to come out of the house.
Teddy died at St. Elizabeth on Saturday, and Dr. Joseph Ohr, forensic pathologist and deputy Mahoning County coroner, performed the autopsy Monday. Preliminary results indicate "severe head trauma" as the cause of death, Dr. Ohr said.
"We don't know for sure what [was] used" to cause the boy's head injury, Lewis said.
Visiting Judge James Dunn set Bush's bond at $1 million at the request of city Prosecutor Dominic R. Leone III, who said the high bond was necessary because of the seriousness of the charges and because Bush is a potential flight risk.
Atty. Lou DeFabio, who represented Bush at his initial court appearance, said Bush has no prior felony record and only a record of misdemeanor and traffic offenses.
Judge Dunn said he would appoint a lawyer for Bush after Bush said he is unemployed, could not afford to hire a lawyer, and has no income because his $198 a month in unemployment benefits ran out two weeks ago.
Judge James Lanzo, the regular municipal court judge here, said he removed himself from the case because he once represented Bush's ex-wife in his private law practice.
Lewis said Teddy lived with his mother, but it is not clear whether he was injured at his mother's residence or Bush's residence. "We're leaning now more toward it occurred in Zaryl's house" and that his mother took the boy home after the attack, Lewis said.
"We don't believe she was present during the actual injury. However, she arrived a short time later," and she failed to report the incident, he added.
Lewis said Widdersheim kept the boy at home "for several hours" after his injury before taking him to Akron Children's.
Widdersheim has 10 year-old twins who were present during the attack, and Bush's children also were present during the attack, Lewis said.
Tedesco said he didn't learn of the nature of his son's injuries until Wednesday when he called Lewis; and hospital privacy rules prevented him from visiting his son at St. Elizabeth.
"She had a privacy block put on, and I didn't have a visitation order, so they wouldn't let me in," he said, referring to Widdersheim.
According to Vindicator files, the last previous homicide in Struthers that initially was charged as a murder was the death of Stephanie M. Hoffman, 20, who was found beaten and strangled Aug. 7, 1992, in her East Midlothian Boulevard apartment.
Her 18-year-old boyfriend, Michael L. Atyim of Youngstown, initially was charged with murder and aggravated burglary, but pleaded guilty to aggravated burglary and the reduced charge of involuntary manslaughter.
Atyim was sentenced to 10 to 25 years in prison.
Contributor: Susan Tebben, staff writer
More like this from vindy.com