Cynthia Anderson hasn't spoken about retirement....until NOW!
Vindy Talk Radio is back on the airwaves today at 8 a.m., joined by Louie Free of 1540-AM WYCL.
Video Set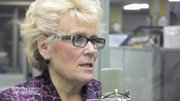 YSU President, Cynthia Anderson, talks to Todd Franko and Louie b. Free about her decision to retire and some of the ongoing initiatives at YSU.
In addition to Louie's normal program, we will have:
@ 8, Louie and Vindy Editor Todd Franko do a quick read of the day's headlines; Steve Forbes, chairman and editor-in-chief of Forbes Media, drops by to chat with Louie.
@ 10, Cynthia Anderson sits down with Todd and Louie for her first conversation about retiring.
@ 11, Vindy editors Todd Franko, Mark Sweetwood and Bertram DeSouza review January's news stories.
And stay tuned starting at 1 p.m. for a bonus... get the scoop on the Super Bowl with The Vindicator's sports reporter Joe Scalzo. He's headed down Friday to capture the Valley flavor of the match and festivities. He'll discuss such and be joined by Sports Editor Ed Puskas and Sweetwood.
Click below to listen to the show live from Vindy.com, or find 1540-AM on your radio.
And by Friday morning, the best of the Anderson show will be featured in video segments on vindy.com.
Click here to listen to the show.