Girard, Fairhaven students team up for basketball game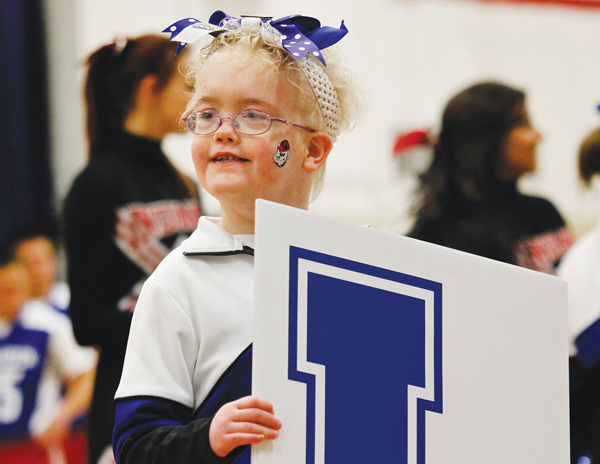 ---
Charity Basketball Game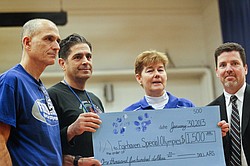 Gallery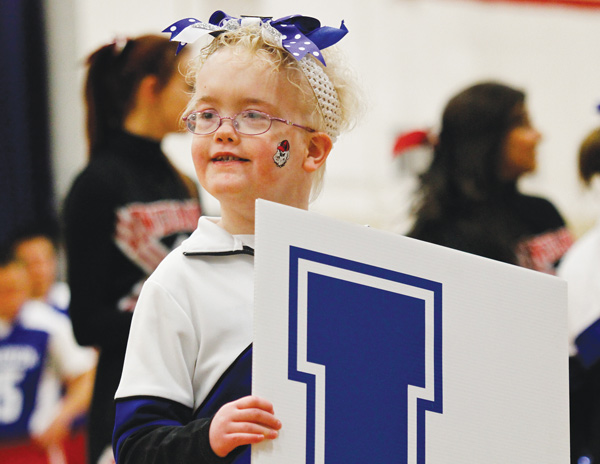 Photo
The Fairhaven School student body, along with staff and parents cheered as the school's Bulldogs mixed it up on the basketball court Wednesday with athletes from Girard High School during the second annual Winter Classic exhibition basketball game. Participating from Fairhaven, include cheerleader Erin Pessell.
Girard, Fairhaven students team up for basketball game
By DAN POMPILI
Girard
The Girard Indians don't typically mix well with bulldogs. All-American Conference rivals Lakeview and Poland have been worthy adversaries on the court and field for many years.
So to see Girard boys and girls basketball players wearing blue and white (Lakeview and Poland colors) and cheering "Lets Go, Bulldogs!" is perhaps as unlikely a sight as a Cleveland Cavaliers fan wearing a Miami Heat jersey.
But on Wednesday, the Indians did both. And no, they didn't lose a bet.
The second annual Winter Classic took place at the home of the Mahoning Valley's other blue-and-white bulldogs, as Girard athletes teamed up with Fairhaven students for an exhibition game in front of the Fairhaven student body, staff and parents.
The game is part of the collaborative effort between the two schools to further area participation with the Special Olympics.
Girard and Fairhaven have declared themselves "sister schools," working together for the past three years at Special Olympics track meets at Girard's Arrowhead Stadium. The next meet is set for May. The teams also hold a yearly bowling tournament at Crest Lanes. The basketball game began last year.
"Our kids from Fairhaven have gotten to know the kids from Girard," said Fairhaven Special Olympics Coordinator Carol Kirsch. "Many of our kids would never have a chance to go to a basketball game."
"We call it the 'Winter Classic' because we want to make it an annual thing," said Girard High School Principal Bill Ryser. "There's a very broad relationship between our schools. I told the kids before we left that Sunday's the Super Bowl, but for these kids here, this is their Super Bowl."
And Girard made it as big as possible. The pep band and varsity cheerleaders came along to play game music and share cheering duties with the Fairhaven cheerleading squad. The entire varsity and junior varsity girls and boys programs showed up, but only juniors and seniors played.
The Blue team wore real high-school basketball style jerseys, blue with white numbers and trim, while the silver team wore gray Fairhaven T-shirts. Both teams sported red shorts.
The Blue team got off to a hot start, blanking the Silver team for most of the first quarter. A second-quarter rally brought the Silver team within 12, but the Blue Bulldogs were just too tough for the Silver pups.
At half time, cheerleaders from both schools led the crowd in cheers, while players from both showed of a few dance moves at mid-court. The Peace Race Foundation also presented Fairhaven with a $1,500 check toward their Special Olympics program.
The second half was better for the Silver team but they just couldn't keep up, as the Blue team triumphed 44-24. The Blue success was led by 15-year-old Colin Sekola. The Girard players fed him the ball repeatedly as he scored 22 points. Joey Verosko , also 15, led the Silver squad with six.
The Girard students, one boy and one girl to each team, merely facilitated, and not one attempted a basket. Every shot was taken by Fairhaven students, and many Bulldogs even grabbed rebounds too.
"No, we've never had this many assists in a game," said Girard senior Evan DelBene with a laugh.
Fairhaven coach Bo Greene said Girard's support means everything to the Fairhaven students and helps him coach his kids to legitimately improve as athletes.
"Just the fact that Girard supports us the way they do, the kids are so responsive to it," he said. "It gives them confidence and it helps me because I need to know what these guys can handle."
For the Girard boys, who suffered a tough loss at Brookfield on Tuesday, the day it all about perspective.
"Wins and losses don't really matter at the end of the day. It's how you represent your community and what kind of person you are," DelBene said. "We take for granted how lucky we are to be able to play this game and it's just truly a blessing to put a smile on their faces."
Senior John Norman also works with the students during the bowling tournament and said these are the days he looks forward to the most.
"I love it. I think it's one of the greatest things I get the privilege of doing every year," he said.
A joint luncheon among the students from both schools ended concluded the day.
"They really know that this is special and they get to interact with kids their own age," said Fairhaven Superintendent Ed Stark. "For some of our students, for example who wouldn't normally get the chance to be cheerleaders, to be able to interact and cheer with other girls is really special."