Globetrotters entertain crowd at Covelli Centre
---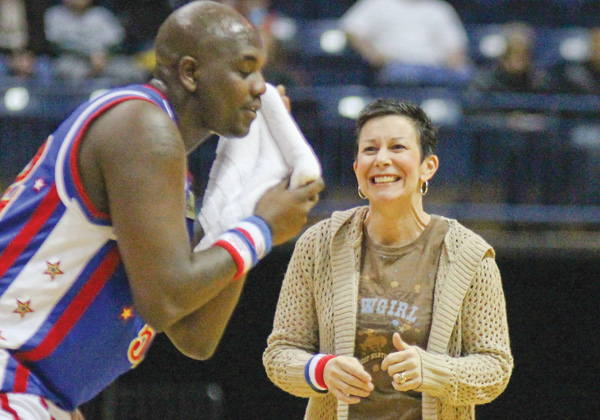 Photo
The Harlem Globetrotters' "Big Easy" Lofton (52) wipes the sweat off his face before getting a kiss from fan Denise Stoneman of Boardman during Wednesday's exhibition basketball game against the Global Select at the Covelli Centre in Youngstown.
New generation of fans watch spectacle at Covelli Centre
By Ryan Buck
YOUNGSTOWN
One of the great spectacles in sports and entertainment made its way to the Covelli Centre on Wednesday night, much to the delight of their longtime fans and a new generation of followers.
The famed Harlem Globetrotters took on their nightly rival, Global Select, as part of their 2013 You Write the Rules Tour, a new drive to get more interactive with fans.
The Globetrotters, who have made Youngstown an annual stop while filling arenas across the world, entertained Covelli Centre guests of all ages with their renowned basketball skills while mixing in a variety of games for kids, contests, and oddball tricks that have endeared the team to people in over 70 countries since the 1920s.
Wednesday night's event was the culmination of several days spent in the Mahoning Valley, including visits to local schools and Akron Children's Hospital in Boardman.
Covelli Centre leadership ensures a visit from the Globetrotters is practically set in stone every year.
"It's sort of an easy transition when you're working with the same people year-in and year-out," said Kelsey Rupert, Director of Marketing and Sales. "You know the market, they know the market and it's easy.
"I think people really enjoy the tradition. A lot of times, you'll see people from two to ninety-two here so it really spans the generations."
The moment the lights dim, smoke rises, and the familiar tune, "Sweet Georgia Brown," fills the arena, the unmistakable red, white, and blue uniforms make their way to the court for their magic circle demonstration.
"When I was a kid, I saw the Globetrotters in Cleveland," said Jason McClellan, of Cortland. "Now that I have my own kids, it's a part of growing up that you just don't want to skip out on."
McClellan chaperoned the Lakeview Middle School sixth grade basketball team, which he coaches, to the event.
While "Easy E," the Globetrotters' new "clown prince of basketball," conducted a dance contest at midcourt during their 100-94 victory, McClellan's players darted across the arena concourse dribbling the trademark Globetrotter basketballs, mimicking the same behind-the-back, between-the-legs moves perfected so long ago by legends like Meadowlark Lemon and Curly Neal.
"We've been practicing twice a week and have games on the weekends for five weeks," McClellan said. "It's nice to take a break and have some fun; a day off from real basketball and a fun night out."
Ron Santiago and his wife, Dorcias, of Canfield, brought their three children, ages 11, 9, and 7.
They wanted to share a familiar experience with their own children.
"I even remember the cartoon," Santiago said. "I wanted them to experience it. I even went on YouTube to show them what we used to see and we thought they would enjoy it so we brought them down."
Wednesday's affair will ensure that the Globetrotters will continue to weave their way back to the Mahoning Valley for years to come, charming legions of young fans in the process.